| | | | |
| --- | --- | --- | --- |
| | The Words of the Dhakal Family | | |

Report from Nepal
Ek Nath Dhakal
November 22, 2006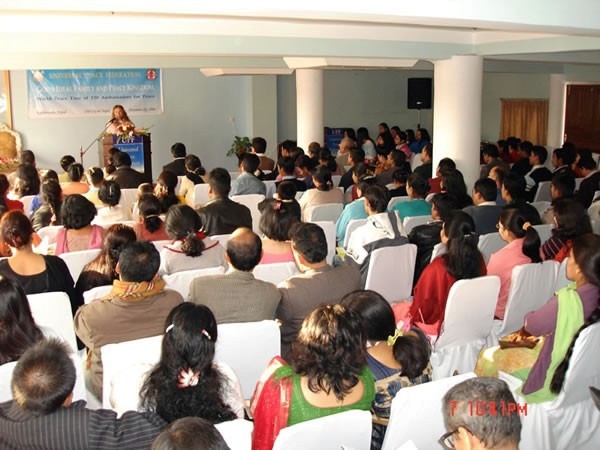 Greetings from Nepal.
Two US Ambassadors for Peace arrived today in Nepal. Ms. Nin Sharyn Bebeau addressed a gathering of about 200 distinguished guests, including current and former Members of the Parliament, Ambassadors for Peace from different fields and local VIPs. Ms. Nin said that "I am a voice of Father Moon" and started the speech with deep heart and inspiration. Every word she spoke came from her heart as if it was her own word. Everybody appreciated her determination and respect for True Parents.
Because of the bad weather, Dr. Damon S. Roach could not fly to Pokhara, and he also joined the same event in Katmandu. He shared briefly about his impressions of Father Moon and his peace mission. He said that Father Moon can bring peace in the world in very simple way. With reference to a story, Dr. Roach told everybody that communicating with God and spiritual world is not big deal if we can work with Father Moon, because Father Moon gives precious truth to everybody simply and naturally.
Even though the American Ambassador for Peace could not reach Pokhara, local Ambassadors for Peace gave Father's speech there and conducted the event. By today, Nepal completed about 50 events nationwide, and within one week all 120 event will be completed. Dozens of Nepalese Ambassadors for Peace are mobilizing even in very remote parts of Nepal to deliver the message of peace.
Just yesterday Government of Nepal and the Maoists signed a peace agreement and declared the end of 13 years old armed conflict. Mansei to God and TP! It could happen only after the visit of True Parents in Nepal. True Parents are really bringing peace in Nepal - this is not my word, but the common word of the majority VIPs in Nepal.
Thank you. Sincerely,
Ek Nath Dhakal
National Leader
Nepal


Download entire page and pages related to it in ZIP format


Table of Contents


Information


Tparents Home