| | |
| --- | --- |
| | The Words of the Chesnut Family |
Something good happens for Liberia in our home church area
Catherine Chesnut
August 1988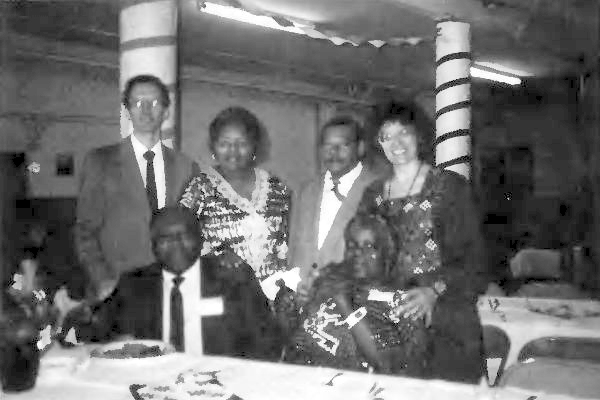 Celebrating the true spirit of Christmas at a Brooklyn fundraising dinner for Kpanyan Central School in Liberia. Standing, left to right: Jerry Chesnut, Mrs. Beatrice Wiggins, Waldron Harris, and Catherine Chesnut. Seated, left to right: Rev. Fred Wiggins and Mrs. Jestina Dietze.
Father said that when something good happens in our home church area, we must know that God has been preparing that situation for a long time.
When I first met Steve Buono, he was standing in front of a picture display in the World Mission Center lobby, seeking donations for a school project in a small village near Greenville, Liberia. I was so touched by his sincere love for and dedication to the children he wanted to serve that I felt moved to help with something more than just my personal donation. Our missionaries have long been in my prayers, and now Heavenly Father was giving me an inspiration to do something more substantial for them.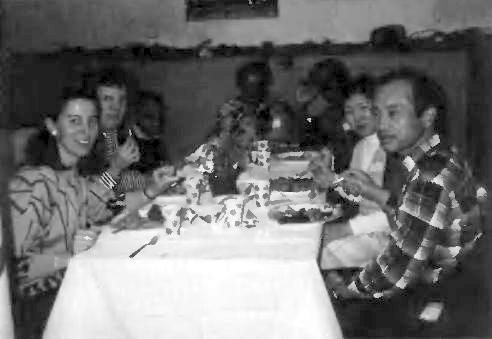 Members and home church neighbors enjoy the international meal.
"Coincidentally," my husband Jerry and I know an interracial couple living in our Brooklyn, New York, home church area who met each other many years ago when the husband was in the Peace Corps in the jungles of Liberia. They love each other very much, and he faithfully serves his wife's family back in Liberia, sacrificing much of his income to help clothe and house them and visiting them annually together with his wife.
We thought of our home church couple and told them about Steve's work and plans for the school in Greenville. To our surprise, we learned that the wife's clan lives in the same area that will be served by the school! When I found out that Steve was a native of Brooklyn, that ended all talk of "coincidence." Suddenly, our 360 homes had expanded to the other side of the globe.
We decided that a Christmas fundraising dinner would bring people together for a good cause and give them an opportunity for fellowship and to meet and hear our brother Steve. But I didn't want it to be just an ordinary dinner.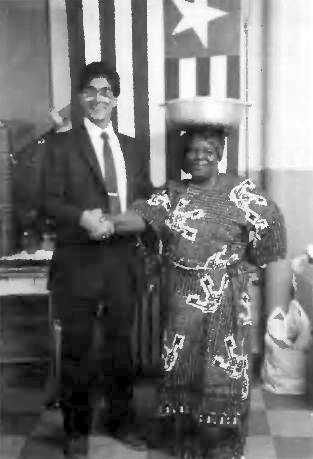 "Suddenly, our 360 homes had expanded to the other side of the globe" -- Missionary Steve Buono and Mrs. Jestina Dietze in front of the Liberian flag.
Heavenly' Father Was Excited
Rev. Fred Wiggins, an ICC alumnus and a dear friend of ours, agreed to host the dinner in his nearby church. ICUSA donated a good portion of the food. I made flyers explaining the program and requesting a donation for the dinner. Then I distributed them in our home church area and around the World Mission Center.
My plans included a sumptuous international feast, a candy-filled piñata strung from the ceiling, festive Christmas decorations adorning the church hall, door prizes donated by generous merchants, little origami animal figures to greet the guests at their seats, and copies of the words to Christmas songs to unite us in heart.
During the hectic days of planning and preparation, I prayed for guidance and tried to invest myself 100 percent to make this event a success. It was at this time that I experienced tremendous supportive guidance, love, and energy from Heavenly Father. I felt like Heavenly Father was excited about this whole event from start to finish. I am slowly learning the importance of going ahead and actually planning events like dinners, outings, and meetings in our home church area. If I push ahead and make the initial arrangements, then I feel the spirit moving. I get inspired about details and what to do, and I receive the energy I need to do them. In the past, I have procrastinated too much. The spiritual support comes if I do my portion of responsibility to initiate give and take. Then everything always seems to take off from there. It's a great feeling.
That night, 33 guests attended, representing 13 countries. The buffet table was filled with favorite international, dishes such as West African chicken and rice, American barbecued chicken and sweet potato casserole, Italian lasagna, Mexican guacamole with chips, Middle Eastern tabouli and humus, Japanese norimaki, and Afghan bread. There were lots of cakes, cookies, and fruit for dessert. The hit of the evening was a fantastic pot of shrimp, bluefish, and crab created by our home church Liberian friend, Jestina.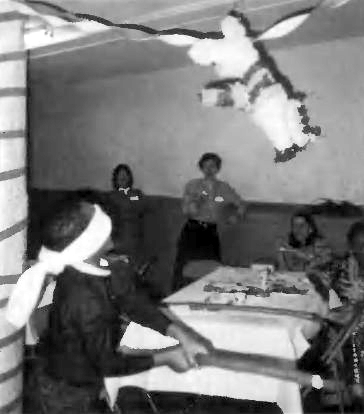 A child swings heartily at the candy-filled piñata.
A Base for the Love of God
One of the highlights of the program came when Jestina, a middle-aged woman with a child's pure heart, sang a song about God in her native language. Try to imagine act pally experiencing the sounds and the flavor of Africa in the basement of a Brooklyn church. We could almost hear our African brothers and sisters singing with us through that simple song.
Father has said, "Home church is where we create a base for the love of God. All human beings can come together on this ground. We have talked about the True Parents, their heart, and so forth, but you don't really know them until you do home church."
In his inspiring message telling us about his hopes to build a school for children in Liberia, Steve told us, "True education is education of the heart -- the knowledge and understanding that God loves and guides us as His own." He spoke of his experiences living in Africa for the last three years -- and especially his longing for a way to create a place where pure relationships between teacher and student could be generated, a place for real education of the heart, which is every child's right by birth.
The children closed the delightful evening with the breaking of the piñata. One guest gave the ultimate compliment -- he shared his experience of the whole evening by laughing and pointing to his head, heart, and stomach and saying that he had been "totally filled -- here, here, and here." Everyone had had a great time. We all felt good -- just simply good. A spirit of caring and giving had connected the two continents of Africa and America. Over 400 dollars had been collected in donations for Steve to start his school in Liberia. We had prayed, eaten, sung, laughed, and celebrated. Jerry and I felt so grateful for and proud of our dear brother Steve, and also his wife, who helps run an IRFF clinic in the same area. Through his sharing we could feel closer to our brothers and sisters working as missionaries all over the world and could understand their love and devotion to Heavenly Father and True Parents much, much more.