| | |
| --- | --- |
| | The Words of the Brock Family |
Seunghwa Ceremony for Gerald Brock
October 12, 2012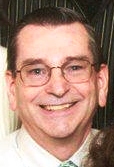 Seunghwa Ceremony for Gerald Brock
Location:
Unification Church of Columbus
4303 Indianola Ave.
Columbus, Ohio 43214
Date: October 13, 2012
Time: 10 am
Flowers: Should arrive Friday between 10 am and 6 pm
Cards:
Brock Family
5887 Mall View Court
Columbus, Ohio 43213
Won Jeon Ceremony will be held in West Virginia on Saturday Oct. 13, 2012 Our brother Gerald Brock passed away on the 10th day of the 10th month at 8:20 pm from Pancreatic Cancer. He was told by doctors that he had a short time to live but he keep going for over a month, loving his family and getting things in order. He died at home surrounded by his family.
Gerald Tennyson Brock was born to Mr. Garland T. Brock and Mrs. Elizabeth F. Jones Brock as their third child and first and only son on August 19, 1944 in Princeton, West Virginia. Gerald's grandfather and great-uncle arrived in New Hampshire from England in 1774. His grandfather moved from New Hampshire to West Virginia in the late 1800's. His father was an ordained Baptist Minister who taught at an industrial arts school and operated a restaurant with his wife for many years. His mother was very active in the church community as a pastor's wife and taught at an elementary school for many years. His mother was a direct descendant of George Boone, who had pioneered Kentucky 250 years ago.
Gerald's strong spiritual background formed his personality and character in early age. He graduated high school with high honors and graduated colleges in Athens, West Virginia and New Mexico. He obtained a B.S. in Chemical Engineering and a Master of Engineering from New Mexico State University, a Certificate in Religious Education from the Unification Theological Seminary, and a B.S. in Management from the University of Maryland University College. In the 1960's and early 1970's he worked at the Los Alamos National Laboratory in New Mexico, conducting research to support nuclear powered space flight. He also worked as a computer programmer for General Electronics. He was a very active young man who enjoyed playing tennis in the summer and skiing in winter. He also earned a pilot's license to fly small turboprop aircraft and flew cross-country in a single-engine piper.
His spiritual search continued while he was active in his community and work. He met the Unification movement in San Jose, California in 1972. Shortly after, he joined the New Hope Singers International upon its foundation, touring the United States, Japan, Korea and England from 1973 to 1975. He served at CARP at college campuses and served in MFT as a captain in New York. He graduated UTS in 1980.
True Father called on him and many other members to start The Washington Times in 1982. He served at the Washington Times as an internal Auditor. During this time he obtained his CPA and CIA licenses and business degrees. He taught at the University of Maryland University College as an instructor for accounting at all levels, as well as teaching auditing, accounting ethics and fraud examination courses. His school honored him with excellence in teaching in the 1990's, and he had been teaching as associate professor since then. He then worked as an internal auditor for the Society for Human Resource Management from 1996 until his retirement in October, 2011.
He and his wife Hiroko were matched in 1979 and blessed at Madison Square Garden, part of the 2075 couples, in the 1982 Blessing. He was a very deep man of faith, very dedicated loving father to his five children, Garland, Karena, Olivia, David and Henry and loving husband to his wife of 30 years. His deep- rooted Christian upbringing really showed through while raising his children. He had a very strong dedication to family and an unmatched work ethic to provide for his family. He and his family moved to his hometown, Princeton, West Virginia in 2005 to look after his aging mother, who passed away last year at the age of 102. During this time, he commuted home on the weekends while working in Alexandria, Virginia for SHRM. After retirement, he moved his family to Columbus, Ohio.