| | |
| --- | --- |
| | The Words of the Biddick Family |
The First Evangelical Mission; Richmond, Virginia
Lorene Biddick
December 23, 1971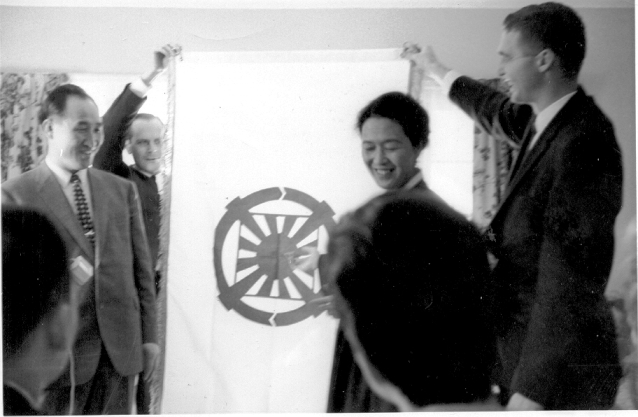 At last, after a month of intensive preparation, we began our mission! The evangelical bus left Washington Center at 4:00 on the afternoon of Wednesday, December 15, with Joseph Sheftick, John Harries, Richard Parks, Kathy Goldman and Lorene Biddick aboard. A beaming Miss Kim and a small group of people at home that day saw us off. Farley filmed the departure, leaping across the back yard to catch a last glimpse of us maneuvering down the Upshur ally to the street. The dream of the American family of reaching out into these United States to lay a spiritual foundation for the country and bring the people to the principle was being realized.
Our first stop was the Washington Holy Ground on the Ellipse in front of the White House. There we prayed for every state, dedicating its land and people to God in the name of our True Parents. As we arrived, the sky turned to deep golden hue, filling with pink, silver, and white clouds. Father was truly beaming upon us, much as the sunbeams blazed across the whole sky as the sun settled into a low cloud. As one particularly bright cloud travelled over the Holy Ground, the National Christmas Tree and Fifty smaller state trees lit up in red, gold, blue, and green, and we began to pray. The breeze was warm as we began our symbolic trek across the United States--each small pine tree represented so many people, so many of Father's children waiting for Him. We knew then just how important our mission really was. Many photographers had turned out for the strange atmospheric conditions of mid-December. Some took pictures of us praying in the golden glow.
Following an hour at Holy Ground, John aimed us down Route 1 to Richmond, Virginia. The spirit was high, and it mounted as we reached our destination at 10 p.m. Our stop for the night was the parking lot behind Tippy's Taco Stand. Unfortunately the gas generator wouldn't start, despite all our bodily contortions and heartfelt prayers, so Joseph crossed the highway to buy two cents of kerosene for our lamp. Dinner at Arby's Hamburger House was followed by our beginning to read the Bible (as suggested by Miss Kim), songs, a prayer meeting, and bed at 11:30. After a ·good sleep, we would awaken Richmond to Father! That afternoon we had offered each state to Him. Tomorrow we were to begin the battle against Satan. This mission was a true gift to all of us, and it would bear great fruit.
December 16 was warm and sunny. It rapidly turned into red-tape indemnity day. John and Richard drove about to get the generator repaired while Joseph, Lorene and Kathy were shuffled from the Richmond Chamber of Commerce to the Bureau of Public Safety, Health, and Welfare, to Police Information, to the Department of Traffic and Engineering, and to the Commissioner of Reverie. Lunch was followed by the assistant city manager, who took us back to our starting point at the Bureau of Public Safety, which sent us down to Police Intelligence, Who referred us back to Traffic and Engineering, and on to Welfare, who again took us to Traffic and Engineering, who promised us an answer tomorrow! Everyone commented on our strange mission, exclaiming that it was difficult to know just what to do with us as we were certainly unique. What we sought was official permission to hold our three-day fast and prayer vigil as close to the State Capital building as possible. After lunch we had begun our fast for the State and people of Virginia. We all felt Father travelling with us and greeting us in everyone we met. We presented a strange sight, and those who noticed either looked on in open mouth amazement or nodded with a wave and a smile.
That evening we presented ourselves and our letter of introduction from the director of the YMCA in Washington to his counterpart in Richmond. Mr. Estes was most hospitable, offering us parking and electric power and showers for the men. Kathy and Lorene had to join the YWCA for the use of their facilities. From there, Joseph called Farley to ask for various items we had left behind, and learned that things were looked up as far as our Parents entering the country from Canada was concerned. On that good note, we drank our hot water, prayed, and retired for our second night in Richmond.
It rained the next morning, December 17, but we hardly noticed as we were too busy locating the Virginia Holy Ground in Monroe Park. We felt what a special place it is-located in an old section of town-this spot our Leader blessed on his first world tour. The day promised to be rewarding, and indeed, the indemnity of the day before paid off. Mr. Thomas of the City Traffic and Engineering Division and arranged for us to use the sidewalk in front of the State Capital for our vigil. Armed with Father's love and desire to reach out, we carried our posters reading, "3 Days Fasting and Praying. Why? Who Are We?" -- "3 Day Fast and Prayer Vigil for Virginia and America," a Leader's seal with the name of the Church written under it, and a small sign reading "God Is Alive!" At four, during Friday rush hour, we began leafletting and talking to those who stooped, and at six we went on two-hour shifts to get out of the cold, rest up, and conserve our energy. And so it went through the night until 2 a.m., when the wind began blowing at 50 mph, and a state police officer advised Richard and Lorene that a storm was approaching. We continued the vigil on the bus where it wasn't any warmer, but at least we were out of the wind. Our home was parked across the street from our site, and St. John's Episcopal Church had allowed us to plug in. The small electric heaters we had were not functional at all, so on our two hours off we'd burrow deep into our sleeping bags and rest. Few of the people who passed us stopped to talk since most were caught up in the flurry of last-minute Christmas preparations; however, we accomplished our mission or laying a foundation for Father to build upon in Virginia. Since we had been so patient during all the legal maneuverings, causing no trouble, and because we were on God's side, ours was an open road to do Father's will effectively.
Saturday, December 18, was the second full day of our fast. It was much colder-a biting, bitter cold that left us constantly shivering. We called Washington to discover that Leader's party had arrived! With renewed energy, we were determined to remain in Richmond for our planned program. Our leaflets announced the slide show of Chapter I and a discussion which was to be held in a hall at the "Y" on the nights of December 20, 21, and 22. One of them had been given to WTVR, the local CBS affiliate, and upon a reminder call from John, they sent down a reporter and cameraman.
That evening we stopped by Sears on the way back to the YMCA to watch the 7:00 news, only to see our coverage without sound! Later on, however, the sound was repaired, and Joseph's interview of our purpose was interspersed with shots of the group and the bus. It was a thrill to see them zoom in on the Leader's seal! The next day we ended our fast at three with a hot meal and a cake which had been purchased in honor of Kathy's, Lorene's and Richard's graduation from Level III. During the vigil that day, Governor Holton had driven by, stopped, and given his support to what we were doing, saying, "I ca use all the help I can get."
Encouraged by this, we went to his office the next morning to present him with a Divine Principle book. As soon as we drove on to the grounds, the state police began warning each other of our approach. We had to convince the guard at the gate that today we were just tourists who wanted to see the Governor! Once in his office, we were told that he wasn't in yet, so we sat for a while as his noon appointment was received and as officials and police rushed about consulting each other about us. Finally, the chief of the state police asked us to leave the book in the office, but since the secretary had told us that we could see the Governor's Assistant, we weren't about to leave! Mr. Richie then came out and accepted the book in a most diplomatic way, promising to deliver it into the hands of Governor Holton.
For the rest of the day we witnessed and sold "New Prophet for a New Age" at Southside Mall in the Richmond suburbs. That night was to be the first slide show and lecture, so we trooped into the hall at the "Y" with all the equipment, books, and refreshments. No one showed up, even after all our work, but we held the program anyway. We topped off our list of strange things done. Every night when we pulled into the parking lot, Richard would run in with our yellow electric umbilical cord, twice blowing out the lights of half the building. We persuaded Mr. Askew, the man behind the desk, to let Kathy and Lorene take showers in an unused part of the building, guarded by Joseph. Joseph walked through the lobby one night with a dish pan full of dirty dishes, and headed for the janitor's closet as Mr. Askew looked on in wordless amazement. And now here we were with all our equipment setting up a meeting complete with refreshments to which no one came, but which we held anyway! We were not going to be discouraged!
Tuesday, we went to the busiest street corner in the center of Richmond's shopping district to witness, street preach, sing, and invite people to come that night. Again, at 8 p.m. we set up, and at 8:05 a girl John had spoken to walked in. Bridgett was taught up to the history in a blitz effort to get done before she had to leave, but she promised to take off an hour from work the next morning to hear the rest. Wednesday morning we drove downtown, parked near her department store, and finished up with history and conclusion. On hearing the end, Bridgett looked up and said, "What do I do now?" We invited her to the next Level I workshop in Washington. She was very open, and in her promising to come, we knew that all our efforts, work, sacrifice, and prayer had borne fruit. Then we drove home to Father and Mother.