| | |
| --- | --- |
| | The Words of the Baatenburg Family |
IRFF Clinic Opens in Liberia
Elizabeth Baatenburg
August 1988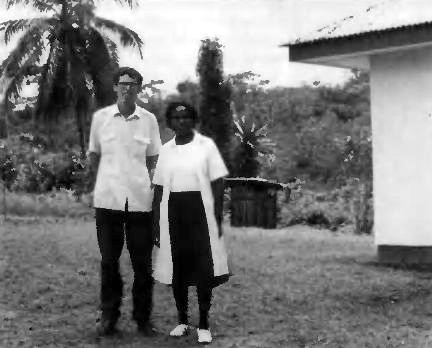 Elizabeth Baatenburg and her husband stand next to the newly- established IRFF clinic in Kabada.
In the beginning of 1987, Josiane Buono and I went to the little village of Kabada in Liberia to start an IRFF clinic. The government originally had a clinic there, but due to lack of finances, it stopped functioning. A nearby bridge had collapsed, and the road was impassable in the rainy season, but after making some renovations and improvements, we reopened the clinic in November 1987.
At present, in addition to serving the people of Kabada and the surrounding villages, our clinic also serves the children from our newly-built Kpanyan Central School.
Since November, we have treated over 1,000 patients, half of whom are new. During the rainy season, the number tends to drop slightly, but all in all, things are moving along fine. Only a few cases have necessitated hospitalization in Greenville, the closest big town.
Filling a Need
When I began working here, I felt we were doing almost nothing, because in the clinic where I had been working previously in Zambi, we treated an average of 150 patients a day. I have come to realize, however, that just being here for the people's sake is fulfilling a purpose in the providence. I am grateful for the experience I gained in Zambia, where I worked with the local doctors and learned from them about the various tropical diseases that our clinic is now treating.
Here in Kabada and the surrounding villages the people are generally very poor; it is difficult for them to pay even the minimum fee we charge. But they are very happy to have this clinic nearby; otherwise they would have to walk for miles to find another one. They occasionally express their gratitude by bringing fruits to us.
Health care is not free in this country -- people must pay for everything -- but since we are a relief organization, we charge the bare minimum. Initially, we thought we could operate free of charge, but the medical officer in our county advised against this because, as he put it, "all the people will come from the surrounding villages, even where there are clinics, to get free medicine!" In fact, we experienced this when we first opened. Patients were coming from far away without money, many of them walking for hours, because they thought our treatment was free.
The government of Liberia has the motto: "Health for All by the Year 2000." The countdown began on World Health Day, April 7, 1983. To accomplish this goal, the government aims to establish a health post in as many villages as possible. In many cases, however, this means a post run only by a "dresser," a person with no formal medical training who 'has picked up knowledge while assisting a doctor. Another problem is a severe lack of resources, such as equipment, medicines, and personnel -- although the government is training medical assistants at a fast rate.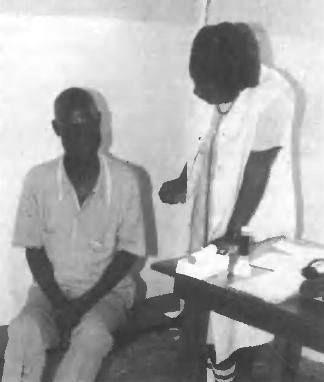 Mrs. Baatenburg advises a patient in the clinic.
Better Than a Cure
At our clinic, we want to support the government's goal as much as possible in providing not only medical care, but also health education. That "prevention is better than a cure" is well known in the medical field, but we find that this is still very much disregarded among the population. In 1983 the Ministry of Education, in conjunction with the Ministry of Health and Social Welfare, created a comprehensive curriculum on health education for junior high schools. But so far this curriculum has not been implemented in the schools; very few, if any, in the country teach it. Since Kpanyan Central School opened in Kabada under the direction of Steve Buono, I am happy to be able to teach health education there two periods a week, in accordance with the health curriculum of the Ministry of Education.
Many of the cases we treat in our clinic could be prevented, especially malaria, intestinal parasites, diarrhea (particularly in children), skin diseases, and many other diseases related to poor nutrition and hygiene. Our plan is to expand our health education program to include adults in their villages. This is still very much in the future as we are not yet equipped to undertake such a project Transportation is a big problem for us at present. Josiane and I live in Greenville, which is 30 kilometers away, and coming by taxi every day has it problems. It is a dirt road all the way, so with heavy rainfall, as in the rainy season, taxis cannot pass through.
We are grateful for all the support we are getting from abroad. Only last month, we received two large containers of medicines and other equipment from IRFF in America. We successfully donated these to the Ministry of Health and Social Welfare, as well as to other major organizations, including the Red Cross Society of Liberia. There was a good response from the Ministry. They promised to distribute the medicines among all the government clinics throughout the country. All the major health organizations also expressed their gratitude. This event was covered by both the national press and the television network.
We feel this is just the beginning phase of our work here in Liberia. There is so much to do to help fulfill the vision of "Health for All by the Year 2000." I want to express my gratitude to all brothers and sisters in the mission countries and throughout the world. Let's march forward and bring victory for Heavenly Father and True Parents.