| | |
| --- | --- |
| | The Words of the van der Stok Family |
Johan and I gave out pamphlets
Susan and Wouter van der Stok
December 16, 1970
Chrismar, South Africa
(Sent to Teddy Verheyen)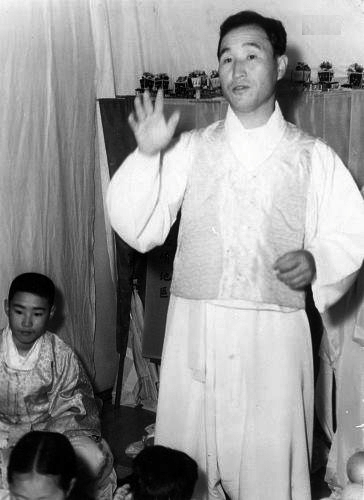 Dear Teddy, Pauline and family,
We haven't written you for a long time it seems. The only reason for this is that we are so busy working, from 5:30 in the morning till 10:30 at night that we have almost no time left! Today is a public holiday in South Africa, the Day of the Covenant (previously called Dingaans Day). Over 150 years ago there was a battle between a very small group of "Boere" with their families and thousands of black warriors. Their leader made a pledge to remember that day if God would protect them and give them victory. That has been done ever since.
On 8th Dec, the festive Christmas lights went on in Adderley Street, the main street of Cape Town, and thousands of people went to have a look that night, including Jahan and I. We gave out pamphlets and have done so every night so far. Yesterday morning, after we had been to Cape Town seven times, we got the first response: Susan spoke over the telephone to a youngish sounding chap who was very interested and would come and listen together with his brother. He made enquiries about where he could obtain the chapters because in the present world a person needed this! According to Susan he and his brother will definitely come. Apart from the handbills we have also been painting the emblem in red with the words "Unified Family" in black underneath on white painted hardboard and spiked the boards high up on the trees along some of Cape Town's main roads, clearly for everybody to see. No address is given; in this way people will see the sign and recognize it again when they see it on the pamphlets. Fifteen have been put up so far, and tens of thousands of people have seen theta already, among them some people from the back, where I work.
Sonja de Steenwinkel has now heard six chapters and will come again on Thursday night, tomorrow. James was also here last Sunday and went us to a spiritual church to get a better understanding of the spirit world. Today Jahan is going to Parow and maybe his two brothers and two friends are coming today. James has said tentatively that he wanted to move in with us Jan. 11, while Sonja has also indicated a certain willingness to stay here, but that will perhaps be only after she has finished her training as stewardess with the South Africa Airways in Johannesburg in March 1971. Things are moving now. We have of course already for a long time now a noticeboard up in the window in front of the house with the symbol, times of lecture (1 meter by 1-1/2 meter) the name "Unified Family" and the initials HSA-UWC, which is lighted during the night.
Pauline, we have received all the chapters, but only some Master's Speeches by airmail and none by sea mail and no books yet. I suppose that will take a little longer to come.
We are happy that Holland now has two families with the four positions completed! May many follow! Susan is working on a sort of tapestry, embroidering the word "Mansei", which we want to hang in the lounge over the front door.
Love and prayers in our True Parents' Name,
Wouter and Susan and Family