| | |
| --- | --- |
| | The Words of the van der Stok Family |
In South Africa we are blessed in many ways and although some things are difficult
Susan van der Stok
September 7, 1970
Parow, South Africa
(Sent to Teddy Verheyen)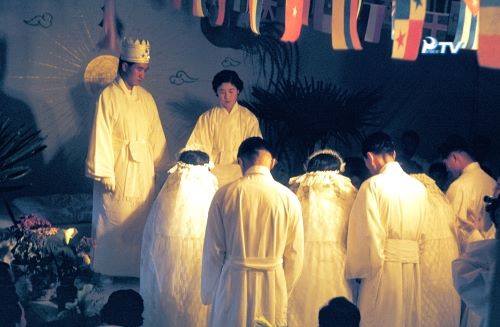 Dear Teddy, Pauline, Naeran and family.
Hallelujah!! Two important things happened last week. First of all, 14-year old Johan de la Querra, younger brother of Susan, heard all the twelve chapters as the first one we taught in South Africa, and is very interested in studying more and staying with us even move out of here to our own center! The past fortnight he joined me in the early morning five o'clock rise and is also joining the fasting on Fridays. The last chapter he heard at about six o'clock on Wednesday morning, 2-9-70, exactly 40, clays after we arrived in Cape Town (as we found out later)!
The second item is of course the translation of the last chapter, the twelfth, which we finished yesterday, the seventh Sunday and 44th day since we arrived in Cape Town! We enclose three last three chapters for stenciling. It must be a lot of work for your people to get all these chapters typed and stenciled. Since Gieta's holiday is over I suppose it will take longer now for the pages to get typed? We have now started to translate the first Master's Speech 1965. A; you mentioned in your letter, Pauline, Father is definitely helping us in many ways, we can see it daily all around us and are very happy and thankful. It is quite often that I can feel a fantastic power and urgency through me, which is unbelievable!
We are blessed in many ways and although something are difficult, it is more than worth! It feels as if a whole "plan the campaign" has been worked out for us and all we must do is obey and execute the plan: the rest will work automatically! To put the plan here into effect takes of course every minute of the day and night. I can really feel the spiritual battle going on, which is going in the right direction at the moment, very fast! We realize there is still a long way to go, but the beginning is there! Furthermore, I made some enquiries at the Bank's attorney's in Cape Town who informed me that there is not a certain number of members necessary before we can incorporate a church. In other words, as soon as we have drawn up a memorandum or constitution and sign it, the local HSA-UWC will be established, However, to establish a charitable organization (to enable us to accept gifts, hold collections, etc.) is more difficult and will take much longer: the organization will have to be registered and the relative constitution and articles must be approved by the Registrar, according to the law for the friendly societies.
Teddy, could you send us a photocopy of the constitution, declaration you have in Holland? I have a copy of the English declaration. This is to help us draw up our own more or less along the same lines. How is Naeran, better again after her injection? You know, we are almost as long as in the Principles as Naeran has been on earth: we heard the first chapter on 7th May, and the last one I think 7 days later.
Love and prayers in our True Parents' Name
Susan and Wouter van der Stok.