| | |
| --- | --- |
| | The Words of the Zochol Family |
Ascension of Mrs. Mary Louise Zochol
August 8, 1989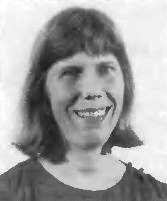 Mrs. Mary Louise Zochol
The Sunghwa Ceremony for Mrs. Mary Louise Zochol was held on August 8, 1989 in Kingston, N.Y. She passed on after having battled for several months with cancer discovered in an advanced stage. With the help of God, she gave birth to a healthy baby boy on March 17th.
Mary Lou was born on August 27, 1949, to Mr. and Mrs. Malcolm Bliss in Myerstown, PA. She graduated from Eastern Lebanon County High School in Myerstown, and received a B.A. in Education from American University in Washington, DC. She worked at St. Joseph's Psychiatric Clinic in Syracuse, N.Y., doing adolescent and family counseling. In June 1975 Mary Lou joined the Unification Church at Barrytown, New York.
From 1976 to 1978, Mary Lou fulfilled a variety of missions from MFT, public relations and legal affairs, to home church in London, England.
From 1978 to 1981, she was a student at the Unification Theological Seminary in Barrytown, receiving her Divinity Diploma in June 1981. From 1981 to 1982, Mary Lou was the CARP Center Director at the University of Houston, and on July 1, 1982, she was blessed with Frank Zochol in the 2075 Couples Blessing.
After fulfilling a mission as IOWC Mobile Team Director in the major cities of northeastern America, Mary Lou was appointed Dean of Students at UTS. In addition, in 1985, she was made Unification Church Director of the Kingston Outreach Center, which mission she fulfilled until her passing on August 4, 1989.
Mrs. Nora Spurgin, who knew Mary Lou over the years, said of her:
"Mary Lou was a vibrant person whose life touched the lives of many, many members. Everywhere brothers and sisters testify to her concern for those around her and her desire to bring victory to God in every situation. She is remembered as a person who was always ready to reach out with a helping hand, even to the very end of her life. In many of her missions, she served as a counselor to those around her, with deep desire that people could be whole and healed."
"Known as a good organizer and extremely responsible person, she planned and gave guidance to many events. She always took responsibility for what she was doing. She had strength, faith, and integrity -- these were her essential qualities. Her passing on leaves an impact on the lives of members all over the country for whom she was a real pillar of faith, wisdom and love."
Mary Lou is survived by her husband Frank, two children -- Emily Victoria, 21 months, and David Albert, four months, her mother and father, four sisters -- Patricia, Barbara, Martha, Diedra and one brother, Malcolm.