| | |
| --- | --- |
| | The Words of the Zinsou Family |
Global Peace Festival in Benin
Paterne Sosie Lin Zinsou
November 9, 2007
Benin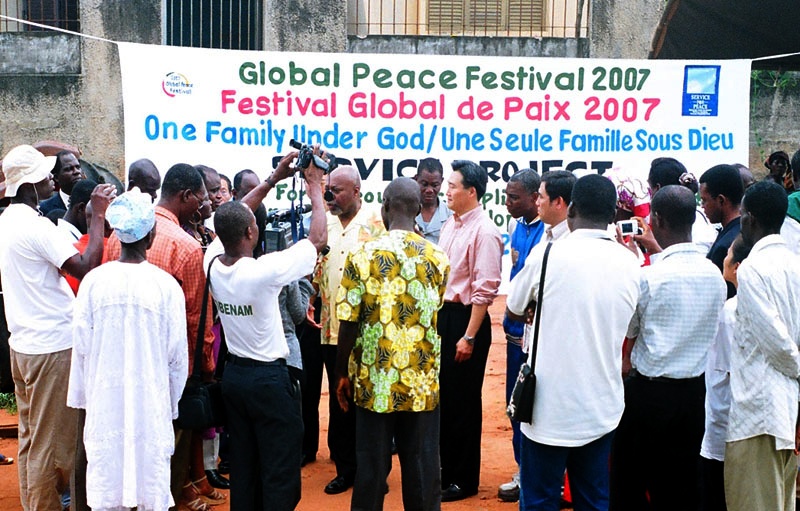 The Global Peace Festival in Benin took place on October 26 - 29, 2007, in the coastal cities of Ouidah, the historic slave-trade port, and Cotonou, Benin's economic capital and main city. During each activity, the international delegates, Archbishop George Augustus Stallings, Jr., and Mr. Jin Man Kwak, were joined by representatives of all countries in the West Africa sub-Region: Burkina Faso, Niger, Nigeria, Togo, and Ghana
To begin, 300 participants from different countries offered community service at the Ganve Public Primary School in Ouidah. Wearing Global Peace Festival T-shirts, they weeded and cleaned the school grounds. The mayor offered words of welcome.
Women's Soccer Team
Next, about 400 persons gathered for a peace march on the theme of: "Forgiveness and Reconciliation for a Prosperous Nation" in Ouidah. The march started from the grimly-named arch "Porte de Non Retour" (Door of No Return), the exact route where people who were sold into slavery were taken to the ships.
Four women's soccer teams participated in the Play Soccer Make Peace competition. Advancing the range of opportunities for women is one of the UN Millennium Development Goals and a key focus of UPF.
At the Palais des Congrès in Cotonou, more than a thousand distinguished guests gathered for an Ambassadors for Peace awards ceremony. The following day, at a student rally at the University of Abomey-Calavi, the organizers discussed plans for a major festival in 2008.
Finally the delegation met with the Minister of Foreign Affairs to offer a report to the head of state, H.E. Dr. Thomas Boni Yayi and First Lady Chantal Boni.