| | |
| --- | --- |
| | The Words of the Zhuchkova Family |
"Tolerance Education" Conference held in Moscow
Marina Zhuchkova
June 20, 2007
UPF-Eurasia
Moscow, Russia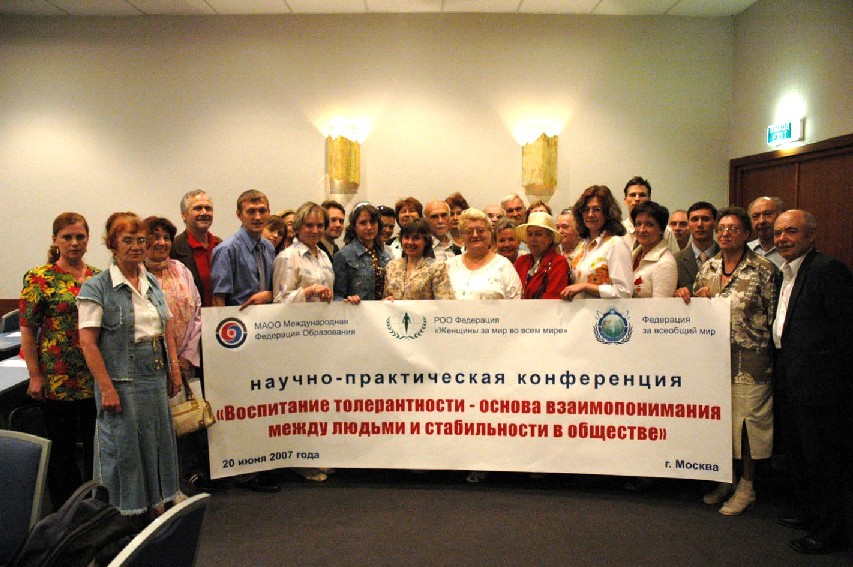 Following the increasing pace of UPF activities worldwide in 2007, and stimulated by the monthly international leadership seminars for Ambassadors for Peace, UPF-Russia is stepping up its own activities with programs of outreach in several cities of Russia.
On June 20 the Moscow branch of UPF, in cooperation with the local chapters of the International Educational Foundation (IEF) and the Women's Federation for World Peace, held a conference on the theme: "Tolerance Education -- Base for Mutual Understanding among People and a Stable Society."
In today's Russia, the issue of tolerance and ethnic harmony is a widely shared concern among social leaders. Forty participants from several universities and public organizations of Moscow attended the conference, including several Ambassadors for Peace.
The speakers included: Mr. Vladimir Petrovsky, Ambassador for Peace, chairman of the National Peace Council and member of the Board of Directors of the Russian Association of Political Science; Mr. Mikhail Grishin, doctor of culture and professor at the State Institute of Art Research; Mrs. Larisa Ruban, doctor of sociology; and Mr. Boris Panteleev, member of the Council of Justice and a legal expert of the Moscow Bureau of Human Rights.
IEF General Director Mr. Vitaliy Vakulinsky, and Family Federation for World Peace Director Mrs. Marina Zhuchkova, shared on the UPF philosophy of peace with participants.
The lectures stimulated very positive feedback from the audience.