| | |
| --- | --- |
| | The Words of the Zablan Family |
President Mike Zalban Meets Fil-Jap Families In Tokyo And Mie Ken Japan
March 3, 2008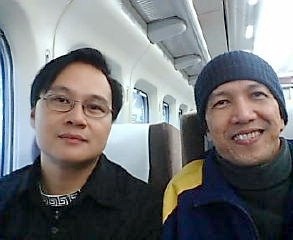 Nagano -- Saturday, March 1, Pres. Mike Zablan was in Tokyo with Fil-Jap Regional Leader Reuben Cruz and several Filipino brothers and sisters with their spouses too. He has a morning meeting with some Japanese businessmen in Tokyo for the manpower agency he is organizing, and in the afternoon of the same day, he spend his time sharing some testimonies and reports to the Fil-Jap community until evening.
The following day, he traveled with Reuben Cruz to Mie ken and met another Fil-Jap community in there for the whole day and night. He gave his testimonies and reported to the group during their Sunday Service and they have their random fellowship after. Mr. Jess Mariano hosted the UM Philippines national leader Mike Z. in Mie ken.
Several families attended and listened to Pres. Zablan. In the evening, they went out for a little family type-socialization with Mr. Francis Javier ( former leader of Laoag Center) escorting the guest on that rare occasion. Tokyo and Mieken Fil-Jap communities were happy and inspired to host the national leader in his occasional meeting with them.
Pres. Zablan shared too about the present project of UPF that is, to put up a Peace Embassy in the Philippines. He mentioned in his sharing in Tokyo and Mie ken that the UM HQ which was proposed to be renovated as Peace Embassy is no longer sustainable as surveyed by some city engineers due to degrading, rotten and damaged foundation of the building.
To demolish and construct a new one is a double and costly project. He considered the recommendations of the engineers in order to maximize and to save to a better one. That by having a new lot and construct a new building specifically for Peace Embassy (PE) designed to its purpose and nature of activities. A suggestion of selling the UM HQ and use the money to purchase a piece of lot will even be wiser to consider, he said.
A vacant lot near the Mall of Asia is being eyed for the Peace Embassy according to Pres. Zablan. Hence, a broader project to acquire a lot and construct the Peace Embassy for Philippines is now on the blueprint.
He also mentioned that the manpower agency that he is organizing by now is also a means to help the said PE project aside from the solicitation and donations from the Filipino members and the Fil-Jap community, Pre. Zablan said.