| | |
| --- | --- |
| | The Words of the Yuen Family |
Seunghwa for Tony Yuen and recovery of Tiffany Maldonado
Edy Iversen
August 21, 2010
Dear American Family,
Thank you for your consistent prayer and support for our family here in France and in particular for our dear second generation son Tony Yuen who had a beautiful Seunghwa ceremony yesterday in Les Ulis, France. Over 300 people attended and many 2nd generation came from throughout Europe to honor this precious son of God. The ceremony was very simple and moving, with two wonderful testimonies from the second gen Tony had worked with on STF.
They talked about his wonderful heart which made everyone cry and laugh as well. He was truly a filial son and precious 2nd generation, and I am sure he will continue the great work he was doing here together with the saints in the Spirit World. We will miss him deeply. Thank you for your continued prayer for his exemplary family, Jackie and Emiko Yuen and all the other 5 children who are suffering the loss of their biggest brother.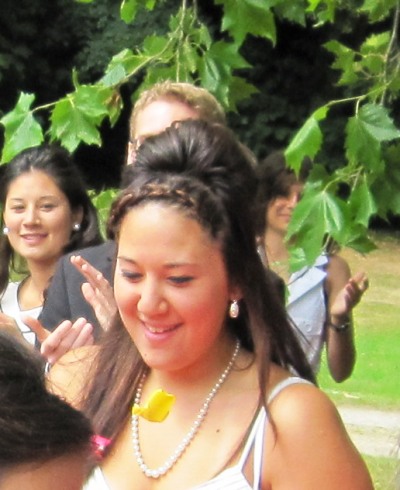 Tiffony Maldonado
I would like to update you also on the health situation of Tiffony Maldonado. Tiffony has been in a artificially induced coma since her accident but every couple of days, the doctors take her out of the coma to test her brain function and her ability to respond. Yesterday even in the coma she opened her eyes and stared at her parents and when they come in the room she starts to shake her hands and legs to try to communicate with them. They are keeping her in the coma to help heal her brain and reduce the pain to her from the accident.
The doctors are astounded as they literally had no hope for her when she first came in the hospital as they see thousands of cases like hers without recovery. The doctors believe though it will take time, there is a possibility for full recovery and they plan to operate next week on her face where she received the worst injuries from the accident. Everyday she is getting better, stronger, her vital signs are strong, and she is responding to her parents and family and the doctors.
The doctors are completely shocked as they never saw such a quick recovery of such an impossible situation. I am asking for your continued prayer, especially for her family who is driving back and forth 600 KM a day to visit her for ONLY one hour to the hospital, Juan, Junko, Emile, Sophie, Theirry (who is studying in Japan) , Jordan and Ta Ta (grandma) Emile has taken off from University to take care of the entire family including her 82 year old grandmother who lives with them during this difficult time and needs our prayers as well.
If you are wondering does prayer make a difference, please know that your worldwide efforts saved the life of this precious second generation daughter and are giving strength to her family and to all of France after being devastated by the loss of Tony.
In just two weeks is the arrival here of Hyung Jin Nim in Europe and Dr Pak and the Little Angels here, and this has been so overwhelming, so we are so grateful for all of your prayers and thoughts during this very stressful time for our church here . Merci from Paris.
God bless you for your prayers and God Bless America and the American family. Thank you for your support.
Edy Iversen
UPF France