| | | | |
| --- | --- | --- | --- |
| | The Words of the Vlasic Family | | |

ACLC Dayton Report
Michael and Celeste Vlasic
March 10, 2007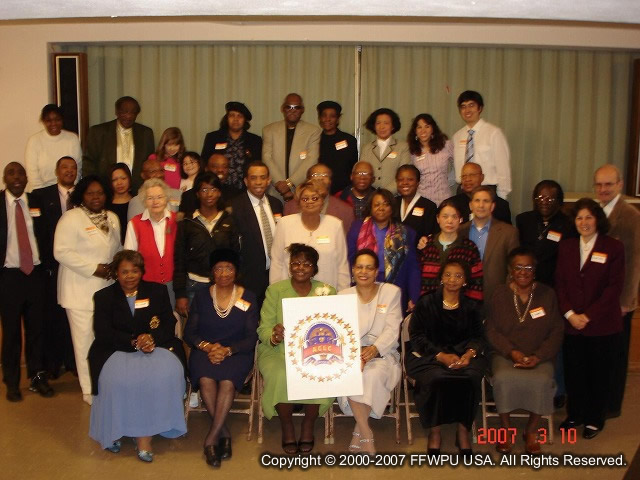 Our March prayer breakfast was held at Pastor Robert Jonesí College Hill Community Church in Dayton, Ohio. After Pastor Jones greeted everybody, he had to leave soon after that for an important church meeting. Pastor Jones had a wonderful breakfast catered that everyone enjoyed.
Michael and Celeste Vlasic are the coordinators for Dayton ACLC. Because the prayer meetings hadnít been done consistently for a while, they started them back up in November (not asking for a registration fee, just love offering). After that, the prayer breakfasts were done every other month with registration fees. From next month, April, they will occur every month.
There were a total of 34 attendees: Six ministers, many lay people, 10 FFWPU members and 2 children. Chris and Joletta Breland, a 2nd generation blessed couple, did the registration and greeted people at the door.
Our speaker was Bishop Emma Curtis White, Ohio ACLC Co-Chairman. Her speech was entitled, "Christianity in Crisis, But Thereís Hope". It was very inspirational as she touched upon the division Christian churches are facing due to doctrinal differences and disagreements and how that hinders the churchís ability to effectively witness to those that need Christís message. Bishop White then told a beautiful story of the path of redemption and salvation, speaking in metaphoric examples. The guests agreed with this with a loud response. Afterwards, Pam McDougald read the Peace Message compiled in two pages. The room was very silent as she read, and afterwards a feeling of excitement permeated the air. Gloria Laurent proceeded to explain the ACLC membership goal. When she spoke of our goal of 80 members, Pastor Johnson stood up and explained how we can divide that into the four cities of Columbus, Cincinnati, Dayton and Cleveland and that Dayton should have 15. (Pastor Johnson had hosted Hyun Jin Moon in his church.) Pastor Robert Jones had remarked that he would be willing to offer his church to host another big event for Bishop Stallings or someone else from headquarters.
We are hoping we can really bring victory to God and True Parents!


Download entire page and pages related to it in ZIP format


Table of Contents


Information


Tparents Home