| | |
| --- | --- |
| | The Words of the Villagante Family |
Establishing of Tong-Il Moo Do Afghanistan
Bernardino G. Villagante
April 11, 2009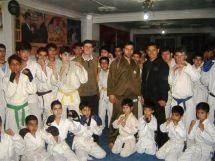 Hello I am Bernardino G. Villagante from the Philippine; I am assigned as an international instructor of Tong -Il Moo Do.
Recently, I am assign to go to Afghanistan to establish a foundation for our Martial Arts providence. This time I am staying with our National Messiah Mr. and Mrs. Umberto Angelucci and family in Kabul. We are expanding and developing our Tong-Il Moo Do and Martial Federation for World Peace by working with other martial artist and the support of our Afghanistan Ambassadors for Peace and the National Olympic Committee.
With this, I would like to inform you and request for sponsorship about our recent activities and future plans, I hope that you positively consider our request for sponsorship.
For more information please contact me.
Best regards,
Bernardino G. Villagante