| | |
| --- | --- |
| | The Words of the Verheyen Family |
In Holland, a spiritual revolution will take place in 1972
Teddy Verheyen
January 1, 1972
Holland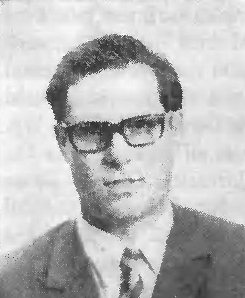 Mr. Teddy Verheyen
As till now there are 7 centers in Holland -- Amsterdam, Utrecht, Den Haag, Groningen, Nijmegen, Maastricht and Tilburg. Each of the cities gave a holy ground and strong members who are leading those centers.
Holland established the 4 position at a world-wide scale having the child nations Greece, South Africa and Israel to take care of as the parent nation.
We had this past year a good cooperation with all the families and members in Holland, Europe and world and want to continue this unity in 1972 as one family under our True Parents.
In the springtime of 1972 the first 7 year course in Holland will be over and we expect that many children will join the family, much more than before.
In Feb. 28, 1972 we will be blessed 3 years and we also have given out pamphlets continuously for 3 years.
We feel that Holland is now ripe for a spiritual revolution to take place and we pray that it will happen in 1972.
The Tong-il Trade Company, IFVC Movement and CARP Movement will be expanded considerably in 1972.
We are meeting more and more. The people who have heard the Principles in other countries are confronted again here in Holland with Principles. So soon the world will be one. The Unified Family will have made great strife all over the world in 1972.
We will continue to lead this nation of Holland as one of true representatives of our True Parents, under His direct guidance.
Further we want to thank you for your kind cooperation you have shown in 1971 which will be continued in 1972.
We are wishing a good year for our family in Korea and all over the world.