| | |
| --- | --- |
| | The Words of the Uraguchi Family |
Family Values Lecture in Hiroshima
Febbie Uraguchi
June 15, 2010
Hiroshima, Japan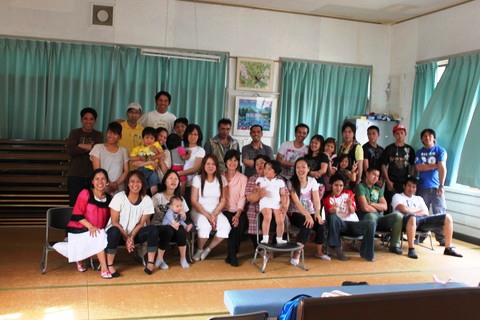 Dear Brothers and Sisters,
I just wanted to share only our recent activities in Hiroshima month of May and June. We conducted Family Values Lecture in some towns of Hiroshima City. Last May we conducted seminar in Akitsu, Hiroshima organized by Analeza Kono as the area coordinator of that place and last June 6 we conducted the seminar in Mihara, Hiroshima organized by Renee Fujimoto as also the Area Coordinator to that place and she gathered 25 guests Filipino, Brazilian and Japanese. They were all inspired with lecture and they express their heart during the Group Dynamic after the lecture. All our activities were reported to our Church leader of Hiroshima church and some church members are happy to know this and requested us to give lecture to their foreigner guest. So this coming June 19 there will be another Lecture in Miyajima organized by one of the church member.
Some of these Filipinos who attended seminar were going back to Philippines soon for their work contract is about to finished. They came from Cebu, Davao and Baguio so we told them to connect to the church in their hometowns.
We did also the Relief Project every year since last year, Last month we just send again to our Philippine headquarters to Kuya Joseph Navalta to help for their witnessing, and we hope to continue this relief project.
Actually since 2008 we've started this lecturing activity until at present but only now I have the courage to share because we don't have yet much result I am too shy. But still no result yet, I mean become full pledge member, not yet. But I don't understand myself why I have the courage now to type and share this to you. Sorry maybe this is not inspiring. But we will do our best to make result for True Parents as much as we can.
Please allow me to present to you these hard working Filipino member we are the fruit from your hard work in the Philippines; Annaleza Kono, Renee Fujimoto, Marizel Kikawa, Ricky Camit (new member fruit from Nagano). Other country are Julie Hirakami from US, Muyaya Tambo from Africa, Santana from Thailand, Carlos Duarte from Portugal.
Have a nice day,
Febbie Uraguchi