| | |
| --- | --- |
| | The Words of the Uba Family |
The Heart of Island Pioneers
Paul Uba
April 4, 2007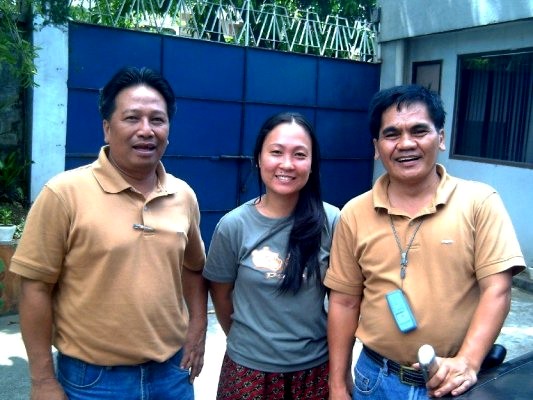 We had a very wonderful day with Nardz (Leonardo Saripa) yesterday. The first thing we did in the morning was to watch the True Parents' entrance to the Original Palace, UPF compilation videos, Man of Peace, then I gave him some of our magazines, and the new copy of the CIG Pledge. Now he knows the meaning of Aju, through the E-Sunday Service you sent that I forwarded to him.
It was my wish to let Nardz meet the National Leader Michael Z. and it was also Nardz's wish, and so it happened. Wow!, when Michael came out of his room, he saw Nardz. You can see the sparkling smile of Michael when he saw Narding - he grabbed Narding's hand and brought him to the Leaders' dining room. Syempre kilig din si Narding and nagkwentuhan kami doon. I feel so sorry that I could not get a picture. Anyway Narding shared his situation including his wife's health, then Michael suggested how about going to Chung Pyung, for the sake of his wife. Narding immediately told Michael, "But we are PMC," and Michael said, "and so what Kuya, it doesn't matter at all whether you are PMC or not." With this declaration of Michael, I felt Narding was liberated from his situation.
Next, we went to the Paeste's to their office in Makati. We caught Jun Paeste in surprise. We had so many blah blah blah's, but we were very happy recalling our past, and Nardz felt so free sharing his heart etc etc. After two hours of sharing our hearts, we were treated to a "grilled tuna belly" dinner at Glorietta by Wilma Paeste, wow!!! Before we parted with the Paeste's, Narding said to Kuya Jun, "Kuya, pwede ba kitang yakapin?" He he he! Could you imagine that emotional encounter? Wow! It's a treasure that can never be exchanged with any diamond or gold. We went back to HQ and get Narding's things then Narding went back home to Valenzuela City. Yesterday was really a great day for God, True Parents and for us in that level at least. Abangan ang susunod na kabanata! Mansei!
Aju!
Kabsat Paul