| | |
| --- | --- |
| | The Words of the Tully Family |
In Memoriam: Joe Allen Tully: 1946-2010
In Jin Moon
November 30, 2010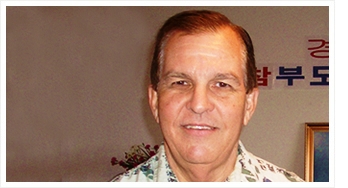 Unificationists around the country mourned the passing of a pioneer for North America on October 19, 2010 in Honolulu, Hawaii. Joe Tully was one of Rev. Moon's first followers and leaders of education, working in many different areas of the movement.
"Joe Allen Tully devoted 110 percent to everything he did," says close friend and classmate Eugene Hamamoto after his passing on October 13, 2010. "Whether it was on the football field, track oval, classroom, and in faith or friendship, you knew that Joe was always there -- completely. He had recently returned from Korea and was formulating new plans for yet another initiative. Until his dying breath he championed the causes to have us all embrace the acceptance of God into our lives, the return of the traditional family as the strength of society, and the protection of children."
Joe Allen Tully was born on June 29, 1946 in Texas; his family was traveling at the time. He grew up in the small town of Naalehu on the Island of Hawaii. Joe lost his dad in a traffic accident when he was quite young, and from elementary school through high school, Joe attended a prestigious boarding school, Hawaii Preparatory Academy.
Joe was an outstanding high school athlete who excelled at football, and was named to the Hawaii All-State team as both an Offensive and Defensive player in the same year! Joe then earned a bachelor's degree in biology/pre-med at Stanford University.
He joined the Unification Church in San Francisco in early 1970. For years, Joe led the large New York branch of the Unification Church, and became one of the best lecturers in America. He assisted Mr. Ken Sudo in Barrytown, N. Y. and was quite active with the fight against communism. Joe worked with Dr. Bo Hi Pak, under whose guidance Joe became one of the founding members, and President of the American Constitution Committee (ACC).
During the era of transition after the collapse of Communism, Joe also spent time in Ukraine in the Crimean peninsula teaching the Divine Principle to college students of the former Soviet Union.
In 1987, Joe suffered a massive heart attack, followed by quadruple by-pass surgery. Joe returned to his home state of Hawaii in 1989, and began the Hawaii Freedom Coalition in Honolulu. During that time, the Rev. and Mrs. Sun Myung Moon visited Kona, Hawai'i frequently and during prayer/study meetings would often speak directly to Joe by name.
Joe Tully and Victor Jessop were the two primary 'founding fathers' of Rev. Moon's High School of the Pacific, and to Joe's last day, he remained loyal to Rev Moon's vision for HSP, and the school's vital mission to Pacific Island students.
Joe worked tirelessly in both education and political arenas to support the family unit in Hawaii, and taught about absolute sexual morality and related issues. To that end, Joe together with other prominent leaders in the Hawaiian community worked to found the Hawaii Family Coalition: a grassroots organization dedicated to protecting traditional family ethics and values. Joe suffered a stroke only days after launching an inaugural series of Hawaii Family Coalition workshops here in Hawaii.
Joe and his wife Sanae were blessed in marriage in the 1800-couple wedding. Sanae passed away in 1999. Their five children, in order of age, are, daughters, Bumi, Mihwa, Jamie and Hyo Ja, and son David.