| | | | |
| --- | --- | --- | --- |
| | The Words of the Thornhill Family | | |

The Mayor Of Watford Speaks About Her Experiences In The Middle East
Dorothy Thornhill
February 24, 2007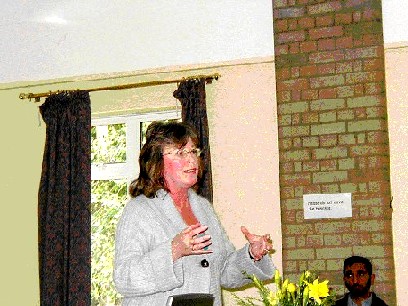 Dorothy Thornhill, elected Mayor of Watford took part in a MEPI conference in January. Before she left for the Middle East, she promised Francoise Murphy that she would report to the Bridge of Peace WFWP her experiences visiting the Israeli and Palestinian territories.
On Sunday 24th February, Dorothy Thornhill shared with us her personal impressions about her trip. The meeting took place at the Friends Meeting House in Watford. The Quakers offered their facility free of charge and publicized the event in their church.
Many of them specially the women have shown a great interest in the activities and meetings of the Bridge of Peace WFWP. Beside the Christian and Muslim women meeting regularly, once a month the BoP WFWP organizes a quarterly talk for men and women on interfaith dialogue with Riaz Hussain, head of the Muslim Awareness Forum.
On Sunday, our meeting started with Stephanie Grant warmly welcoming everyone to her church. Over 50 people sat attentively listening to this most sensitive topic: the state of the relationship between Israel and Palestine. Riaz Hussain, the MC for the afternoon gave a short introductory talk reminding us the critical position of Israel/Palestine as the most sacred place for the 3 Abrahamic faiths: Judaism, Christianity and Islam.
Mayor Dorothy Thornhill followed with a very clear power point presentation giving a very balanced view of the situation. First of all, she acknowledged and thanked the International Inter-religious Federation for World Peace for sponsoring her trip to the Middle East. She also mentioned the main principles of IIFWP and MEPI. From the start she made it clear that she wanted to share her personal impressions and not get into political views. Then, she described and made comments on the different places she visited in the Israeli and Palestinian territories and showed pictures of various sites including the impressive wall that separates the two communities.
She spoke about her meeting with the Mayor of Bethlehem, UN representatives ... members of various organizations dedicated to peace and reconciliation and ordinary families. "Most are just ordinary people who want to get on with their life" she said. Her conclusion was that hope for peace in the area is only possible if both sides are ready to compromise but she did not see very much signs of this to happen; she was pessimistic about the future. When people insist only on justice to be done, it is hard to have hope for peace. "We need to focus on peace" said the Mayor at the end of her speech.
After her talk, Dorothy invited questions from the audience. An animated debate followed with people expressing their different views. Francoise concluded the afternoon by offering flowers to the Mayor and thanking her and everyone for coming. People continued their conversations through the refreshments.


Download entire page and pages related to it in ZIP format


Table of Contents


Information


Tparents Home