| | |
| --- | --- |
| | The Words of the Tengan Family |
About District 12 Pastor Mark Tengan
January 2013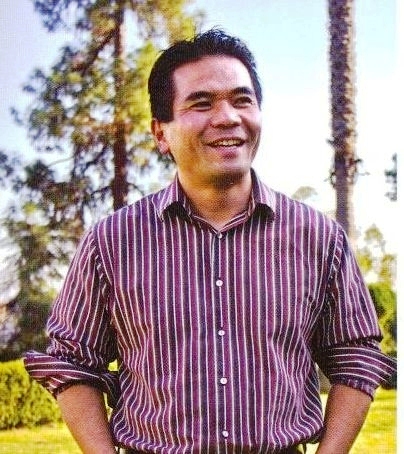 Mark Tengan was born in Okinawa, Japan and now lives in Pasadena, California. He was studying law at Okinawa International University when he decided to leave Japan in Spring of 1991 to search for the meaning of life. He joined the Unification Church in San Francisco in April 1991 after an encounter with a witnessing team there. He was blessed to Tina Trinh from Vietnam in 1996 in Korea and now has five daughters and one son. In his free time, he enjoys scuba diving, fishing, listening to audit books and being silly with his daughters.
Mark was the Assistant Director of the Divine Principle Seminar, the Actionizing Program and the Special Task Force from 1995-1997 in California. He was the Center Leader of Field Operations for the Pure Love Alliance from 1997-1998 in Maryland, the Outreach Director of CAR; from 1998 1999 in California, and the Co-Chairman and the Coordinator of Operations for the American Clergy Leadership Conference (ACLC) of the Pacific Southwest District from 2000-2010.
After serving as the assistant pastor of the Los Angeles Family Church from 2008-2009 and the assistant to the District Pastor of District 12 from 2006-2010, he was appointed as District Pastor of District 12 in 2010 and reelected in 2012.
Question: What are your reflections on the inauguration ceremony?
I was truly honored to be a part of this inauguration ceremony for Interim District Pastors. I felt the Holy Spirit in the room where True Parents 'devotion has been offered for the past few decades. I have read in the Bible how Jesus washed the disciples' feet, but through this ceremony, I realized it was an actual effort by Jesus, not just a theory or concept. First, our feet were washed by the national Headquarters staff members. Then, we washed the feet of our church brothers and sisters in the same way that our feet had been washed. The whole ceremony was a great experience which I will never forget. Afterwards Reverend Hyung Jin Moon and his wife took us to tour East Garden. He explained to us the history of each room and each spot inside and out I felt that he treated us as family, and that made me feel so warm even though it was snowing outside. I felt a great future for our movement.
Question: What nicknames did you have growing up, and why?
Tenma. It means "Heavenly horse," or something like that. I had a classmate who was also named, "Masaru," which is my real Japanese name, so our friends used the nickname "Tenma" to distinguish us. That nickname followed me from elementary school through college. Many of my hometown friends still call me by that nickname.
Question: If you had a million dollars, what would you do?
That's a tough question. Should I say I would donate it all to the church? We definitely need an investment for our future generations.
Question: What story does your family always tell about you?
My parents told me that when I was two or three years old, I never stopped singing on the way to my grandparents' home, which is a two-hour drive. I have a hard time believing that story.
Question: If you could travel back in time, who would you meet and why?
Jesus. I would like to feel the atmosphere of what he experienced.
Question: If you didn't have to sleep what would you do during the time you would normally spend sleeping?
I would create a serious habit of reading. There are many books to read!
Question: If you could be a superhero, which superhero would you be? How would you use those powers?
When I saw Star Wars in elementary school, I had many dreams of using a light saber to fight with monsters. I have always wanted to become a Jedi master who can use the Force to bring about peace in the galaxy.
Question: Do you have any phobias? If so, what are they?
I love the ocean, to dive into the deep sea through scuba diving, but I don't like heights.
District 12 Council Members
Mark Anderson
Naoko Hiraki
Michael Holmes
Ted lgarashi
Farley Jones
Curtis Martin
Dan Stein
David Stein
Carol Takhar