| | |
| --- | --- |
| | The Words of the Tengan Family |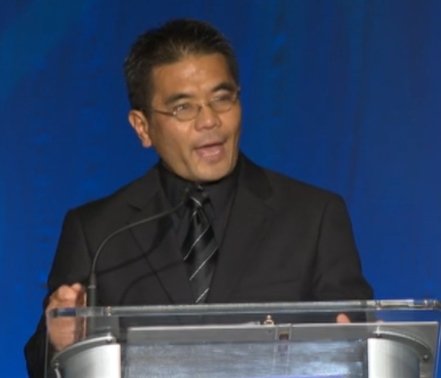 1. Good morning, Lovin' Life brothers and sisters! I would like to extend warm greetings from our Senior Pastor Rev. In Jin Moon to all local Lovin' Life Ministries locations (over 100 now), down to Florida, and to the state of Maine and to Alaska, to Hawaii, San Diego, and everybody in-between. Once again, Good morning! Also to brothers and sisters who are joining in different parts of the world, God bless you!
2. In this precious moment, and in this historical place, let's you and I re-affirm that the Spirit and Love of God are here with us. Please tell the person sitting next to you "the Spirit and Love of God are here with us".
3. My name is Mark (Masaru) Tengan, I'm the District Pastor of District 12, Southwest Pacific area. Many of you might be wondering about me, which nationality I have? Some of you may say, "Tengan…,oh, …he could be Hispanic, because "Tenga" in Spanish is "I have". Or others could say, "he looks like a Filipino?"... In fact, I'm all of that. Actually, I was born in Okinawa Island, Japan, located at the far south, next to Taiwan. In my pronunciation I may not differentiate between L and R, I'm giving you something to think about. Come see me for your questions after the service.
4. At this time, let us send our Love and greetings to our True Parents and International President, Rev Hyung Jin Moon who just returned to Las Vegas 2 days ago. We are so grateful for their love and investment here in America. We are here to bring joy back to them through our living testimonies. Let us bring many God's children back to Him, A-men!
5. Right now in Las Vegas, families across America are coming to support our True Parents and to reach out to all of God's children and declare the breaking news of our True Parents. Let us continue to create strong witnessing momentum here in America. Do you think our True Parents can feel it? (Absolutely) I was supposed to be in Las Vegas from yesterday; however, all of a sudden, heavenly rapture took place and I'm here now standing at this amazing podium. So I'll go to Las Vegas next week.
6. Now let us all together send our love to our Senior Pastor of America, Rev In Jin Moon. I personally thank God because last Sunday on Mother's day we could listen to her sermon again. She truly has the heart of True Mother I know that not only the Washington DC area, but all of us were blessed nationwide by her message and the Investment that she is making with each of our families around the nation, it is incredible.
7. Also, we had a special True Parent's life course lecture given by Rev. Yong and Rev. Chung, who were instructed by our International president, Rev Hyung Jin Moon to come to America and share this very important information with us. The Bay area, LA, Chicago, Seattle and New Jersey communities were truly blessed. That was great gift from our True Parents to us, now we are equipped by the words of God. We know how we can prepare ourselves for Foundation Day 2013.
8. Now I would like to brag about our district, "District 12". First of all, let me say this, none of our districts in America has ocean in between the states. We have Hawaii! From California, there is 3 hours' time difference to Hawaii. It's quite a distance. That island really reminds me of my home town.
9. Pastor and Mrs. Earnie Ho are in Honolulu. On the Big Island in Kona, we have Pastor and Mrs. Chuck Frumin and all the wonderful families there. Lovin' Life Ministries is growing stronger on each Island. If you need a vacation and you want to do ministry work at the same time, Hawaii is a good place to go (Just ask Rev Lamson, Aloha!)
10. In District 12 We have San Diego led by Pastor and Mrs. Walter Frank. They have a powerful community program, a very warm environment, where all the parents are working together to raise beautiful children. That's another great place to go.
11. In Phoenix Arizona, Pastors Staffan and Jane Berg together with Mark and Dianne Hickler are guiding that community. They have strong youth programs going on there. Recently Jaga Gavin and Victoria Rumen visited them and had a great time together. That was really nice of them to visit like that (that's the culture of "Just Because.") For the 30th Anniversary of 2075 couple blessing they are planning to go to "Sedona"; beautiful and dynamic view of nature and river. If you decide to go, please contact Rev. Berg.
12. Las Vegas is also part of our district so our district is heating up, the "Heat is on" spiritually and physically as well. In fact, that city is having 3 digits temperature and they almost made 3 digits as number of guests for Mother's day Sunday service in Las Vegas!!! They had over 80 guests last Sunday. Glory Halleluiah! (Give a big hand to them). If any of us were waiting for a Sign from Heaven, there is that Sign in Las Vegas. It's very HOT out there.(I'm talking about the spiritual element) it's the Home of our True Parents, so many things are happening. Rev. Berg, Pastor Damian and Mrs. Dunkley, and many families moved there for God's will. Also there are missionaries from Japan who are continuing to come to Las Vegas.
13. As you may know Lovin' Life Ministries in Las Vegas is now held in the beautiful Rave Movie Theater. They are ready for a break through! In fact, they are already breaking through. That's the touch of True Parents power. If you want to feel the heavenly fortune directly blowing on your face, come to Vegas!! This is a good place to go. Amen!
14. Last but not least, we have Los Angeles as the district HQ. Our senior pastor sent us a Lethal Weapon from the East coast, that is George and Christina Kazakos' family. Together with his leadership we started Lovin' Life Ministries Services at Edward Cinema located in Alhambra California. It was a big cultural shock but younger generation love it! We experience the power and heavenly fortune which come from uniting with the direction and vision of Senior Pastor.
15. I can't mention all of your names out there, Michael Holmes and the dream team invest in different parts of our ministry – the volunteer ministry, educational ministry…they bring fresh breeze of God's love to our community. Carol Tacker as Sunday school principal has outside of the box thinking for Sunday school in the theater. They have singing part, dancing part and learning experience. Helen Brown bakes home style Danish and we serve hot drinks with it. People love to fellowship around the coffee bar. Now our families are so excited to come to church, they are coming to service from 8:30 am and having quality fellowship before the 9 am main service. The idea of home style Danish came from our Senior pastor.
16. Brothers and Sisters, this is a Divine Principle 101 question – the key for victory is what? "Unity." When we unite with the Heavenly direction from our True Parents to our Senior Pastor in this vertical order, miracles happen.
17. Matt Ishizuka and the Los Angeles Lovin' Life Band come to the service location before 7 am for setting up and preparing for blessed families and guests to come. Last Sunday our new guest Eliot and Da-Joe performed a Rap song "Appreciating Mother". We loved it. Our Lovin' Life Ministries is truly changing our culture, value, and internal attitude. We are not perfect but we accomplish many things and as a community we are really growing. thank you True Parents – and let's have a big hand for our Senior Pastor.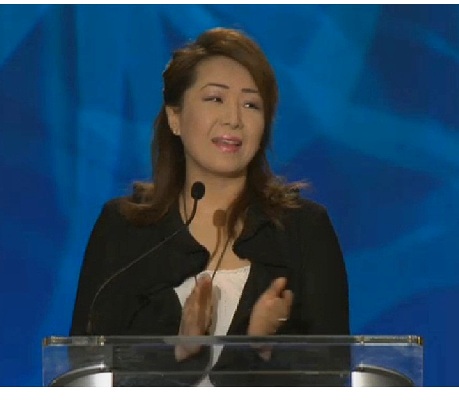 In Jin Moon – January 1. 2012
18. I still remember when our Senior Pastor, Jin Sung Nim, Ariana and the national team came to Los Angeles on October 2010. That was first time for us to welcome Lovin' Life Ministries in the West coast.
19. We had a great time. We called it "Autumn Festival." We had costume competition, ballroom dance and Lovin' Life service.
20. I experienced the seriousness of our Senior Pastor – to take care of struggling family...
21. I had direct witness how she dealt with the difficult case and give us clear advice. And follow up with it. Miracles happen because of investment. As community we learn to face it and deal with it, and create an environment that we do not make same mistake. No rumor, No pointing figure from behind. We face it as it is. And deal with it.
22. True Families Gateway to Heaven Rev. Sun Myung Moon page 73.
The Importance of the moment
The crossroads of life do not appear over a long period of time but in a single moment.
People who ignore the moment cannot obtain anything precious. Nor can they become great people, or inherit God's throne and crown. To make each moment shine, you should exercise care with each word you utter, each action you take, and even each thought you have. Deal with life and solve problems, believing that the contents of your daily life will all remain as phenomena in relationship to the world. That is the only way the realm of victory is determined.
It is in the moment that the realm of victory is determined. It is the same with the historical realm of victory and the cosmic realm of victory. Those who live with unlimited values capable of making each moment shine brightly can become great people, even saints or God's sons and daughters. In this way, the junction of life and death is crossed in a single moment.
23. This morning, the topic I would like to share with you is "Live in the present time". It is talking about time. Please allow me to rewind time a little bit for me to share my personal experience of God and True Parents. How God guided me to this country and how I joined this Unification Movement and now how God is continuously working with my life.
24. As I mentioned before, I was born in Okinawa Japan in 1969. I'm oldest of 3 siblings. I grew up in the country side where I could see the Pacific Ocean, because Okinawa is a small Island and everywhere you go there is ocean.
25. When I entered University in Okinawa I had a part time job as a waiter in a French restaurant. Have you ever tried French food before? When you go to real gourmet French restaurant and order full course meal, you will be served with many dishes. It starts from hors d'oeuvre as appetizer dish, and soup, then salad, they have bread on the side constantly, here comes seafood dish, then entre, main course, it's usually a meat dish. Then finally desert. Meanwhile a waiter is serving red or white wine. So its complex, it's not that simple. It's consisting of many dishes.
26. In French restaurants, there is fight between cook and waiter. It's the waiter's responsibility to call for the next dish. When guests are almost finishing one dish, a waiter calls for the next dish. For instance, as guests are almost finishing their appetizer dish a waiter goes to the kitchen and tells the cook "soup please". A waiter doesn't need to wait until they finish completely. If a waiter wants to make the full meal course flow, smooth, and enjoyable, it's crucial to have clear conversation between a cook and a waiter. Otherwise one mistake will bring us to fight. "You made mistake!!"…..argument, fight all the time. My point is that I saw injustice, unrighteousness many times, in the conflict between those who have power and the oppressed, the weak one. I started to have questions about life inside of me.
27. My life style in college was the worst of all. In general, it's hard for students to enroll in university or college in Japan. But once they're entered, it becomes a dangerous place; where students can do whatever they want. Let me confess here, I saw hell on earth. There was drinking and smoking and partying every night.
28. Listen young generation, God loves you! Your parents loves you! Whatever your parents tell you, please listen.
29. Those days I started wondering, "My life will finish like this?"…but I said, "No, I don't think so. I believe there must be something more for my life". I was desperate. Even unconsciously, I was searching. So God needs to work this out, somehow bring me out of the environment to rescue me. You know when MTV came out, in the 80's, right? I was really influenced by American music. Totally, Police, Michael Jackson, Toto... I was fascinated by it. Also I got influenced from American soldiers who served in the military base in my home Okinawa. The largest air force base in Asia is in Okinawa, its called Kadena airbase. They looked like they were having a good life to me, when I saw them on the beach doing scuba diving, having a good time. Matter of fact I had several American friends. God stimulated me to come to this country. So I did.
30. In Spring of 1991, I came to America. I was standing at the Powell and Market Street in San Francisco, down town. In that spot there is a turning table for cable cars which go back and forth between downtown to Fisherman's Wharf. As the cable car turns… my life was turning as well, God picked me up and turned my life around completely 180 degrees. My spiritual father put me to the solid ground there. I know Phil and Heather Thalheimer joined in the same spot, right? I heard so many people joined before me around that area. Incredible conditions were offered in that place! And different places in America as well, for God to reach out to youth who came from around the world to meet True Parents. That's why CARP (Collegiate Association for the Research of Principle) had another name, TARP(Tourist Association for the Research of Principle).
31. The Macama Hill workshop site (some people call it camp K) located in the Northern California, was the spiritual birth place for many people. The heavenly tradition of the Oakland church (which Rev Tom Cutts talked about in his sermon) was there. We sang in a circle, and gave our life testimony in the evening around the bonfire. There was so much love in the kitchen, serving great meals. In the beginning I had such a hard time with pancakes in the morning and tried not to put soy sauce onto my oatmeal. Because, an American brother told me that if I continued that habit I'll be kicked out of the camp.(Just kidding.)
32. In that beautiful rich spiritual environment I received God's words, the Divine Principle from our God and True Parents. Macama Hill was like a mother's womb ready to give spiritual birth to many children. It was protected. God was right there to inspire, heal broken hearts and reveal the truth that God's children needed to hear. I was touched by the Fall of Man taught by one of our sisters in the beginning. She just had a baby. So many examples and stories came from her relationships with her own child. It was real. God was expressing His heart toward his children whom he had lost such a long time ago.
33. Those days, I went to the holy ground every night to pray and to sing songs which helped me to stay connected with God's heart. I want to put one of my favorite songs on the screen now. I'd like to invite Rev. Cotter here.
34. Please sing along with me. Some of you might know it.
35. Its call "Love Is Born a New" song written by Joshua Cotter and Sheri Rueter. If you know this song, please help me out. I'm not a great singer.
Love is Born Anew
Father, you've been on this road so long,
Oh, won't you rest your weary head upon my heart?
Just take my hand. And together we will find
A secret place where dreams are born And love's alive, your love's alive.
Father, You're the rock that stands so strong,
Although the waves have come against You for so long; you still go on.
And Your hope is like a flame
That's ever burning through the darkness and the pain.
Turn the teardrops into smiles; You're the Father,
I am Your child. And together, we will heal this world. And love is born anew.
36. Thank you. I know why our Senior Pastor calls Lovin' Life Ministries a music ministry. Amen? The power of music to move your heart is incredible. When I was in Macama Hill workshop site, God touched my heart. He shared His heart in many different ways. That was the first time for me to hear that God's heart is suffering by His lost children. That's why this song stays in my heart even now.
37. Every year at the beginning of the year our True Parents give us a motto. this year's motto is: The Era of the victory, liberation and completion of the True Parents of heaven earth and humankind.
38. How can we liberate our Heavenly Father and True Parents? By living our lives moment by moment, and step by step, let us make ourselves spiritually mature to liberate our Heavenly Parents and True Parents.
39. 2 Corinthians 4:16-18 Seeing the invisible
Therefore we do not lose heart. Even though our outward man is perishing, yet the inward man is being renewed day by day. For our light affliction, which is but for a moment, is working for us a far more exceeding and eternal wright of glory while we do not look at the things which are seen, but at the things which are not seen. For the things which are seen are temporary, but the things which are not seen are eternal.
40. Heavenly Father, who guides my life, and knows about you and me so well, and He is calling our names for a long time. He blessed me through True Parents with my wife Tine Trinh Tengan. She is very straight, unlike me. God knew what kind of better half I need as my spouse.
41. God blessed us with 6 beautiful children. My wife was telling me that we will have 7 children. Well I guess including myself she gave birth to 7 children. In 2010, with our last children's pregnancy she got cancer. When my wife and I found out about the cancer, it was already the last stage. Woman's hormones change drastically during pregnancy period. However, miraculously, with God's help, she gave birth to the last child and that baby girl is still alive today with a healthy body (she is 3 years old).
42. I thank God that my wife and I had few months to spend time together before she departed to the spiritual realm. Basically it was a healing honeymoon for us. While we were seeking holistic healing this was an alternative approach to cancer, we went to Chung Pyung and Choeng Shim Hospital. in Korea is a place blessed by God and True Parents for spiritual and physical healing.
43. Later, we went to the One Heart Hospital of Tokyo and to my hometown for thermo therapy. We went to all kinds of places, downtown Seoul for sitting together outside to eat interesting meals. Or Tokyo near one heart hospital they had a sushi bar.
44. Those memories come back to me in a flash. Then I realize my wife is near to me, I feel her presence. For instance, last time with my girls for morning prayer and reading, usually they had a hard time to get up at 5 am. But because of donuts as a prize for it, if they wake up, they joined and said to me, "Oh papa, mama is here! Wow, Do you see mama?", and my wife was there above the book shelf. They felt the strong presence of their mother. Happy birthday Eunmi, I love you Seiho, Seika Euna.
45. Only through the Divine Principle, the teaching of our True Parents, could I understand that husband and wife can continue their relationship between spiritual and physical realms. I realized the Sang Hwa or Heavenly ascension Ceremony and Legacy of Peace ceremony are the real thing. I'm still discovering reality of spiritual realm in my daily life and I'm so grateful to God for my Blessing and my eternal relationship with my wife.
46. We are not living in the past. We are living in this present moment. Amen! let's give a big hand to God and True Parents for the Blessing of marriage.
Let us be glad and rejoice, and give honor to him: for the marriage of the Lamb is come, and his wife hath made herself ready.
And to her was granted that she should be arrayed in fine linen, clean and white: for the fine linen is the righteousness of saints.
And he saith unto me, Write, Blessed are they which are called unto the marriage supper of the Lamb. And he saith unto me, These are the true sayings of God.

Sun Myung Moon and Hak Ja Han – circa 1975
48. In 2001, we had the 50 States Speaking Tour, in which True Parents gave speech every day for 50 days. We prepared the locations for the program. It's called the Bonaventure Hotel located in the middle of downtown Los Angeles. We gave everything we had. We had prayer meetings going on towards success of the program We were desperate to prepare for Father's speech.
49. Then we welcomed True Parents before the program started. That was a precious time for us to introduce ourselves to True Parents. I can never forget, how True Father explained about my name. He started to explain that "Oh Masaru means it's a cup already filled up but still pouring water and water is over flowing over the cup" (by the way that's not meaning of my name but Father is describing my spiritual state) then Rev. Ku explained to me that Father was very pleased by your hard work. Then I saw True Mother smiling at me. You know saints, I felt I could die right there. That's the moment I live for, I want to bring joy to God and True Parents. I never forget that moment. We have original desire "want to bring joy to our parents".
50. In 2010, in Christmas time, Senior Pastor invited all of us to come to Las Vegas. Then before Lovin' Life Ministries service we had Ballroom dance and Gala. That time I heard of Jin Sung Nim, usually he gave talk to the younger generation and it's a wonderful intimate time with True family. I was dead serious to prepare for what was happening the next morning. I didn't care so much about what's going on with Ballroom dance and other activity. Maybe to In Jin Nim I looked too serious, so she said one word "Mark, enjoy.." That word came down to me. Here is part of the True Family, making a great place for us to just to enjoy. But I didn't receive it. I learned a great lesson about Lovin' Life Ministries in that moment. Lovin' is present time, It's not past or just concern about future, it's NOW. "Lovin' Life!!"
51. I need to share with you about the time our Senior Pastor asked me to take this responsibility. That was after my wife passed away. Rev. Cotter was calling me about this mission. I answered "God knows my situation, that my wife is in spiritual world and I have 6 kids, however, still Senior Pastor wants me to do it? I will do my best". I came to be interviewed by our Senior Pastor. Around the same time with Rev. Takami (he was before me). It was August 2010. So Senior Pastor had Japanese twins so to speak. But I will never forget her attitude towards my circumstance. She didn't sympathize from humanistic view but rather she was making sure that it's calling from God. In that stillness, firmness of her attitude, I saw True Parents daughter right there.
52. What True Parents went through, what True Family went through… senior pastor mentioned in her message about True Mother's words "Suffering makes our heart deeper.." there is untold story behind the scene in True Parents course and True family's course. On behalf of us they went through it and True Parents and True Family are still taking that step. When we live this moment with total investment as Sons and Daughters of our Heavenly Parents and True Parents, we can only unite and be the agent of change.
53. We should not be observers, but we are totally participating together with True Parents and True Family, Amen? We are not just sitting and waiting but we becoming owner of our life. Aju?
54. Like Sonic cult sang today [The Fixer by Pearl Jam];
When something's broke, I want to put little fixing on it.
If something's bored, I want to put a little exciting on it
When something's low, I want to put a little high on it
If something's lost. I want to fight to get it back again
55. Our True Parents are fighting to get Ideal back to Heavenly Father and bring all His children back again, every moment of their lives. We cannot find anyone like them in this world or in history who are totally intoxicated with God's love and live in that realm. They are investing their each ounce of their energy to restore God's lost Ideal and bring his children home again.
56. Brothers and sisters, let's make the most of each moment that God has given us on this earth knowing that we will spend eternity with Him and with those whom we love.
57. God bless you and have a wonderful Sunday.
---
Notes:
2 Corinthians, chapter 4
1: Therefore, having this ministry by the mercy of God, we do not lose heart.
2: We have renounced disgraceful, underhanded ways; we refuse to practice cunning or to tamper with God's word, but by the open statement of the truth we would commend ourselves to every man's conscience in the sight of God.
3: And even if our gospel is veiled, it is veiled only to those who are perishing.
4: In their case the god of this world has blinded the minds of the unbelievers, to keep them from seeing the light of the gospel of the glory of Christ, who is the likeness of God.
5: For what we preach is not ourselves, but Jesus Christ as Lord, with ourselves as your servants for Jesus' sake.
6: For it is the God who said, "Let light shine out of darkness," who has shone in our hearts to give the light of the knowledge of the glory of God in the face of Christ.
7: But we have this treasure in earthen vessels, to show that the transcendent power belongs to God and not to us.
8: We are afflicted in every way, but not crushed; perplexed, but not driven to despair;
9: persecuted, but not forsaken; struck down, but not destroyed;
10: always carrying in the body the death of Jesus, so that the life of Jesus may also be manifested in our bodies.
11: For while we live we are always being given up to death for Jesus' sake, so that the life of Jesus may be manifested in our mortal flesh.
12: So death is at work in us, but life in you.
13: Since we have the same spirit of faith as he had who wrote, "I believed, and so I spoke," we too believe, and so we speak,
14: knowing that he who raised the Lord Jesus will raise us also with Jesus and bring us with you into his presence.
15: For it is all for your sake, so that as grace extends to more and more people it may increase thanksgiving, to the glory of God.
16: So we do not lose heart. Though our outer nature is wasting away, our inner nature is being renewed every day.
17: For this slight momentary affliction is preparing for us an eternal weight of glory beyond all comparison,
18: because we look not to the things that are seen but to the things that are unseen; for the things that are seen are transient, but the things that are unseen are eternal.
Revelation, chapter 19
1: After this I heard what seemed to be the loud voice of a great multitude in heaven, crying, "Hallelujah! Salvation and glory and power belong to our God,
2: for his judgments are true and just;
he has judged the great harlot who corrupted the earth with her
fornication,
and he has avenged on her the blood of his servants."
3: Once more they cried, "Hallelujah! The smoke from her goes up for ever and ever."
4: And the twenty-four elders and the four living creatures fell down and worshiped God who is seated on the throne, saying, "Amen. Hallelujah!"
5: And from the throne came a voice crying, "Praise our God, all you his servants,
you who fear him, small and great."
6: Then I heard what seemed to be the voice of a great multitude, like the sound of many waters and like the sound of mighty thunderpeals, crying, "Hallelujah! For the Lord our God the Almighty reigns.
7: Let us rejoice and exult and give him the glory,
for the marriage of the Lamb has come,
and his Bride has made herself ready;
8: it was granted her to be clothed with fine linen, bright and
pure" --
for the fine linen is the righteous deeds of the saints.
9: And the angel said to me, "Write this: Blessed are those who are invited to the marriage supper of the Lamb." And he said to me, "These are true words of God."
10: Then I fell down at his feet to worship him, but he said to me, "You must not do that! I am a fellow servant with you and your brethren who hold the testimony of Jesus. Worship God." For the testimony of Jesus is the spirit of prophecy.
11: Then I saw heaven opened, and behold, a white horse! He who sat upon it is called Faithful and True, and in righteousness he judges and makes war.
12: His eyes are like a flame of fire, and on his head are many diadems; and he has a name inscribed which no one knows but himself.
13: He is clad in a robe dipped in blood, and the name by which he is called is The Word of God.
14: And the armies of heaven, arrayed in fine linen, white and pure, followed him on white horses.
15: From his mouth issues a sharp sword with which to smite the nations, and he will rule them with a rod of iron; he will tread the wine press of the fury of the wrath of God the Almighty.
16: On his robe and on his thigh he has a name inscribed, King of kings and Lord of lords.
17: Then I saw an angel standing in the sun, and with a loud voice he called to all the birds that fly in midheaven, "Come, gather for the great supper of God,
18: to eat the flesh of kings, the flesh of captains, the flesh of mighty men, the flesh of horses and their riders, and the flesh of all men, both free and slave, both small and great."
19: And I saw the beast and the kings of the earth with their armies gathered to make war against him who sits upon the horse and against his army.
20: And the beast was captured, and with it the false prophet who in its presence had worked the signs by which he deceived those who had received the mark of the beast and those who worshiped its image. These two were thrown alive into the lake of fire that burns with sulphur.
21: And the rest were slain by the sword of him who sits upon the horse, the sword that issues from his mouth; and all the birds were gorged with their flesh.
The Fixer - Pearl Jam
Yeah, hey, hey
When something's dark, let me shed a little light on it
If something's cold, I want to put a little fire on it
If something's old, I want to put a little shine on it
If something's gone, I want to fight to get it back again
Yeah, yeah, yeah, yeah, fight to get it back again
Yeah, yeah, hey, yeah, yeah
When something's broke, I want to put a little fixin' on it
If something's bored, I want to put a little exciting on it
When something's low, I want to put a little high on it
If something's lost, I want to fight to get it back again
Yeah, yeah, yeah, yeah, fight to get it back again
Yeah, yeah, hey, yeah, yeah
When signals cross, I want to put a little straight on it
If there's no love, I want to try to love again
I'll say your prayers, I'll take your side
I'll find us a way to make light
I'll dig your grave, we'll dance and sing
What's saved could be one last lifetime
Hey, hey, hey
Yeah, yeah, yeah, yeah, fight to get it back again
Yeah, yeah, hey, yeah, yeah, fight to get it back again
Yeah, yeah, yeah, fight to get it back again
Hey, yeah, hey, yeah, yeah
Yeah, yeah, yeah, yeah, yeah