| | |
| --- | --- |
| | The Words of the Tardy Family |
When a Nation Waited for a King to Face His Fear
Celine Tardy
February 21, 2011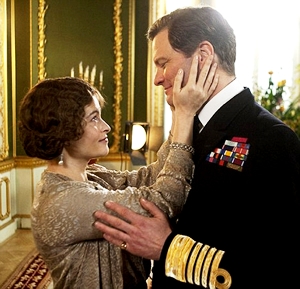 Left: Helena Bonham Carter as Queen Elizabeth. Right: Colin Firth as King George VI
Americans may be unaware of the career-threatening struggle of Britain's Duke of York (Colin Firth) in the 1930's who suffered from an embarrassing stammer. The duke's personal dilemma became a national crisis after he suddenly inherits the throne. (Edward, VII, his brother, abdicated the throne in order to marry Mrs. Wallis Simpson, a commoner from America.) With Hitler threatening to force Britain into a Second World War, the nation needed a monarch who could rally the troops and the citizenry on radio and in public gatherings, yet the up-and -coming George IV still cringed from the depredations of a stammer he had borne since childhood.
Luckily for the duke, he had a compassionate and wise wife Elizabeth, (Helena Bonham Carter) who helped locate an Australian speech therapist with the skill and the character to cure the King. Their daughter is the current Queen of England, Queen Elizabeth II.
Although George IV had been treated as royalty his whole life, inside he was really looking for a person he could talk to freely and openly, and this need was met in the person of Lionel Logue, (Geoffrey Rush), an unusually assertive speech therapist who turned out to be his most important friend during this demanding time in his life. After numerous sessions of not wanting to look at any underlying reasons for his speech stammering, Logue helped him to overcome fears derived from what he had been told by others in his childhood, but to realize that these could be left behind and to see his worth.
The Oscar nominated film, The King's Speech (2010) was about more than just the woes of a mere speech impediment. The British film has impeccable acting, and encouraged me to also look at who I really was, and the importance of connecting with others through communication. Sometimes we have a voice, but we do not acknowledge it. We have the capabilities and the inner passion, but we put it aside because of fear of rejection.
I connected this film to Rev. In Jin Moon's desire to see Second Generation Unificationists realize their potential and not be inhibited by fear. She recently said in her Lovin' Life Ministries sermon on February 20, 2011, that we should look at our lives as works in progress rather than as a possible failure. Life is a process, and we should not give up hope.
Even though King George is convinced that his speech stammering would never be fixed, and therefore he was unfit to be king, after one session with Lionel, this speech therapist proves to George that he could read a whole page from a book without stammering once when he is listening to music instead of judging his own voice.
Overall, The King's Speech inspired my passions to help myself and others see the things in themselves that can be pushed down from angst, and can be used in brilliant ways if they are believed in. A friend like Lionel pushed the King to go far, and in the end lead the people of England through the war.
The King's Speech has been nominated this year for an Oscar for best picture, actor, and directing.