| | |
| --- | --- |
| | The Words of the Tardy Family |
College Students Enjoy Glamour and Excellence at CARP's Winter Ball
Celine I. Tardy
January 8, 2011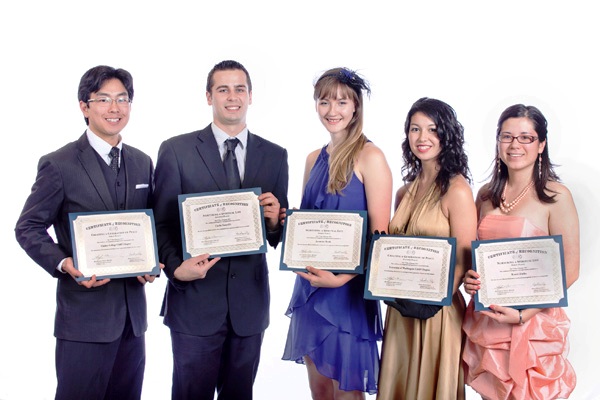 On January 8, 2011, the Collegiate Association for the Research of Principles (CARP) held its 2nd Annual young adult Winter Ball at the Hammerstein Ballroom in Manhattan. The theme of this year's ball was the 1950's Age of Hollywood Glamour, where young-adult guests attended dressed in classy 50's attire.
With an estimated 500 college-age attendees from around the country, it was a night of fun and socialization, yet filled with encouragement from speakers to use the opportunities in front of them to be great leaders and agents of change for society.
"How wonderful would it be if you young people, members of CARP, can start changing our culture, the culture of the world to something beautiful, something divine and something worth fighting for?" asked CARP's Winter Ball keynote speaker Rev. In Jin Moon, daughter of the Rev. Sun Myung Moon and the Unification Church's President and CEO.
College youth were asked to look at the life in front of them and decide how to use it towards greater achievements. "You are in the most incredible four years of your life. You can decide what you want to do. You can do whatever you want. How wonderful it could be if you seized that opportunity! Anybody can rebel. It doesn't take much talent or practice. But how wonderful if we do something different than everyone else is doing. Don't be a follower. Be a leader. Don't follow fashion trends. Set the fashion trend," Rev. Moon said.
Opening with 50's Jazz music presented by musician Joe Young and singer Ilhwa Yokpore, guests first enjoyed a cocktail hour with a free "mock tail" bar and unlimited hors d'oeuvres. The night's MC, Victoria Roomet, CARP-USA Vice President, opened the event, followed by welcoming remarks from Hero Hernandez, CARP President.
Diesa Seidel, director of United Initiatives for Peace (UIP) then gave a short presentation of this year's CARP Alternative Spring Break program to be held this spring for volunteers to do service work in Costa Rica. Kayeon Amaral, CARP President in Seattle, shared a presentation on Human Rights Violations in Japan, in which she discussed coverage of South Korea's SBS television station on the current abductions and forced confinement of Unification Church members in Japan that are being overlooked by Japanese police and public officials.
In her keynote address, Rev. Moon shared her concern about the atrocities taking place around the world today and the ability of the young people in the audience to do something about it.
"This is really a time when as a community, we can come together and say, we decide today to be that agent of change, to be that divine son and daughter that decides that we are going to start loving life. No matter where we come from -- which state, which college, which fantastic family you come from, we come together as the young generation that is to be the hope of not just our movement, not just our community, but of this great country of America. The greatest leaders that we have yet to see, the greatest leaders that will overcome the barriers of religious difficulties, of racial difficulties need to come from our community."
CARP announced nine scholarship recipients, five of whom were invited on stage and awarded by Rev. Moon that evening. More than 60 college students had applied for these educational scholarships, which were awarded for three different achievements: Nurturing a Spiritual Life, Academic Excellence, and Creating a Generation of Peace (Best CARP Chapters).
Award Winners:
Nurturing a Spiritual Life –
First Place: Kaori Zinke, University of California, majoring in Social Welfare
Second Place: Carlo Santelli, Columbia University, majoring in Financial Economics
Third Place: Jasmine Roth, Union College, majoring in Theatre
Academic Excellence --
First Place: Sarah Eide, Berklee College of Music, majoring in Film Scoring
Second Place: Seijin Tranberg, Georgia Gwinnett College, majoring in International Studies
Third Place: Emilie Schuler, Brandeis University, majoring in Environmental Studies
Creating a Generation of Peace (Best CARP Chapters) –
First Place: Chabot College, represented by club president Koshin Hosoya
Second Place: University of Washington, represented by club president Kayeon Amaral
Third Place: Kansas State University Ambassadors for Peace Club, represented by club president Clareen O'Connor
An electrified performance by Lovin' Life Ministries Band, Sonic Cult followed, arousing attendees to be up out of their seats rocking out near the stage, enjoying their evening filled with exuberance, a sense of passion, and support from a nationwide CARP community focused on empowering its members to be the finest assets for change.