| | |
| --- | --- |
| | The Words of the Tardy Family |
The 2010 Cheon Bok Gung Providence Tour Starts in New Jersey
Celine Tardy
March 12, 2010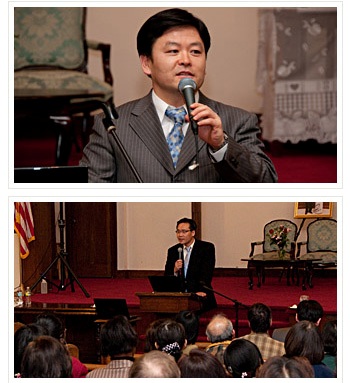 The 2010 Cheon Bok Gung Providence Tour took off on Friday, March 12, 2010 in New Jersey with plans to continue around the country to visit a total of 12 cities and conclude in New York City on March 28. Rev. Hyung Jin Moon and Mr. Kook Jin Moon's direct staff had been sent from Korea, with approval by True Parents, to spread the news of what is currently taking place in our movement directly with American members, focusing on the 3rd temple to be built as the Completion Stage Cheong Bok Gung.
The informative event featured several presentations including the Providential Significance and Current Status of the Cheon Bok Gung Project, as well as current information regarding Kidnapping and Forced Confinement in Japan. Information on the Tongil Group's Media Coverage, Management Results, as well as the overall reorganization of the Unification Church of Korea was also shared. This was each American member's chance to hear current news first hand and become directly involved.
Rev. Joshua Cotter, USA Executive Vice President, first gave introductions for the upcoming sessions. He explained that although the American members were not able to participate in the second stage Cheong Bok Gung, which was built and recently opened by True Parents in Korea in February, now was their chance to take part in the temple being built for the completion stage. "This temple represents the heart, soul, and life of our True Parents, as well as the culmination of their work on this earth," explained Rev. Cotter.
Presentations were given by Mr. Jin Hwa Chung, the Special Projects Director helping to build Cheong Bok Gung under both Hyung Jin Nim and Kook Jin Nim in Korea. Quotes from True Parents, as well as both Hyung Jin Nim and Kook Jin Nim, shared that the Cheong Bok Gung was created not only to serve as a temple for Unificationists but instead as a world temple where all religions would be able to come together in harmony. This third temple, representing the completion stage, was also to be built by all Blessed Families around the world. New facilities of the Completion Stage Cheon Bok Gung were clarified for attendees, as well as benefits to be received by donors to the building of Cheon Bok Gung.
Korea's Tongil Group Media Coverage and External Activities presentation showed all the recent coverage of events of our movement by media around the world. Kook Jin Nim's goals and standards for making the presentation of our church a priority was shown by the establishment of a department in Korea only dealing with media . Promoting ourselves instead of hiding ourselves is the new standard, which has lead to 90% positive and objective articles because of the reaching out and expressing of beliefs.
Richard Bach, the third son of the honorable Tiger Park and current Legal Counsel for the Mission Foundation in Korea, also gave a testimony to members about his experience with the hindrances as well as current progress for measures being taken towards the United Nation's acknowledgement of the dreadful issue of kidnapping and forced confinement that has affected over 4300 Unification Church Japanese members.
To conclude the program that evening, Rev. Cotter took the podium to share about the most recent developments of the American movement, especially with the upcoming one year anniversary of Lovin' Life Ministries under Rev. In Jin Moon. Numerous events with both the members and public were shown by photos, as well as the vision of Lovin' Life Ministries, centering on True Parents and the unity of Hyung Jin Nim, Kook Jin Nim and In Jin Nim. One example was the reaching of National Live Broadcast in less than a year!
Through this event members were given the ability to see the highlights of True Children working together and offering support in different areas for the future of our movement, under our True Parents. They were also able to see that many changes have already been made, and a path has been put forward in order for us to incorporate these changes in America as well, for the goal of much to come before 2013.
The 2010 CBG Providence Tour will be coming to your area soon! Please stay in tune with your local pastor to learn when the tour will be visiting your community!