| | |
| --- | --- |
| | The Words of the Swearson Family |
One Family Under God - Hope - Harmony - Healing - Dr. Hak Ja Han Moon
Carl Swearson
May 29, 2007
Minneapolis, MN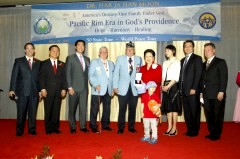 An enthusiastic audience of Minnesotans joined the Moon family Tuesday, May 29, to receive a message of "hope, harmony and healing" in Minneapolis at the Radisson University Hotel. The Golden Swans Gospel Group lifted the spirits of everyone with their inspired music.
Rev. Carl Swearson brought words of encouragement from the spirit world. Judaism, Christianity and Islam were represented in the prayers of Rabbi Mark Waldman, Rev. Arthur Agnew and Dr. Owais Byunus. They prayed as three sons of Abraham with their hands and hearts joined in unison.
Rev. Dr. Michael Jenkins opened the main program with an explanation of the previous tours conducted by the Moon family. He helped everyone understand the purpose of why we all were gathered together.
Rev. Jessie Griffin gave an invocation, asking the audience receive the message from God that Dr. Hak Ja Han Moon was bringing to the nation.
Rev. Carolyn Arnett, Judith Ratte and Bishop Alphonse Reff conducted a forgiveness and sanctification ceremony. They asked God to burn away our past and let us begin anew a relationship with Him and with one another.
Rev. and Mrs. Michael Jenkins officiated at the holy wine ceremony with Bishop Carolyn Arnett and Mr. Albert Arnett as the groups representative couple. All who were gathered in the house joined the couple by partaking of the holy wine. It was a holy moment to unify in the spirit of the Living God.
We were blessed with a peace message from a former congressman, who praised Reverend and Mrs. Moon and their family for the work of peace they had been doing throughout their lives all over the world. He said, "When I was in Congress I noticed the work of Rev. Moon and I see he and his family continuing the great work today. Im so glad to see the young Dr. Moon continuing the work of his parents. The Moon family is truly doing a noble work for God and all mankind."
___ inspired the audience with a beautiful rendition of "Climb Every Mountain." Her voice was sweet and melodious and inspired us all.
Dr. Chang Shik Yang gave an inspiring testimony of the work of Reverend and Mrs. Moon. "This tour is designed to create God-centered families and an awareness of living for the sake of others." His message touched the hearts of everyone and resonated with the audience.
Hyun Jin Moon spoke from the heart. He spoke of the tradition of his parents beginning with his Fathers meeting with Jesus in prayer on a mountain in Korea at the age of 16. "He was anointed, appointed and approved by Jesus to establish one family under God." His speech was straightforward and gave insight into the deep relationship he has with his father and mother and how he wants to continue their great work. He continued to speak about his mother and all that she was doing to advance world peace and the fulfillment of Gods will in the 50-state tour.
Dr. Hak Ja Han Moon delivered a message that was clear as a bell and profound in its depth and meaning for our age. Her voice was beautiful and very easy to listen to, melodic and strong at the same time. She was uplifting in every sense of the word and the audience responded with applause throughout her speech.
After her speech she and her son were presented with flowers and gifts. Korean War veterans presented her and her son medals and commemorative baseball hats. Dr. Moons grandson was delighted with the hats and pulled one over his face during the picture-taking time. The Womens Welcome Committee presented a large victory trophy. All of this was followed by Ambassador for Peace awards and Family Church of Peace presentations to many of the pastors present. A group picture with all past and present Ambassadors for Peace was taken at the end of the program.
Everyone one went on their way to the music of the Golden Swans.
Testimonies:
"Ambassadors for Peace, I think of you as an extended family, carrying on to a higher level, the work of Rev. Dr. Martin Luther King. Im inspired by your dedication to the cause of peace."
Former Congressman
"The presentation was incredible. Mrs. Moon has shown great courage and ability to others on the path to peace. She is an incredible mother to the world. It is amazing all you do, creating harmony from the family to the world. I wish Rev. and Mrs. Moon a prosperous life. Go forward towards Gods will."
Founder of Laotian Churches in Minnesota
"A beautiful and most needed message to insure world peace, with family as the base."
Representative of Korean War National Museum
"It was a wonderful experience. I wish all the success in all your endeavors, and God bless you."
Dr. Owais Bayunus
Director of Minneapolis Islamic Association
"Keep on with the good. May God be with you and all your decision and peace will surely follow."
James Martin Golden Swans
"The program was great. Nobody could deny the message, the message of peace. The world yearns for peace. Ever since mans existence, there has been conflict. I have heard about Dr. Moon and his family, some good, some bad. Personally, I think anybody who dedicates his or her life to benefit others has to be blessed.
Guest from Minneapolis
"This was an unbelievable experience. The speakers and singers and musicians were all excellent. Two hours of uplifting thoughts. I was so blessed to see the Moon family in the flesh. Thanks so much for inviting us!
Barbara
"Everything was really classy."
Host of a cable interview program
"There is real warmth here-- people seem kind and sincere."
Guest from Minneapolis