| | |
| --- | --- |
| | The Words of the Stolberg Family |
Service For Peace Loses a Distinguished Friend - Irving Stolberg
February 17, 2009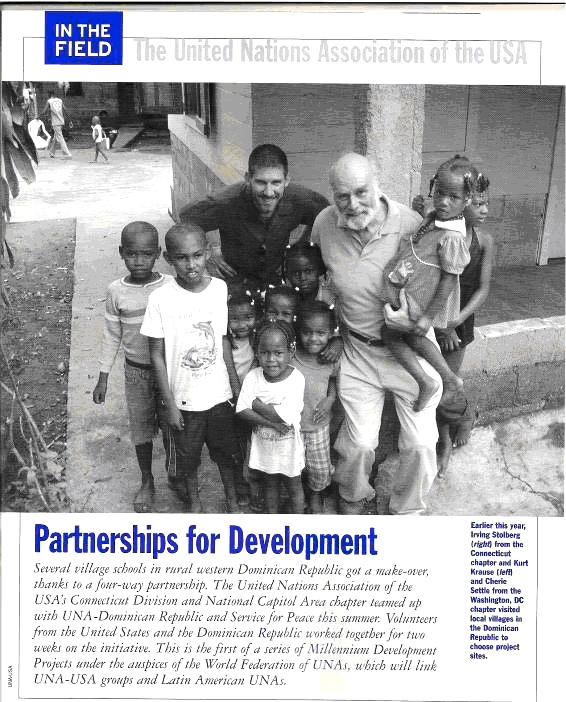 Irving Stolberg, a distinguished participant in our Global Peacemaker Program in the Dominican Republic in the summer of 2007
On Friday, February 13, Irving Stolberg passed away after a year-long battle with leukemia. Irv was known to many in Service For Peace as the Honorary Chairman of SFP's Martin Luther King Day activities in 2008 and as one of the most dedicated participants in a Global Peace Maker program in the Dominican Republic in 2007.
Irv was a former geography professor at Southern Connecticut State University and Quinnipiac University who traveled extensively overseas and oversaw numerous cultural exchange tours to Asia and Africa. He visited China 22 times and set up training programs for Chinese leaders, while also working for democratic changes in Eastern Europe. He most recently was president of the Connecticut Chapter of the United Nations Association.
Irv also had a distinguished career in Connecticut politics. He served for 22 years in the General Assembly as the representative from New Haven's 93rd District, and two terms as speaker of the House. Jonathan Pelto, a former legislator from Mansfield, and deputy to Stolberg when he was speaker, said Connecticut under Stolberg "laid a model that has been adopted by virtually every legislature in the country."
However, Irv's real passion was foreign affairs and his experience in the Dominican Republic with Service For Peace was one of his last foreign adventures before he passed away. "Our SFP community was touched by his model of servant leadership," said SFP President Charles Phillips. "In the poverty stricken villages of the Dominican Republic, Irv served in SFP's Global Peacemaker programs taking the most humble positions alongside volunteers many years his junior. Never an elitist, Irv always found positive things to learn and share with his fellow volunteers. His spirit will live on in our Global Peacemaker programs as he was a peacemaker par excellence!"