| | |
| --- | --- |
| | The Words of the Schmittat Family |
Legacy of Peace Ceremony in Phnom Penh
Masumi Schmittat
June 25, 2010
UPF-Cambodia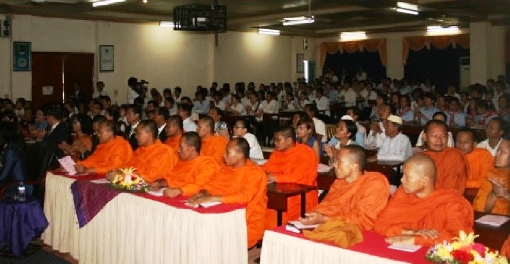 Phnom Penh, Cambodia - The Cambodian Mekong University was the setting for a Legacy of Peace Ceremony on June 25. The University's Vice Chancellor welcomed the audience of 250 people, and Hon. Kong Uok, Vice Chair of the National Committee for Population and Development, introduced the ceremony. A Member of Parliament, Hon. Ho Naun, gave the opening speech.
Honorees included H.E. Prime Minister of Cambodia Son Sann, Vice President of the Royal Academy of Cambodia Prof. Chhey Yiheang, and Nobel Peace Prize nominee Maha Ghosananda.
International honorees included H.E. Kim Dae Jung, President of South Korea; H.E. Abdurrahman Wahid, President of Indonesia; Hédi Annabi, Chief of the United Nations Stabilizing Mission to Haiti, who died in the Haiti earthquake; and Mr. Nakata Atsuhito, a Japanese UN volunteer to Cambodia who was killed by Cambodians.
The Keynote Address was given by Rev. Pasit Sirimalai, Director of UPF in South-East Asia
Twenty government officials were present, including three Members of Parliament and three Secretaries of State.