| | | | |
| --- | --- | --- | --- |
| | The Words of the Schmittat Family | | |

Peace Tour Cambodia
Masumi F. Schmittat
November 26, 2006
UPF-Cambodia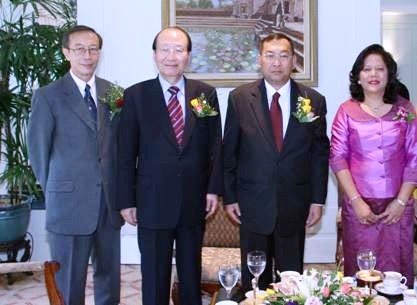 Cambodian Ambassador for Peace, H.E. Son Soubert (left) with Dr. Chun Hwan Kwak and Prince Norodom Sirivudh and his wife during the first Peace Tour in 2005.
Cambodia, one of the youngest newly democratic nations, has now held three successful World Peace Tour Rallies within exactly one year. It was on November 27th 2005 that Father and Mother Moon visited Cambodia for the first time. We held a second event in June, this time two more rallies, one in Phnom Penh, the capital city of Cambodia, and also in Siem Reap, where Angkor Wat stands, a national treasure designated a World Heritage Site by UNESCO.
The main rally was held in Phnom Penh, the political center of Cambodia. It started with the National Anthem, followed by the invocation offered by five Buddhist monks. The leading Cambodian Ambassador for Peace, H.E. Son Soubert (a Member of Constitutional Council), gave the welcome speech. Next, Senator Ung Ty presented Rev. Kwak's message as enthusiastically as if he were speaking his own words. Other Ambassadors for Peace had mobilized their friends and colleagues, and as a result 31 new Ambassadors for Peace were appointed. Altogether, 244 people participated in this event. Among them were 12 political leaders, 7 government officials, 4 professors, 9 NGO leaders, 11 religious leaders, 119 students and 85 general people. We had around 60 volunteer student staff.
Rev. William Revely Jr., who has been ministering for 45 years in USA, appeared on a stage in an African style attire. He read Father Moon's speech fluently and clearly with dignity. Participants followed the text in Khmer language. His friendly smile broke down the barriers of language, religion and culture. Different religious groups (Christians and Muslims) and students took pictures together with him after the official ending of event.
One of participants testified that our event is really effective in Cambodian society because it supports the new government law which affirms one husband and one wife.
The other rally was held in Siem Reap, 250 km northeast of Phnom Penh. It is now the peak season for tourism. Many Koreans, Chinese, Japanese, and Western people visit the Angkor Archaeological Park to see the Angkor Wat, the biggest Hindu-Buddhist temple in the world.
One of the earliest Ambassadors for Peace in Cambodia, H.E. Khieu San, a Member of Parliament, took a great part of the responsibility together with his wife, H.E. Neang Chhayana, Under Secretary of State. They were the officiators and the mobilizing power to invite 2 Members of Parliament in Siem Reap and 5 distinguished guests Phnom Penh. Their 12-year-old daughter and 11-year-old son also attended this event and helped to create a good family atmosphere.
A Member of Parliament, H.E. Mrs. Poeu Saoeun, gave the welcoming address for Rev. Antonio Lowery.
She mentioned that this peace tour would be a blessing to the Cambodian people. "Father Moon emphasizes the importance of the family values, lost during the murderous regime of Pol Pot in which more than one million Cambodians perished," she said.
A young and energetic Rev. Antonio Lowery started the speech by singing a song. All participants were astonished by his action at the beginning, but later they were able to concentrate and listen to the speech. He read Father Moon's speech with a powerful voice, which helped the audience feel the importance of the moment. Reverend Lowery testified that he was captivated by Father Moon's word, which teaches unity beyond religion, cultures, race and nationalities centering on God's parental love.
The most joyful outcome of the rally in Siem Reap was that Christian and Muslim leaders agreed to cooperate for the sake of community development.


Download entire page and pages related to it in ZIP format


Table of Contents


Information


Tparents Home