| | |
| --- | --- |
| | The Words of the Sawada Family |
True Father's Autobiography Distribution Testimonial
Asuka Sawada
July 7, 2010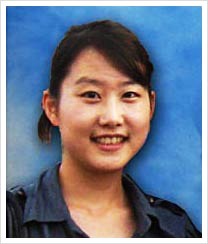 "Could you help me distribute the books, Asuka?"
When my mother first asked me to help her distribute "As a Peace-Loving Global Citizen," I did not budge an inch: I despised the idea to go hand them out. However now, I cannot recall why I hated it so much. But I remember I was reluctant to say "Yes," because I did not want to, yet I hated to say "No," because I did not want to upset my mother. Trapped in the dilemma and full of groundless excuses in my head, I walked out of the dining room and retreated to the inner chamber where her voice could not reach my ears. For the rest of that day I kept my silence and did not even look up to see her face.
The turning point came, however, during the following Sunday service, when I saw two families that had finished distribution in our church being introduced and awarded. While I sat next to my mother, watching, I felt the feelings of great self-reproach and sadness surging out from her. My mother was applauding, with a shiny smile on her face, happy to congratulate the peers' success. But I knew from the invisible wave of emotion that she was tearing inside, blaming herself, for not being able to complete the "assignment" that Father has given to us. My mother is not a materialistic person. She would never cry for not getting the award first or ever. If she was crying, it was solely for the failure of our family being unable to carry out Father's words yet.
As the most devoted and faithful figure in our family, my mother had actually been distributing the books since late last winter. She started off with walking around the neighborhood, and later when the Japanese translation of the book was published, she sent dozens to her friends in Japan. Working alone towards the goal of distributing 430, however, was never easy. After she came back from Las Vegas, due to the enormous exhaust that has accumulated over the years, her health finally shut down, and she was forced to lie down for weeks. Even when I came back from school and saw her for the first time in the past six months, she could only speak, yet not rise from the mat and welcome me with a hug. Our distribution count had stopped at 150, far short from the goal.
After I realized how agonized and desperate she was that Sunday, however, something clicked inside me. The stubbornness that had confined me suddenly evaporated and it was instead replaced with the zeal to finish the distribution and to free my mother from the agony. The Monday after that Sunday happened to be Memorial Day when most families would stay home. Seizing on the chance, I took as many books as I could -- and believe me, they ARE heavy! -- and knocked on house by house. Perhaps God saw my change. Surprisingly, although it was my first time ever to visit the houses of strangers, I finished giving out all seven books in thirty minutes, a Guinness-rank record for me. On the way back home, I was thinking loudly in my head, "That WAS easy."
Once I returned home, I calculated how many days it would take me to finish the distribution. A box contained twenty-eight books. If I could distributed seven books in thirty minutes, then if I just walked for two hours, I could finish a box a day. We needed to give out exactly 280 more books. That meant I could finish distributing within ten days at the earliest.
The next day, June 1, turned out to be a scorching hot summer day. However, having already experienced the taste and after being set into a full gear by the encouraging calculation from the day before, I took eight books and set out to the frizzling road. Similar to the day before, I knocked on each house with a hope that I would finish giving all the books away in one street, within half an hour.
My optimistic expectation, however, was completely betrayed. Maybe because it was a normal weekday when most of the people were out at work. For whatever reason, I could give away only three out of the eight books, an embarrassingly poor accomplishment. After roaming for an hour under the dazzling sun, I came home exhausted. My parents welcomed me home with a knowing face and soothed me by saying that this hardship was due to the day being the second, metaphorically the period of time when the first human ancestors fell.
Tuesday being the second day or not, I could not stop there, for my mother wanted to finish it as soon as possible, preferably by June 12, the 48th Day of All Things. Determined to finish by then, I decided to give the books to my high school teachers as an emblem of gratitude. I gave the books to some of my closest friends. That made 210. We decided to mail the rest of the 220 books to lawyers, accountants, and ministers with hope that this socially powerful group of people would influence others around them after reading the book. During the last few days, all four members of our family worked together: My father searched for the addresses of the people on the Internet, my Mother prayed almost all the time when she was awake; I wrote the addresses on the envelopes; my sister drove to mail the books at the post office. When the four of us got together, it was miraculously fast. We finished on June 7, and reported it to our pastor, Rev. Lee, the next day. My mother was greatly pleased and said, "My break-down did not only result in bad things. Perhaps God crushed my health to remind me how important it is for family members to unite together."
My participation in the distribution started with a tiny motive to please and free my mother. But this experience helped me earn a lot of blessings, something that I had not imagined to gain when I started.
Some of these blessings were thoughts and emotions that I went through while distributing the books, something that I would not have given a thought to for a long time if I kept resisting my mother. To name a couple, one thing that I was surprised to know and reminded of again was that when you believe in True Parents, everything turns out all right.
When I had decided to give the books to my high school teachers, I had a doubt and fear somewhere in my mind. I was scared that the teachers might leave me after years of building trust and friendship. Pushed by the flow and zeal to complete the distribution, I somehow managed to sweep all these negatives into a corner. But my younger sister, who still attended high school, held a greater fear than I. She had about one month left before her graduation, and she feared that if we made it clear we were "Moonies", it would affect her teachers in grading her finals. On the day we decided to go to the school and give the teachers the books, she hesitated and suggested that we would give the books away on her graduation day. I saw her fear right away and could relate to it, but I was also aware that when we miss a chance and postpone what God wants us to do, Satan could come in and mess up everything. So instead of giving in to my sister's wish, I scolded my sister and made a compromise that we would give the books away, however only two days later.
The promised Thursday came. After two days, my sister seemed to have calmed down and drove smoothly to the school without any complaint. Since I had work during the day, we decided to put books into the teachers' mailbox installed in the main office with my letter accompanying the books. We feared that since the superintendent and teachers arrived at school early they might say something to stop us. But we safely put all twenty-eight books into the teachers' mailboxes, and I headed down to my work place.
A few days later, after some improvement on her health, my mother visited the school to give some teachers Little Angels' performance tickets. In the main office was a Korean teacher she knew, who greatly helped my mother in translating English to Korean. As soon as she entered the office, the Korean teacher welcomed her with a great smile on her face, thanking her for the books, my mother told me. The teachers were very pleased to receive the books, I heard, and some of the teachers who did not get them even complained. Well, the teachers I did not give the books were the ones I did not know or the ones who never had me in their classes. But the books were so popular in our school that teachers had to make a circulation system, so that the ones who did not have the books could read. After knowing that, we sent four extra books to the school, so that whoever complained could finally get their copy.
Another incorporeal gain that I harvested from the experience was the growth in my consciousness as a second generation and in the strength of my bond with True Parents. Since I was young, I have seen and thought that the faith of second and third generations in True Parents was much weaker than that of first generations. Of course, there might be exceptions, but if we bother ourselves to look around, I think that is the trend. First generations are the ones who came to our church despite the vehement oppositions from their families and friends. We have heard many inspiring stories of them, the episodes about converting and getting blessing. Second and third generations, however, are the children who are born into the church. We were Moonies from our birth without our choice, and since we were raised within the teachings of Divine Principle, it is sometimes difficult for us to see the value of Father's teaching. To us, they are normal. To us, they are what have always been with us. So why are they so great? First generations who grew up in the fallen world would see the difference and value of them almost instantly. But us? Not at once. I respect True Parents, and I know that Father is the Messiah. But do I sincerely believe that? Not strongly as my parents do. At least, not yet.
While distributing the books, however, this attitude of mine started to evolve a little. During these few days, I have seen many different people: people who accept the books because they are free; people who dress like prostitutes and accept them because I do not ask for donations; people who have warm hearts but I doubt they can read English; people who eat, drink, and watch TV while I am talking; people who accept but later toss them out as trash outside their doors. Every time I encountered these people, my heart was not placid but convulsively stormy with anger and sadness. Do I have to love even these kinds of people? Who are they to receive such precious books for free? Do they really understand the worth of the book? It was then that I understood the hearts of True Father and Jesus a little bit, their sadness and frustration. Of course, as Messiahs, they would have to love every kind of person equally. But if they could, they would have sought out the ones who were intellectual, the ones who can influence the world in one day, not some ones like us, not some ones like the people I met, not some ones like fishers and prostitutes that Jesus befriended two thousand years ago.
After being rejected and after picking up the tossed book, I often touched Father's figure on the front page, and naturally my eyes were watered with tears. Having left some houses to knock more, I did not allow the tears to flow down my cheeks. But with these experiences, I little by little closed up the distance with True Father, even though there are yet thousands of miles remaining between us, I believe.
These thoughts and emotions were certainly invaluable experiences that enriched my summer of 2010, but material blessings given after the completion were also priceless to me.
Since several weeks before the summer break, I have been hoping that I would have an internship and a job simultaneously, to build job experiences and earn money to pay for my tuition. Many of my friends at the school are over-achievers, working and interning at reputed companies and participating in surgeries though we are all yet rising sophomores at college. Compared to them, my resume was too white, and I was embarrassed at my incompetence. To get a job after my graduation, I would need some experiences and a great display on my resume. But I could not devote myself only to non-paid internships either. I am attending a private college where annual tuition reaches $52,000. Although I get generous scholarships, considering my family's financial situation, I needed a well-paid job during the summer.
Even a few days after my break started, however, I was jobless and companies made no replies to my requests for internship positions. Because my mother was ill, and I did not have a license, I could only stay home, restless.
Two days after I started walking the neighborhood to distribute the books, though, a Japanese media company that I applied for internship finally made a reply, telling me to show up the following Wednesday for an interview. On Wednesday, I made the first visit to the company, and by the following week, I started to work there as an intern.
The day after I got the email from the Japanese company, I got an email from a non-profit organization called QuestBridge, to which I applied for a mentoring position for the 2010-2011 school year at my school. Since I was somewhat rushing and my cover letter was not refined, I thought I would get rejected. The date of notification was well passing, so I was already giving it up, thinking that I would have a next time. The happy news, however, arrived at my gate two days in a row. I was selected as the mentor at Vassar College for the upcoming school year. From August 11 to 15, I will be taking a trip to California to receive leadership training, meeting mentors from other colleges around the country. Through this experience, I am also being given the opportunity of sightseeing, all the accommodations, food, and tickets given for free. I could just marvel at how powerful God can be when I work with Him.
The most exultant news, however, would have been the call from a law office with the opportunity to work there. Near my house in the town is a building that houses a bank and numerous firms of accountants and lawyers. Dedicated to give the books to a socially powerful group of people, on June 4, I visited there with one of my second-generation friends with the goal of finishing one box there. Because we went there around noon, many of the lawyers and accountants were out for lunch, so we left the books on the counters. Some of the lawyers who were present, however, were very obstinate not to receive them. One such lawyer was even suspicious, persistently asking us why we were doing this. "Are you doing this because someone told you to, or are you doing this because you are Moonies?" Tired of his repeated question, I finally burst into anger and said, "We are doing this because we are second generations. Why are you so stubborn? I am not saying that you should convert; I am just asking you to read it!"
Although I tried to confine my anger as much as possible, sensing the fury in my voice, the lawyer backed out. But he did not receive the book anyway, and we left the office.
The next Monday, however, I visited the building again with a Korean version of the book, for a man who worked in the obstinate lawyer's office who had promised that he would read it if the book was in Korean. I walked to the building under the burning sun and was about to open the door to the building when I noticed someone was coming from behind me. So I opened the door and yielded for him and saw his face. It was very familiar. As I entered the building after him, I recalled that it was the obdurate lawyer, whose office I was intending to revisit now.
As we got on to the elevator together, I was determined to greet, for if I remained silent and just followed after him, it might look as though I were stalking.
"Excuse me, aren't you the lawyer in the office No. 230?"
"Yeah, how did you know that?"
"Oh, I am the student who visited your office last Friday. Today I came back with a Korean version of the book since a man who works in your office told me that he would read it."
"Oh… I see."
As we got off the elevator, he asked me, "May I ask why you are so eager about doing this? What's your name?"
I did not answer to the first question, but I gave him my name, "My name is Asuka."
"Asuka… Okay."
As soon as we entered the office, I found the man to whom I was going to give the book. However, because the arrangement of furniture had changed from that of last Friday, I was momentarily confused and thus very abruptly approached the man. Without introduction to retrieve his memory, I just gave him the book and asked for his name. (My mother told me that I should get at least people's names so that we could pray for them.) I also gave him my email address in case he had any question. But contrary to the last Friday's open-mindedness and eagerness to read the book, the man looked rather uninterested and unresponsive. I was somewhat disappointed, and with a short farewell, I left the office. I stayed there less than sixty seconds.
No later than I left the office I started to regret. Stupid, I should have stayed there long enough to talk to him about something, thanking him for receiving the book. Or, since the lawyer asked me my name, if I did things right, I could have gotten a chance to give him the book, too.
Dismayed with my own failure, I returned home feeling blue. After reporting to my mother what had happened, she, too, echoed what I was thinking, and we together regretted for a good amount of time.
The next day came. I was back from my internship and was leafing through my school's email box for any new and important emails. Suddenly a title with Korean letters jumped out in my eyes. Most of the emails I get from school were in English, so it was certainly something unusual.
I opened it up.
It was from the man to whom I gave my email address, the man who worked at the lawyer's office. Because after the last visit I assumed that the man was friendly but uninterested in strangers, and because I did not expect him to email me so soon, I was at awe once again at how everything turns into a miracle when God works.
The content of the message was another miracle. According to the email, the lawyer told the man that he had good impression of me and therefore would like to work with me. Recalling the first encounter with the lawyer, I was a little bit suspicious about the validity of the statement. But anyway, I contacted the man for more information, and the following week after the interview with the lawyer, I started to work as his secretary. Building my resume and working to pay for my school. The one email message and my alignment with True Parents brought both of my summer dreams come true.
Brothers and sisters, as I have noted before, distributing the books to 430 families is never an easy task. We have to invest money, time, and trust in True Parents and God, something that are difficult to fallen human beings. But I know for sure, from my experience this summer, that whenever we work with God and True Parents, there are never negatives but only positives and progress in our lives. Of course, we should not work, looking towards the benefits at the end. But when we make a move that True Father tells us to make, it is never wrong or waste. It would only result in right and blessings. My episode of the distribution is very trivial compared to the stories of many others who succeeded in doing the same. However, how insignificant my testimonial might be, I hope that my chronicle would encourage you all, if you are still hesitating, and push you a little bit harder so that you can get start moving.
Finally, I thank you for offering me this opportunity to share my story with you all. I also truly thank God, True Parents, and my mother for enabling me to have this rich experience this summer and providing me with so many blessings. Thank you, and God bless you all.
Written by Asuka Sawada, 2nd Generation from New Jersey
On April 7, 1989, Asuka Sawada was born in Mokpo, South Korea, as the first daughter of Masashi and Kiyoko Sawada. Having traveled around three countries due to her father's job, she speaks Japanese, Korean, and English. Immigrated to the United States six years ago, she now lives in Palisades Park, NJ, and attends Vassar College located in Poughkeepsie, NY. As a rising sophomore at her college, she plans to pursue her interests in Biochemistry and Chinese. During this summer, Asuka is interning at a Japanese media company located in East Village and working at a lawyer's office in Palisades Park.