| | |
| --- | --- |
| | The Words of the Sanchez Family |
UPF La Union Conducts Medical Service in Bangar, La Union
Augie Sanchez and Cesar de Loza
November 26, 2007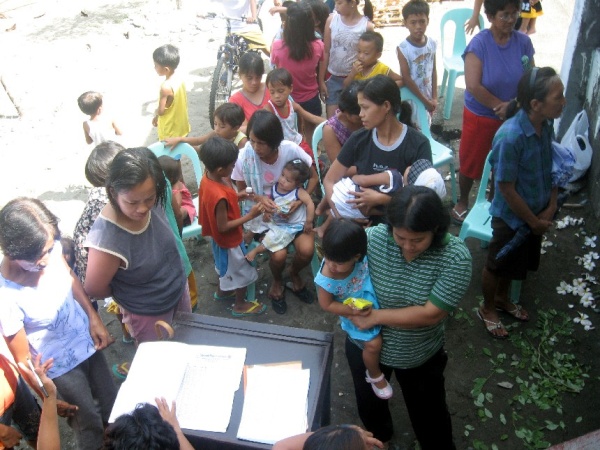 A Medical Mission was conducted under the banner of Global Peace Festival at Paratong, Bangar La Union last Nov. 18, 2007. This event was organized by UPF La Union chapter with its leaders, staff members and two medical doctors (DMD) as part of the 12-city tour of the Global Peace Festival in the region.
The guest speaker in the opening ceremony was Eng'r Felix Sanchez, an ambassador for peace and concurrently the chairman of UPF La Union chapter. He presented the essence and purpose of the UPF and explained to the audience the importance of giving peace a chance as an individual, as a family where in most of the time, families are battling because of poverty and confusion is the opposite of peace.
He brought the examples of Rev Sun Myung Moon as a man of peace as an individual, as a family man, as a man of a community a nation and a man of peace for the world, where his sharing, projects and lectures are all for global peace.
The staff members were Mr. and Mrs. Sergio and Alma Degamo of UPF Tagudin chapter; Mrs. Augie Sanchez of Fil Vision Trading in Bauang who also helped in taking the blood pressures of the clients, Cesar de Loza, leader of WCARP La Union chapter; Ariel Gascon, Ferdinand Delizo, Allen Glenn Gascon, Richard Comendador, Rema Magdayao, Richelle Joy Duhayna, Mai Laiza Ayupani, Wendy Bas-ilen, Ma. Teresa Allapiton, Renante Pugta, Veronica Balite, Riza Leonen, Renelyn Bitan, Gergia Domogdog, all of them from UPF Baguio chapter; and our two dentists who offered their free services the whole day were: Dr. Evangeline Ofiana and Dr. Evelyn Cabusora from Baguio City.
At the opening ceremony there were 100 participants who also attended the holy wine ceremony in the morning and in the afternoon the Medical mission started (blood typing and dental services). There was also a giving of relief goods and toys during the culmination of the mission in the afternoon.
There were 86 patients who asked for blood-typing, 43 in dental services while some 105 children enjoyed in the toy-giving and 22 adults in the relief-goods.
The blessed Fil Vision Trading of Bauang, La Union sponsored the ways and means of the medical mission and the relief and toy-giving.
Officials of Barangay Paratong prepared and offered the lunch to the volunteer doctors and staff who were so happy to welcome the group to serve the localities in their barangay.
The barangay chairman offered his thanks and expressed their gratitude to the organization that serve their people and requested the group to come back again. The Baguio volunteers immediately said yes, hopefully by summer next year.