| | |
| --- | --- |
| | The Words of the Sanchez Family |
Bauang-La Union Peace Assembly and Sanchez Tribal Blessing
Felix and Augie Sanchez
September 11, 2007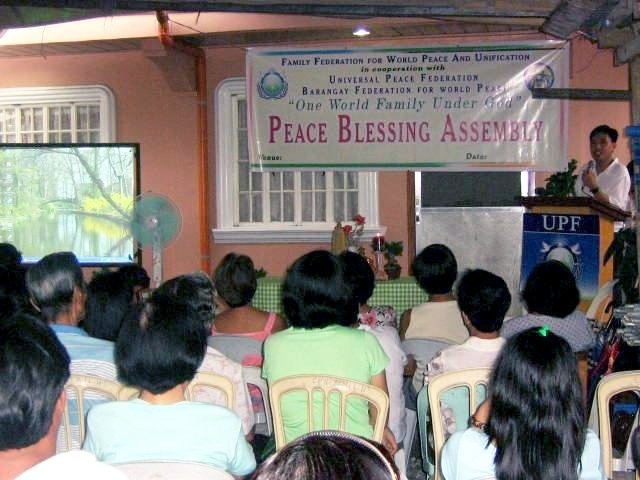 Baung La Union- Eng'r. Felix and Augie Sanchez organized their neighbors and relatives in Brgy. Quinavite, Bauang and conducted a Peace Assembly and Family-Tribal Blessing last September 2, 2007 just at their backyard.
More than 130 participants joined the event. Most of them were Engr. Sanchez's relatives. Engr Felix Sanchez was awarded and recognized as Peace Ambassador who also joined together with his wife an international seminar in Thailand with the Continental Director Rev. and Mrs. Christopher Kim as lecturers.
After the welcoming message given by Peace Ambassador Sanchez in the event, a lecturer sent by the NL Executive Director give a lecture-presentation. She was Ms. Carmela Penchon and instructor in one of the institutions in Baguio City. Her lectures introduced and discussed the topics on Family Values, Spirit World and the Purpose of Creation.
After the lectures the participants were arranged to receive the Holy Wine in a simple but solemn ceremony. During the ceremony Blessed Central Family and Tagudin Center Leader Serge and Alma Degamo officiated while being assisted by the staff from FFWPU La union Center.
A few of the participants gave their feedbacks and reflection on the seminar presentations. A sister of Engr Sanchez in the person of Florence Sanchez-Navarro who happen to have their most-awaited short vacation after 14 years of stay in Canada was inspired in listening and gave her positive comments.
Although her family was just for a few weeks stay, they were grateful to have participated in the affair. Together with her husband Renato and their children, and their other sister Elsa, received the holy wine as well during the simple ceremony. Felix's parents Dencio and Betty Sanchez also received the holy wine during the ceremony.
Another participant was a family of Felix's old time best-friend whom he has not met for several years after their college years. Mr. Noel Nuesca together with his wife and child attended the Peace Assembly and Tribal Blessing. They as a couple received the holy wine too.
After the event, a tribal reunion and salo-salo was hosted by the blessed couple Felix and Augie Sanchez in their newly blessed residence which now served like a Peace Ambassador's mini-consulate in La Union.
A couple of weeks ago, NL Mike Zablan, Dr. Edgar Tanate and Mr. Raju Bara were hosted by the Sanchez during their itinerary in Region I. WCARP Phil VP for Education Edmon Pacson also came and was hosted by the blessed couple during his visit and mission and itinerary in La Union.
Felix and Augie Sanchez are presently managing the Fil Vision Trading and Design Construction firm in Bauang, La Union. Fil Vision supports the WCARP-FFWPU Center in La Union religiously.