| | | | |
| --- | --- | --- | --- |
| | The Words of the Sanchez Family | | |

Bauang La Union 4th leg UPF Rally Report
Felix Sanchez and Joseph Paneda
November 22, 2006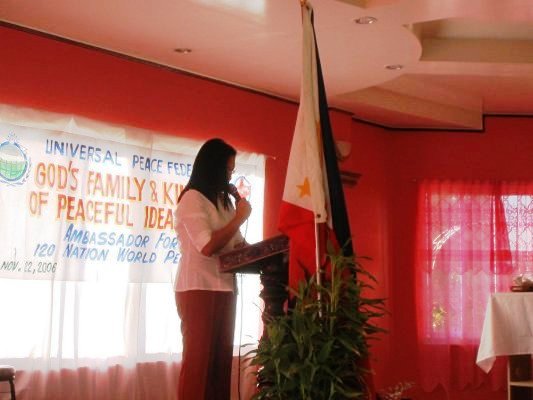 A blessed home member-couple, a WCARP alumnus and the 2004 SHSP product of WCARP Philippines organized one UPF Rally in La Union!
Less than a month after a blessed home member-couple based in Bauang, La Union initiated the 1-day PTARP seminar where more than 90 teachers and professionals attended in San Fernando, La Union, this couple find a way to take ownership by themselves to contribute in the 120-city UPF Peace and "heavenly carpet bombing" Rally in the Philippines.
On November 22, 2006 Mr. and Mrs. Felix Sanchez went to prepare the newly built Bauang Baptist Church in Santiago, Bauang and talked to the pastor to pave their way and offer their new church as venue of the UPF rally. Without the foundation and appeal of the couple plus the cooperation of the spirit world, the venue offered by the Baptist church and was set for the afternoon rally. One WCARP alumnus in the person of Fredie Solis together with the 2004 SHSP students of WCARP La Union lead by Joseph Paneda set up the necessary physical arrangement.
However, hours before the rally could start, the UM-CAR Regional Executive Director, Alfon Buyayo informed the Mr. Sanchez that other UPF rallies could not allow him to officiate the Blessing set as part of the rally. No other way but the blessed couple Mr and Mrs Sanchez have to officiate the Blessing from the holy water, holy wine vows and the like during the program. A full time sister member from Baguio was sent to help the program instead.
Mrs. Augie Sanchez, who is a humble sister and mother to the WCARP of La Union read the speech of the Rev. and Dr. Sun Myung Moon and share the message regarding the Ideal Family as a foundation for world peace.
Rev. Purruganan of Bauang Baptist Church offered his inner reflections from the message of the UPF Founder, Rev. Sun Myung Moon.
The Fil Vision Trading , Design and Construction Firm owned and managed by Mr. Felix Sanchez sponsored the fiscal needs of the rally which gather more than 80 participants from the professional sector, business sector and government including barangay officials.
La Union Center based in San Fernando City is still waiting for the head office to designate their official center leader. SHSP Joseph Paneda is standing as OIC of the local center.


Download entire page and pages related to it in ZIP format


Table of Contents


Information


Tparents Home