| | |
| --- | --- |
| | The Words of the Sanchez Family |
Phillip Sanchez Is Honored
Margaret Slaby
September 7, 2006
The Fresno Bee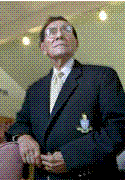 A former U.S. ambassador receives fraternity recognition.
When Fresno's Phillip Sanchez, 77, hops on an airplane for a faraway destination, he always wears his blue Sigma Chi Fraternity blazer. "The fraternity has been part of my life wherever I've gone," says Sanchez, a former U.S. ambassador to Honduras and Colombia.
Sanchez founded the fraternity's Fresno Alumni Chapter in 1950 and served as its first president. He also has been a chapter adviser at California State University, Fresno, and a speaker at many fraternity events.
The fraternity honored Sanchez for his service when he was selected this year to receive the Order of Constantine, the fraternity's highest award. According to Liz Geary, public affairs assistant at the Sigma Chi headquarters in Evanston, Ill., 56 fraternity members were nominated for the award and just 14 were selected. Sanchez is one of three from California; the others are John Serbein of Yucaipa and John Fyfe of San Mateo. Recipients will be recognized next June in San Jose.
"When you get to be an old guy, it's nice to be recognized," Sanchez says with a laugh.
The Order of Constantine was established in 1948 to honor alumni members with 20 or more years of volunteer service. Fresno Alumni Chapter members nominated Sanchez.
"Phil has been very active in Sigma Chi both on the local and national levels," says Chuck Sant'Agata, 70, a Fresno Alumni Chapter board member and 1991 recipient of the Order of Constantine. "Everywhere he goes, he wears his blue Sigma Chi blazer. The award is given to members who have dedicated their lives to Sigma Chi and the principles it teaches, and that's what Phil has done."
According to the fraternity's Web site, it was founded at Ohio's Miami University in 1855 on the "ideals of friendship, justice and learning within our membership." There now are 217 undergraduate and 145 alumni chapters in North America.
The son of Spanish-speaking Mexican migrant workers, Sanchez attended Pinedale Elementary School and Clovis High School. He earned bachelor's and master's degrees (in 1952 and 1975) in political science from Fresno State.
Sanchez served as a Fresno County administrative officer in the 1960s. He was director of the U.S. Office of Economic Opportunity (1971-73), U.S. ambassador to Honduras (1973-75) and U.S. ambassador to Colombia (1975-77).
Sanchez was publisher of Noticias del Mundo, a Spanish-language daily newspaper in New York, for 18 years before it closed in 2004. He is a former publisher of the New York City Tribune (an English daily newspaper) and Tiempos del Mundo (a Spanish-language weekly printed in many countries). He served as vice president of The Washington Times.
Sanchez retired in May 2005 and returned to Fresno to live.
In June 2005, he graduated from an intensive one-month program at the International Teacher Training Organization in Guadalajara, Mexico. Sanchez earned a credential to teach English as a foreign language; he also received a certificate from the Secretary of Public Education of the Mexican Republic, qualifying him to teach English in any city.
Sanchez currently holds posts on the board of trustees of the University of Bridgeport in Connecticut, the National Board of Visitors at Fresno State, the Saint Agnes Medical Center Board of Directors Planning Committee, the World Council of Ambassadors for Peace, and the International Council of the World Association of Non-Governmental Organizations. He also is president of the Educational Foundation of the Americas in Mexico City.