| | |
| --- | --- |
| | The Words of the Samko Family |
Young Russians Promote Friendship and Goodwill at the Olympic Games
Dmitry Samko
February 12, 2014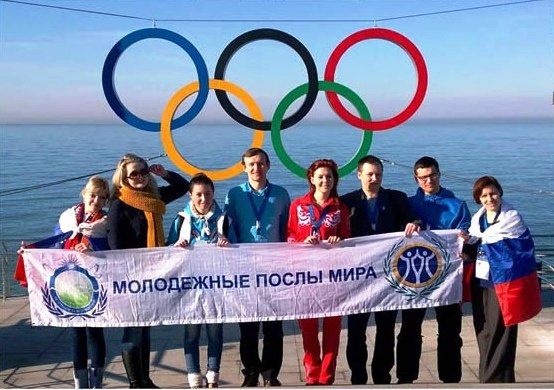 A team of Young Ambassadors for Peace from Moscow traveled to Sochi to spend Feb. 11 and 12, 2014 at the Olympic Games. They visited the Olympic sites, rooted for their athletes, communicated with guests from different countries and gave them matryoshkas (painted nesting dolls) as a token of friendship and peace. In addition, they engaged in their own athletic event: a "Run Hour," a popular program of UPF-Russia in which people assemble in a public space to spend an hour running and distributing literature to promote a worthwhile cause. A team member, Maria Oleinikova, shared the following impressions about the trip.
I have always been proud to be born in Russia and always believed my country to be the best. I never had any doubts about this. Seven years ago, when Sochi was chosen to host the XXII Winter Olympic Games, I still remember very well the thrill and excitement that swept everyone when the coveted white envelope was opened and the voice announced: "Sochi!" At that moment, my joy knew no bounds! But could I, then a 13-year-old girl, ever dream about seeing the Games firsthand? Of course not!
And then came the year 2014. Just a week before the games I got a phone call from UPF and was offered an opportunity to go to the Olympics as a Young Ambassador for Peace and a member of the "Run Hour" volunteer program.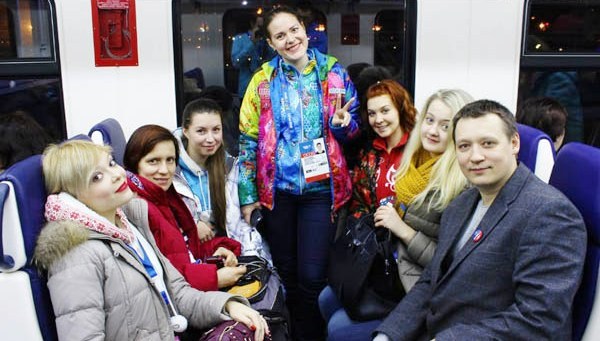 It turned out that getting to Sochi was easy. Aeroflot Airlines was offering flights from Moscow to Sochi and back for only 5,000 rubles. Tickets to the event cost 1,000 rubles, to the training area 500, and to the Olympic Park 200 rubles. But getting tickets was not enough. To become a spectator, one needed to obtain a fan's passport at the main ticket center in Moscow or at the Spectators' Accreditation Center in Sochi. All this took place absolutely free of charge and very quickly: one had only to produce his or her passport and a ticket to the event. The whole procedure of obtaining the fan's passport with the photograph took me no more than two minutes.
After getting our tickets and fans' passports, charged with high spirits, we embarked on the Moscow-Sochi round trip. We had only one day to get into the spirit of the Olympics. Surprises began on board the Aeroflot plane, where we were each given a fans' kit, branded "Games 2014."
At the Adler airport we felt the extraordinary atmosphere of the Olympics capital. Volunteers welcomed guests and were willing to help everyone. Right at the exit of the airport we saw the main symbol -- the five Olympic rings. Transport from the airport to the city, the Olympic Park, all sports facilities, as well as from any part of the city to the competition areas and railway station was available for free by bus and trains. Also funiculars plied between some stations and the sports facilities.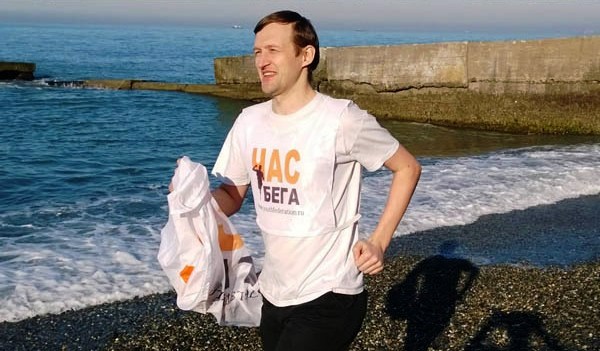 First we went to the Olympic Park with the main ice arena, Olympic Flame and Russian Fans' House that impressed me very much. There we could try more than 15 kinds of winter sports, get a prize, watch the award ceremonies from the previous day, and admire the exhibition of the Olympic torches that had been lit in different countries starting from 1954.
A festive atmosphere was created by live concerts of famous Russian performers, fireworks, singing fountains and tireless volunteers. The Olympic Park was open daily until 2 am.
The only obstacles in Sochi were overnight accommodations. Prices for hotel rooms were as high as 9,000 to 10,000 rubles per night and up to 5,000 per night in the suburbs. But if you tried hard, you could get accommodations on ships that brought the foreigners. This was a very nice and cheap amenity: only $1000 rubles per night (breakfast and swimming pool included).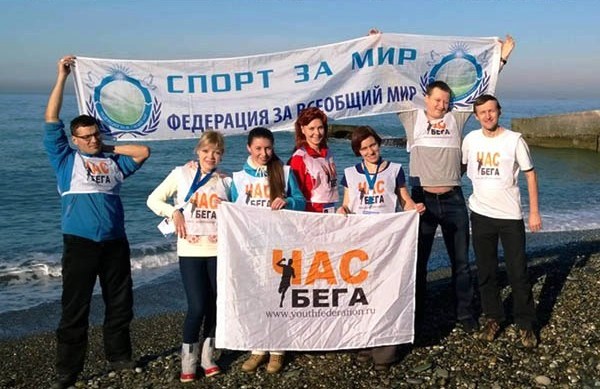 Early the next morning we went to the beach to carry out our target mission: a "Run Hour." On the way, we stopped to take snapshots with the Olympic rings. After unfolding our Russian flags, we were joined by foreigners -- Japanese, Koreans, Slovaks, our neighboring Ukrainians, and many others. They also were carrying their flags and fans material, taking photos. The atmosphere was very warm and friendly; they told us they liked our country, our Sochi. There was no language barrier, since all spoke English. We, in turn, gave them matryoshkas brought specifically for the occasion from Moscow as symbols of hospitality and peace.
After lunch we went on a trip to Krasnaya Polyana. The transportation was well organized -- free trains plied every three to five minutes. At Krasnaya Polyana, at first it looked as if we were not in Russia, but somewhere in the Alps. There was incredible cleanliness with the surrounding mountains, rivulets and "gingerbread houses"! Such a "garden city" had existed only in my dreams, or in commercials or photos in tourist brochures. But it was not a fairy tale; this was reality embodied in our country.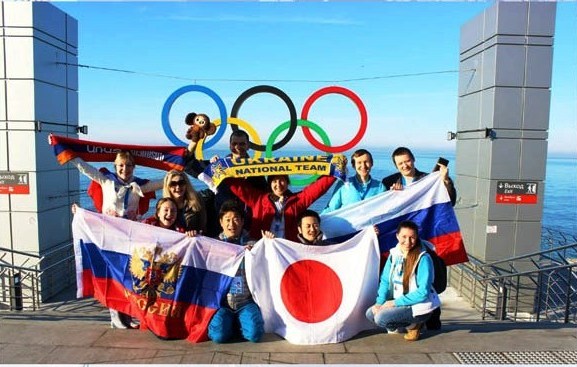 Enjoying the southern sun (the temperature all the time was above 15 degrees C), we went by cable cars to the "Russian Hill" complex to support our biathlonists. Among the fans, one group of young guys was particularly noticeable: their faces were embellished with the tricolor Russian flag, and in their hands they held a Russian flag with some inscription on it. Imagine my surprise when I read the name "Voronezh" (a city and oblast in southwestern Russia)! Of course, we immediately joined them. Unfortunately, the Russian athlete finished last. Still, it was an incredible feeling to watch a live Olympic competition, which the attention of the entire world.
This was the end of our "Olympic trip." We have become a part of history. We plunged into the atmosphere of the amazing sports festival. I visited the center of the major event in our country, and for this I would like to express my gratitude to my parents and the Universal Peace Federation. I would like to wish our team further success and victory! We won a major victory: we held the Olympics to be proud of!