| | | | |
| --- | --- | --- | --- |
| | The Words of the Salogba Family | | |

Peace Tour Central African Republic
Noël Salogba
October 7, 2006
Coordinator, UPF-Central African Republic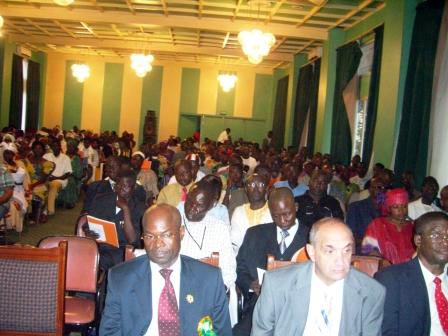 Bangui, the capital of the Central African Republic, was selected as one of the 480 cities to be included in the third World Peace Tour. The event took place on October 7, 2006 at the Hotel Oubangui. The national leader, Rev. Noël Salogba, and his wife represented the continental leader, Rev. Eiji Tokuno, and the True Family at this event.
Participants numbered more than 400 people, including former ministers, professors, heads of groups, youth representatives, members of the National Assembly, religious leaders, and leaders of political parties and NGOs.
After the words of welcome by the emcee, Jean Kpétiabodé, the opening prayer was said by Pastor Ndongou Jean Baptiste. The Chairmanís Address was read by the president of FFWPU, Jean Paul Gerekombwanga.
The spiritual atmosphere was very high during the holy offering ceremony. Each participant offered something (a handkerchief, calling card, a bit of paper on which was written words of peace, etc.) through this ceremony.
The welcome speech was read by Hon. Laurent Gomina Pampali, who has been an Ambassador for Peace since 2003. Speaking of peace-building, he asked the audience, "Is it possible to say that such a mission is difficult? Each effort carried out contributes in an irreversible way to the realization of Godís ideal family and a world of peace! We may expect to be disavowed and humiliated as we fight the spiritual battle to carry out this mission. But let us remain plain and interdependent, open and attached to the five universal principles which should inspire our nation."
The address of the founder was read by Rev. Salogba, who with his wife officiated at the Blessing of more than 12 couples. One hundred and twenty Ambassadors for Peace were appointed on this occasion.
The general impression of the invited couples was an appreciation for the message of peace which reinforced the importance of the family and recommitment to marriage. People also sensed the need for more education for Ambassadors for Peace.
The event was covered by radio, television and four large newspapers.


Download entire page and pages related to it in ZIP format


Table of Contents


Information


Tparents Home