| | | | |
| --- | --- | --- | --- |
| | The Words of the Ryoo Family | | |
Peace Tour Ethiopia
Sue Eun Ryoo
November 9, 2006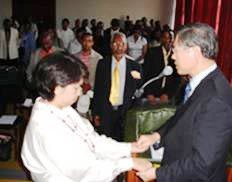 .Rev. Eiji and Mrs. Chizuko Tokunoís Blessing Prayer
The special delegation of American clergy and Ambassadors for Peace has now completed their tour events in Ethiopia. The team members arrived from various cities in America into Addis Ababa, which is not only the capital of Ethiopia, but is also often called the "capital of Africa." Addis Ababa historically has been a very central and important city in Africa, and now is the home of the African Union and also the United Nations Economic Commission for Africa.
Ethiopia is a nation of some 75 million people, and a high percentage of the population is youth. Therefore it is appropriate that many of events in Ethiopia were organized focused on young people, primarily at colleges and other schools. Two events were held on November 8th, and an additional six events on November 9th. The total participants was 1,256
In Addis Ababa, events were held at the Fikere Salem Academy, Awolia College, Addis Ababa University, St. Maryís University College, Chamber of Commerce, and Kokebe Tsibah High schools. At these venues, each of the ministers on the team had the opportunity to deliver the main message, with the Blessing program and the appointment of representative key leaders as Ambassadors for Peace.
Two additional events were held in the city of Adama, which is about 100 kilometers from Addis Ababa. There Rev. Oyamada and Rev. Roach addressed audiences at the Rift Valley University College and the Adama Chamber of Commerce. They received a very warm reception, so much that the program participants did not want their international guests to leave.
Following are two special testimonies that illustrate the heart of the ministers and the spiritual breakthroughs that are taking place on the Peace Tour:
Event at Awolia College One of the events was held at Awolia College, an Islamic institution of higher learning with 3,000 students and also includes a hospital, orphanage, and spacious campus. The event was attended by 100 students and faculty.
Rev. Lorman Lykes was scheduled to deliver the main speech.
The program MC was Mr. Atrsaw who an Ambassador for Peace gave a rather long introduction. At the end of his introduction, suddenly one of the elders in the audience stood up and shouted out that the US guests were "American imperialists". He said that he had read the printed speech, and that this was an attempt at conversion. He demanded that all the students leave, and then stormed out of the room himself.
Understandably this created a very difficult atmosphere and awkward situation. Despite the attempt to break up the meeting, no one else in the audience left. Still the MC was nervous and concerned, and whispered to Rev. Lykes that he should cut the speech short so that everyone could leave soon.
As Rev. Lykes stepped to the podium, he decided that the disruption was not a problem that this is a message of peace and true love from God, and that God would protect them. He focused on connecting to the hearts of participants in the name of Allah. He later testified that he as read the words he gained more and more power, until in the end he was pouring his heart into Fatherís words with tears.
At the end of the program, the visiting Americans went around and hugged everyone, as the room was filled with such an atmosphere that we are all one family, all brothers and sisters. The MC later commented that Rev. Lykes was right to stay and put his trust in God. Despite the challenges, the organizers all felt that this was a great victory, especially when they later understood that this is the most conservative Islamic school in Ethiopia. In the end the event became a substantial step in overcoming barriers between different peoples of faith.
It is good and encourages able activity. God is the source of peace. If we love our God and obey Him, agree with Him then it is simple to agree and love my brother all over the world. Mr. Samuel Wolde (Executive of Kebele Administration)
First of all, I would like to appreciate your effort for creating Peace around the world. Now only human beings but also God likes your effort - I like to advice you to continue your effort. But you should give more of your attention to those countries who suffer from lack of peace like for example: Palestine etc. So please keep it up, thanks. Mr. Filson Mohammed (University Student)
Event at Kokebetsebah Public High School Another amazing experience took place at our program at the Kokebe Tsibah Public High School. 400 students, faculty and local leaders attended the event. The MC was Mr. Burahnu and the main speech was delivered by Rev. Darryl Gray of Imani Family Church.
Rev. Gray is a gifted and engaging preacher, with significant experience in key American civil rights institutions (for example, he served as media director for the Southern Christian Leadership Conference, the main organization of Rev. Dr. Martin Luther King). His introductory remarks made a big impression on the students, and they were quite engaged as he began to read the main message.
As Rev. Gray was reading the speech, he suddenly became quite weak and nearly fainted. He leaned over at the podium, and asked Rev. Lykes to take over the reading. While Rev. Lykes read several pages of the speech, Rev. Gray took some candy and regained his strength. He then came back to the stage, determined to finish the speech. The students welcomed him back with enthusiastic cheers.
Rev. Gray resumed reading the speech, but unfortunately felt sick again, and almost keeled over. Rev. Lykes took over the reading, as Rev. Gray sat with his head down. It certainly seemed that he was finished for the day. But Rev. Gray was determined to finish the speech, so as soon as he composed himself and regained his strength, he again went to the podium. This time he told the students "The only way I can do this is if you help me. Please help me by paying close attention to this important message of peace." At that the students clapped wildly and rooted him on.
Rev. Gray finished the speech with power and determination, and then he got a standing ovation. When he received the flower presentation, he gave the flowers to the students and they loved it. Even the Coptic Orthodox priests in the front row were so moved. One of the priests who attended the program and received flower came from the Patriarch office. (Later Rev. Gray saw a doctor and discovered that he was suffering from low blood sugar.)
It pays me quite a great pleasure that the speech made me all the peace ambassadors was really a great effort in bringing peace in each countries across the world. May God bless every one of you for the effort that you have been making! I always knee down in front of my heavenly father and pray for my people in Ethiopia. Even though my country is not lucky to see peace, love, affection unity, habit of patriotism, I know that Godís hand is not far for a help! Please donít make a habit of preparing meetings only for days! Do your level best in bringing peace for millions of destitute Africans to see children walking in peace, birds flying in the sky! May God bless you! (Teacher at the High School).
This conference is a good conference so I love it because I Love peace and all people in the world do so. I wish peace for all persons in the world. The most important thing of life is peace, without peace there is no love, no family, no thing. Thank you. Ms. Foziya Abdela (Student).
The following are some of the Reflections collected at other venues:
At Fikreselam Academy (40 Participants, Coordinator- Mr. Bedilu):
I believe that the noble aim of the UPF would create cooperation, tolerance, mutual respect and understanding among people with different color, religion and culture. Peace starts in the heart and in the mind. It starts from the individual and family level. The events I have attended today would contribute to peaceful relation and the region of peace on earth, Thank you. Mr. Sintayehu Tola (Deputy Head of Oromia Cultural and Tourism Bureau)
Very interesting and unique program that brings the people of every nation to oneness thereby create peace and brotherhood. Mr. Ahmed Mohamed (Peace Ambassador and the father of Ms. Africa)
Dear Korean brothers and sisters may be you are the one to fulfill God's will that God has planned to our planet. I will present you in front of God in my prayer in group and individual. God Bless you. Dr. Biruk Zewdie (Orthopedic Surgeon, from Presbyterian Church of Ethiopia)
Addis Ababa University (160 Participants, Coordinator-Ms. Yuko)
St. Maryís University College (140 Participants, Coordinator-Mr. Frew):
I would like to say thank you for becoming my dream true. For all things that you presented as a very center of God, I like to say that I will be part of this Federation. I am begging you by the name of True Love. Love you all. Mr. Samson Chaka (Information, Technique & Marketing)
Oh my God! I don't believe and expect this kind of Presentation. When I just enter the Hall and the presentation start, you members of the UPF touched my heart and I like your presentation about Peace so much. You know what I think peace starts from our own heart and we will reflect to others so you guys coming all the way from USA and presenting about Peace is so great please keep in touch and I will pray for you, me and the world in general to be filled with Love . Ms. Tegist Tassisa (University Student)
The aim of the Organization or the conference is the best way to make peace in world and not only peace in world it is also the best way to make the most relationship between nation and nationalities, countries and also between family by realizing the closed relationship of blood /marriage/. So if this chance is given for other countries. In general I really appreciate this program in our country. Thanks to all person who make this program and for all who attended this program. Mr. Endeshaw Teressa (Law Student)
Chamber of Commerce (60 participants, Coordinator-Mr. Yoseph):
I am happy to join Universal Peace Federation; I like the principles, aims, visions, purposes, dreams and ethics of UPF. I want to be a member of this good will federation cause. I have a dream in the world Peace, unity, freedom and happiness and I want to do some contribution in this UPF and I want to be a Peace Ambassador, God bless you. Mr. Daniel Abebe
My reflection of today's session make me impressed by his excellence, director of UPF and Furthermore, her Excellency Bishop Cotton and Rev. Ephraim speeches about the kingdom of peace also initiated me to contribute for peace and stability in Ethiopia in the coming new Ethiopian millennium specifically, and to the world peace kingdom in general. Based on these facts, I am willing and would like to be an Ambassador for Pace so as to give hope for Ethiopians as well as the general humanity. In general, my reflection of today's session can be concluded to talk about peace is timely and crucial to save many people from violent conflict in various parts of the world. Mr. Bereket Teklehaimanot
I understand that these wonderful ideas are the reflection of big thought. When someone projects a big thought, he/she must necessarily put big faith and effort in to it such faith and effort can generate dynamic creature power. I think that this is what Dr. Sun Myung Moon and Dr. Hak Ja Han Moon did. Now, happiness lies through UPF for those who cry and for those who have searched. The Source of happiness is Peace and love. So, we have to work hard for the development of Peace and love throughout the world. Mr. Getachew Dadi (Radio Fana)
7. At Adama City (Rift Valley University College -253 participants, Coordinator- Mr. Hassan)
What I saw and hear is very fascinating thing which I have been looking for, for a number of years. We have to work hard for peace every time through all our life. I want to address my deepest gratitude to the coordinator of this program and the member of all peace ambassadors for their work on peace. Thank you and may peace be upon you! Mr. Gudeta Abe (Planning Expert /Manager)
Peace is very important every where in the world. The different types of peopleís activity like political, economical, social and cultural activities depend on the peace condition. No political, economical change or development without peace. UPFís Idea is fantastic idea to develop peace throughout the world. We support and play major role to spread the objective of UPF. . Teacher
8. At Adama City (Chamber of Commerce -103 participants, Coordinator- Mr.Hassan)
It is the first congregation I have ever attended in Adama to exhaustively discussing about peace of the world. So, it really impressed my heart. True loves only can maintaing peace for this world. I am interested in the discourse and willing to be peace Ambassador. Mr. Bedane Bentulu (Extension Worker)
The objective of UPF is to realize peace and stability all over the world regardless of race, religion, sex, and etc. To bring in to affect this global, ideal reality every body has a great responsibility and commitment. To end human suffering, Governments, religious leadersí politicians have to shoulder this objective and make it practical. Continuity of conference is very important, otherwise, it creates gap which affects the objective of UPF. Thank you. Mr. Dawit Abera (Educational Planner)
Summary
On the evening of November 9, 2006, the Ethiopian hosts organized a farewell dinner, and many Ambassadors for Peace came to testify to the ministers.
The ministers also testified to Father Moon and his incredible efforts for peace. Rev. Teer-Hodge said she has only been in this movement one month, and she can't believe that she didn't know about it before. Others such as Rev. Gray drew on their lifelong experience in comparing the importance of UPF to that of the civil rights movement. The evening was an uplifting conclusion to the American clergy visit to Ethiopia.
Thanks to all members and volunteers, especially Korea Rev. Ho-Jin Lee from Korea, Mrs. Takako Minami from Japan, Mrs. Chizuko Barrett from England and Mrs. Junko Castirione.


Download entire page and pages related to it in ZIP format


Table of Contents


Information


Tparents Home