| | |
| --- | --- |
| | The Words of the Ryntje Family |
Going Out and Talking to People - Our Forty-day Witnessing Condition
Thea and Rudi Ryntje
June 25, 2010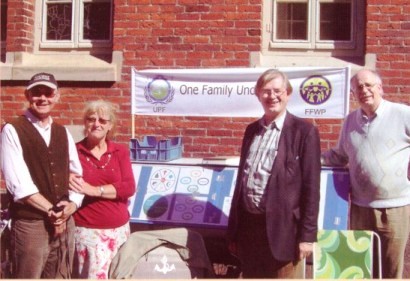 On Thursday June 25, we completed a forty-day, four-hour-a-day witnessing condition in Alkmaar, the Netherlands. We have a special tricycle that features displays of diagrams scanned from Outline of The Principle Level 4. I purchased the tricycle two years ago so that we could make a nice display for street witnessing.
You can see from the photographs the kind of graphics we used. These provided very simple material to talk about with passersby.
Before beginning the condition, we did a three-day fast. This made a good foundation and it was a joyful experience. We also had a banner made, which displayed the UPF and the FFWPU logos and the motto One Family under God. We mounted this on the tricycle for everyone to see. We know that the banner had the desired effect, because whether one wanted to or not, one could not fail to see it. Everywhere we went throughout our town, people noticed.
People ignored us at first, but slowly we gained respect from many. We could tell by the way they went by, uttering words of encouragement such as, it's good that you are doing this!
For the first ten days we positioned ourselves at the main church in the middle of the town. Nowadays this beautiful church is being used as an exhibition hall, party venue or concert hall. Only at Christmas is there a service; how times are changing! After ten days we moved to other places in town.
One Sunday, about a dozen priests walked past our display, saying nothing. As they were almost past us I called out that I was pleased to see them, having waited so long for them to come. Still saying nothing, they walked to a nearby café. I followed them, clutching some materials to give to them. As they took their seats, I asked who was the most senior of them, and they indicated which priest it was. I introduced myself to him and offered him the literature, whereupon he said, "Sorry I will not accept your literature because we've already lost a bishop to Moon"!
At various times we were moved to tears explaining the Second Coming, the Fall or the Three Blessings, while giving to people the appropriate literature to read at home. All the time we were looking for our own spiritual family.
We so long to meet them and share all we know, and eventually give them the blessing.
For now, we made some good contacts with people and with an international charity organization called IFOR, the International Fellowship of Reconciliation (www.ifor.org). They have their headquarters in Alkmaar and do a lot for peace, bringing different denominations together.
These forty days were really like planting seeds, so we have to continue and do it again and again.
Because we have such a beautiful display, we do not often run after people on the street. We wait patiently until people come to us, and they ask what we are about. In our opinion this works much better. During the period of this condition, we prayed, read the Bible as never before and asked Heung-jin nim and Dae-mo nim to send us people who were prepared.
During this forty-day period I spoke by telephone with a lady who has been close to us for several years. I gave her an explanation of our principles, which led her to commit to becoming a member. Ever since she came to know the Unification Church, she had struggled with one question about reincarnation. When I quoted the Divine Principle book on the subject, she was overjoyed and made her decision to join. Her best friend also decided to join our movement at the same time.
This shows that God is not bound by place or time, but by the direct effort of our love and dedication.
Rudi and Thea were blessed in 1998 in Bratislava, Slovakia