| | |
| --- | --- |
| | The Words of the Rosenblum Family |
Breakthrough April ACLC Prayer Breakfast In San Francisco - Oakland
David Rosenblum
April 14, 2007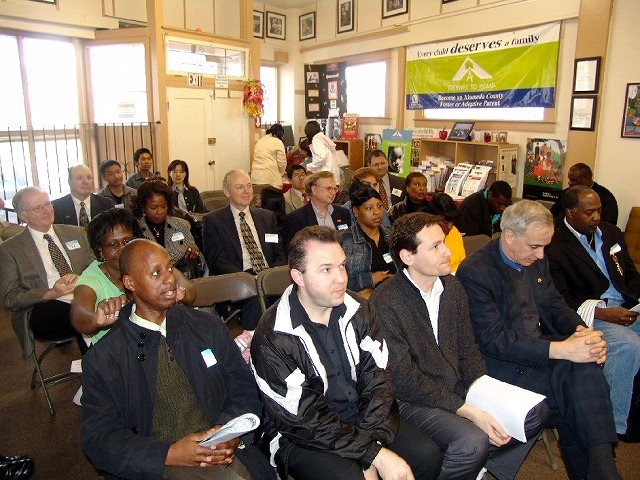 w
The Northern California ACLC monthly prayer breakfast on Saturday, April 14, 2007, was a breakthrough event for our ACLC work. Pastor Raymond Lankford and his service organization, the Healthy Oakland (HO) Ministry, hosted this high-spirited program.
After we were treated to a delicious, catered breakfast, our MC, Rev. Dr. Andre Jackson, began in prayer and warmly greeted the crowd of nearly 50 people. Following this, he teamed up with our District Director, Rev. Joshua Cotter, for a couple of life-giving and rousing songs.
Andre's wife, Pastor Carla Jackson, next led the reading of ACLC's Goals and Objectives, recently modified into an even better, new and improved version. And she - as always - did a super job, including much interaction with the crowd. Her talk was punctuated with many hallelujahs, amens, and ajus of approval.
The keynote speaker was the host pastor, Rev. Raymond Lankford; his talk was definitely the highlight of the morning. He clearly and abundantly testified to our Founder, proclaiming to all that we must do what Reverend Moon has done with the heart of a True Parent - opening up his heart, his doors, his home, and his family to rescue God's children. In their own way, Pastor Lankford and his exceptionally gifted co-workers are trying to do that - by helping rescue kids from group homes and be able to find them good, loving foster parents. In a sense, he sees himself and his ministry as an extension of Rev. Moon's family; this realization seems to be a gateway enabling him to begin to deeply understand True Parents' heart.
Pastor Lankford was both eloquent and passionate in speaking to the theme of "Actions Speak Louder than Words: Serving the Needs and Needy in our Community." And, one could see that our host pastor and his community ministry are truly walking the walk. We could see that the HO people all had sincere, enthusiastic dedication and commitment to making a difference in young people's lives.
For example, three 11-year-old boys recently broke into and burglarized HO, causing $30,000 in damages and losses. Pastor Lankford knew that if he called the police (my natural response!) these African-American youths would probably be on the first step to a life of crime and incarceration. So, instead, he decided he would care for the future of these young men and has lovingly worked with them and their parents and grandparents ever since, teaching them life skills, academic knowledge and practical applications learned from the Bible.
After that, instead of leading the Holy Blessing part of the program himself, Reverend Cotter asked and empowered Rev. Andre and Carla to lead the explanation and ceremony. One guest reflected that, "I really enjoyed myself today, and I liked the marriage blessing ceremony the most. Because marriages are in such turmoil today, it is always refreshing to see people who try to stay together and work out the many challenges of marriage, with God being their helper ... I know this group will prosper and continue to be richly blessed."
The Holy Spirit was overwhelmingly present throughout this morning, as evidenced by the fact that three pastors signed and paid their entire membership fees; two clergy were inspired enough to offer to host an upcoming ACLC prayer breakfast.
Afterwards, many people remained to talk more and were given a tour of the various services that HO offers to the community. We were grateful to view the medical wing of the building, the health exam room, the barbershop, the weight room, etc.
The biggest breakthrough is perhaps we began what we hope is a solid and long-lasting partnership with Healthy Oakland and their clergy and co-workers. David Rosenblum, and especially our dear brother Alain Leroy (who, like Reverend Jackson, went to many countries reading God's Word during World Tour IV), have been busy following up with countywide social service faith-based programs that HO is involved with. Finding good foster parents is something churches and other religious organizations should be good at. There are very few, if any, models of this partnership of governmental agencies anywhere. We are welcomed because we bring to the table diversity and a true, family-oriented perspective.
In addition, as a Bay Area Family Church member commented, "The clergy and people working with Healthy Oakland deal with the consequences of the Fall (drugs, alcohol, abandoned children, broken families) without clearly knowing the root of sin. We need to work together with them and be sure to teach them the main point of Father's teachings – the Fall."
Our next ACLC prayer breakfast will be the first to be held in San Francisco itself. Led by Rev. Cotter, many of us often went to pray up on Twin Peaks in San Francisco the first 43 days he came here several months ago. As anyone who sees the current moral degradation of that city knows, San Francisco is a good place for lots of prayer and for many a prayer breakfast!
Report by David Rosenblum