| | |
| --- | --- |
| | The Words of the Roomet Family |
How To Make The Most You're Your College Experience -- Advice From Those Who've Been There
V. Roomet
August 2011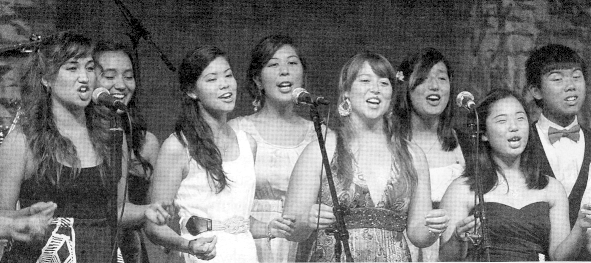 Congratulations, class of 2011! You did it! You should know that we are so proud of you. Whether you just graduated from high school, college, NGA, BTA, or STF, you have made a great accomplishment and step towards an incredibly bright future. I'm sure many of you are experiencing a variety of emotions right now, ranging from the extreme joy of FINALLY FINISHING, to the sadness of parting from your friends, to anxiety and horror because now you have absolutely no idea what to do with yourself and everybody keeps on asking. All of these feelings are totally normal, so don't worry. Many people before you have survived the awkward transition -- which means that you can too. My recommendation would be to have patience. Take a little time to re-ground yourself in your new setting and think about and prepare for your next step. You don't need to have everything figured out, but if you come up with a great idea, just start moving in that direction, do your best, and you'll be surprised what kinds of opportunities might present themselves.
For all of you high school graduates who are now about to embark on your undergraduate college journey, we are so excited for you! College is a great place to try out new interests and to develop your skills. It is important to keep your college experience in the context of your life and future goals. Try not to think of it as the end of your education and schooling, but look at it as the beginning and launch pad for your future. The habits that you develop now, at this age, and during your time in college will stick -- so develop good habits!
Work hard, but also remember to have fun and enjoy the experience along the way.
To help you on your upcoming journey, the following is some advice given by recent college graduates on simple ways you can make the most of your college experience:
1. "Make time to spend time with your friends, because that is important, and don't procrastinate too much."
- Aki Mas, Northeastern University
Value the relationships you build in college because not only will they serve as a great support system while you are at school, but they will likely become lifelong friends and will enhance your professional network.
2. "Make sure you spend time going out to eat at strange places every once in a while in order to get out of the funk of school, and to try something new."
Dan Perry, UMass Boston
Remember to treat yourself, especially after a job well done. Maybe you just finished up midterms week -- congratulations; you should be rewarded for all of that hard work! That may mean a trip to a new restaurant, a massage, a pedicure, a gala, or whatever!
3. "Take advantage of as many of the free things that college provides, for example: all the clubs and sports that you can learn for free. Studying is very important and it comes first! But, if you really want to make time for something, you can make time for it."
-Emilie Schuler, Brandeis University
Check out the resources that your school has to offer and take advantage of them! They are there for you; in fact, your tuition and fees to the school pay for them. Often you can get insane discounts to things like Broadway shows, aquarium visits, and even sky diving. If you join a club, you can learn to dance, surf, or do yoga for FREE. As a student on your campus you have access to a state-of-the- art gym facility for FREE. If you are interested in learning more about what you can get for free on your campus, talk to your student life or student activities department because they know what is available to you. And, if you cannot find a club or resource that meets your needs, start your own and get your school to pay for it (yes, they have the budget for that), so that you can enjoy whatever it is for FREE.
4. "Think hard about what you want to become and pursue that."
- Annabelle Lutz Brooklyn College
"Do what makes you happy."
- Bettina House, Boston University
"Have fun and everything will always work out."
- Yuka Naga', Emerson College
In college, you have the freedom to choose your classes and what you do in terms of education outside of the classroom. Try new classes that you might be interested in and you may discover a new passion. Look into internships that your school offers during the summertime. Visit the career services on your campus because they will help you translate your interests into a possible career track. If you are not 100% sure about what you want to do, most people are in that same boat. But, when you try things out, you will begin to learn what you like and what you don't like through your experience.