| | |
| --- | --- |
| | The Words of the Rendel Family |
Korean Ambassador For Peace Ok Ju (Veronica) Choi
David Rendel
March 30, 2007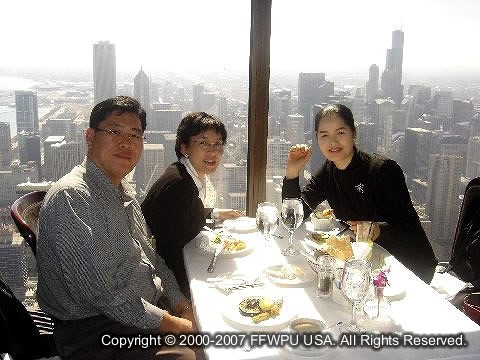 Rev. In Seok Rye (KEA Leader), Mrs. Noriko Odgen (WFWP) and Mrs. Choi in the John Hancock Building.
The Korean Ambassador for Peace, Mrs. Ok Ju ("Veronica") Choi, visited Chicago from March 19 through March 23. She is 44 years old, speaks fluent English, and has spent many years working with non-profit and service organizations as a representative of Korea (in over 100 nations). She is very gracious and outgoing. Her husband is a chemical engineer and they have two grown children. They are devout Catholics.
Mrs. Choi has a deep love and respect for True Parents and our UPF movement. She shared with us that before deciding to volunteer for this 6th World Peace Tour, she had a dream of True Father where he took her outside to view a magnificent rainbow. She noticed that at the base of one end of the rainbow were two smaller rainbows, side by side. One evening in Chicago, she had a dinner meeting with several WFWP leaders and Ms. Fannie Smith, Religious Outreach Director for Rainbow/PUSH Coalition (founded by Rev. Jesse Jackson). When she received Fannie Smith's business card she was amazed - it had a large image of a colorful rainbow! She suddenly realized that she and Fannie Smith must be the small rainbows in her dream and that by working together they could create the large rainbow of world peace!
In her speech during our Peace Tour Rally, Mrs. Choi read the "true love" section of the Peace Message. Her delivery was very heartfelt and she stated how meaningful True Father's words are in her life.
During Mrs. Choi's visit, our Korean (led by Rev. Ryu), Japanese and Western brothers and sisters worked closely together and were all inspired by her high standard of heart and service. We are grateful to True Parents for initiating the Ambassador for Peace providence, where we can work with remarkable people like Mrs. Choi in building God's Kingdom! We look forward to receiving more Korean Ambassadors for Peace in the future!