| | |
| --- | --- |
| | The Words of the Remigio Family |
Nueva Ecija Updates Global Peace Festival- Nueva Ecija Campaign
Joy Remigio
June 6, 2008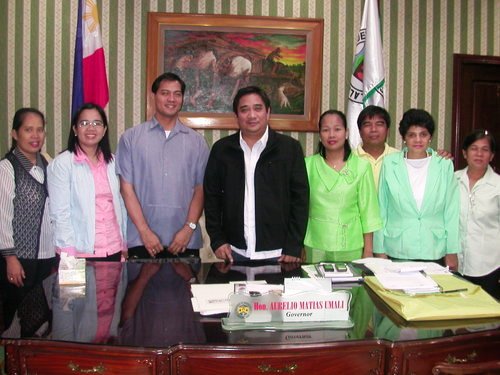 Cabanatuan- June 6, 2008, the UPF volunteer staff of Nueva Ecija have a meeting with Governor Aurelio Umali's Chief-of-Staff Engr. Dennis Agtay and briefed him about UPF and GPF.
On that day due to the Governor's meeting with all the Mayors of the province, he couldn't give his time for us but after 15 minutes we were able to meet the Governor and he personally invited us to come for another discussion meeting with him to personally understand UPF and our project. It was set on June 23, 2008 at 2:00 pm at his office in the new capitol building, Palayan City. On June 23, 2008 despite the strong typhoon, UPF local staff together with Prof. Joseph Navalta, UPF Secretary General met Governor Umali for almost an hour. (He was a lawyer by profession, a former congressman of the 3rd district and he defeated the Joson's dynasty who led the province for 43 years.) He was happy that there is a group working to pursue the mission of the United Nation. He really subscribed to our vision and mission however, he wanted to understand the lectures first and he expected a UPF Module presentation for him to know how measurable our results in achieving peace. The Governor said, "I am interested to know your module first so that I can learn from you and could see where I can bring the government in partnership with all your programs "and since he was too busy, he appointed his chief-of-staff to listen to the lecture presentation on a separate schedule.
Nueva Ecija is really a political hot seat province, despite the fact that we couldn't immediately receive his full support; we see big hope and he still encouraged us to continue with all our build up programs and the immediate presentation of our module to his chief of staff which was set on June 27, 2008 at 3:00 PM at the Governor's office in the old capitol building. We could successfully present the 5 Universal Principles of Peace that enlightened and inspired Engr. Agtay. He encouraged us to tie up GPF Nueva Ecija with the celebration of Araw ng Nueva Ecija which will be on September 2, 2008.
We are now reaching out to the organizers of Araw ng Nueva Ecija 2008 in order to present our desired program and build up activities. We have 2 months to conduct our build ups for GPF NE such as education of Brgy leaders, seminars for the academe, inter-religious, govt agencies, youth and student leaders and service projects such as medical mission, feeding, clean up drive and tree planting. We strongly appeal to all families to support our GPF Nueva Ecija.
Thank you very much for your prayers as well.