| | |
| --- | --- |
| | The Words of the Remigio Family |
Cabanatuan BFWP Launched; Seminar Held
Joy Remigio and Weeny C. Kim
February 16, 2008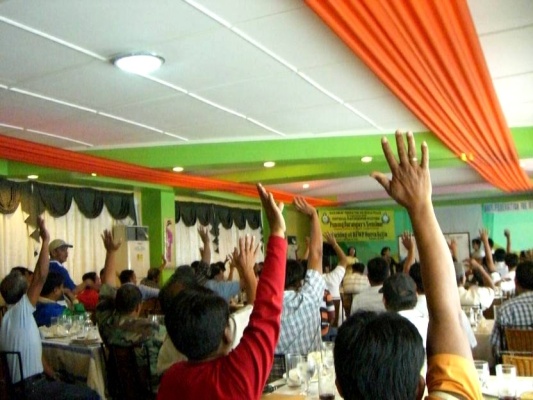 Cabanatuan -- February 16, 2008 at Plaza Leticia restaurant's function room in Cabanatuan City, there were 91 barangay captains who attended the Barangay Federation for World Peace seminar. Most of those Punong Barangays (Barangay Heads) who came were from far municipalities; two cities and 14 municipalities were represented in attendance.
The program was graced by Nueva Ecija and Cabanatuan City political leaders. Mayor Alvin Vergara was represented by his Executive Asst. Mr. Edward Jongo for the welcome remarks; Vice Gov. Edwards Thomas F Joson was represented by Provincial Board Member Raqueliza Agapito for the inspirational message. The seminar was entertained by Cabanatuan staff with TIMD ballet and the singing of GPF theme song Where Peace Begins.
GPF 2007 video was shown during the seminar to give a background on the upcoming GPF 2008 on December.
The main speaker was introduced by Atty. Ruperto Sampoleo, an Ambassador for Peace, a dedicated adviser and supporter of Unification Movement-Nueva Ecija with undying commitment and boundless heart for the providence. The lecture on Five Principles of Peace was presented by the speaker-lecturer Rev. Prof. Celestino Jose V. Navalta, Jr. Secretary General of UPF Philippines. VIP's chose to stay and listen to the lectures until it was finished and they were ushered after in going out. They were commenting that the vision and mission of the organization was so impressive and that is what they need to educate people. Even Board Member Agapito extended her help for whatever they can do to support BFWP in everything.
After the lecture was done it followed by some refreshments. Municipal/city chapter officers and provincial officers of BFWP was organized and elected. Local Chapters were inducted by Atty. Sampoleo and Prof Navalta inducted the provincial officers and conferment of Ambassadors for Peace Awards were received by all ABC Presidents and top political leaders of Nueva Ecija who participated in the said event.
The seminar and launching was concluded with a toast for family blessing and promotion of peace through the holy wine ceremony led by Mrs. Juliet Limjap and Mr. Francisco Tolentino, President of the Barangay Captains League in Cabanatuan City.
A commemorative photo per chapter officers and distribution of certificates took place and post-evaluation was made led by the lecturer Rev. Joseph Navalta.