| | |
| --- | --- |
| | The Words of the Razak Family |
Sports for Peace Down Under
Fazida Razak
October 2009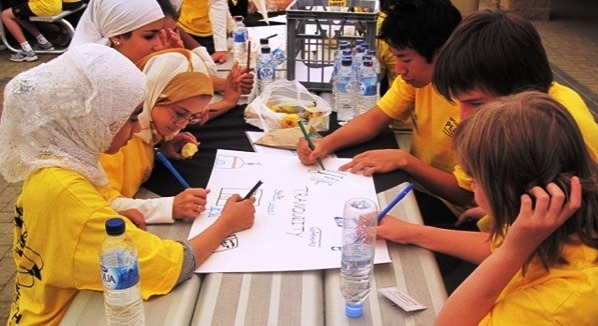 Athletic competition has brought rivals together in peace since Spartans and Athenians met to test their skills in ancient Olympia.
With its emphasis on fair play, team work, self discipline, and respect for the skill and athleticism of competitors, sports provides a natural bridge between cultures, religions, ethnic groups, and nations.
The summer 2009 Interfaith Sports for Peace Carnival in Perth, Australia, welcomed groups from diverse cultural, religious and socio-economic backgrounds for a day of games, sports, and cultural celebrations. The carnival was organized by John XXIII College, the Muslim Social Sports Association, the Youth Federation for World Peace, the Peace Dream Foundation, and the Youth Adult Division of Buddha's Light International Association. In addition to rugby, basketball, volleyball, and soccer competitions, children sang and danced, and performances such as the Kompang, Bangra dance, and Filipino bamboo dance showcased Australia's diverse cultural traditions. Sports for Peace was originally founded by the Peace Dream Foundation, and in Melbourne it is held in November.
Carnival participants were also encouraged to make posters about peace, enabling people from different backgrounds to freely relate to one another, while exploring the meaning of peace and tolerance. "Through the poster we got to learn about other faiths, said Rachel Howard; "although I am not personally religious, I thought it was a good exercise."
"Having the kids do posters as a team helped to keep the group focused on building friendship," said Diana Phang, a teacher from Australian Islamic College.
"They learn about one another's religion and understanding of the different faiths by playing together and living peacefully," agreed a chaplain at Presbyterian Ladies College, Reverend Elke. "For me, it is enlightening to break an old mental perception when I see Muslim girls in scarves kicking the ball at a soccer match! I hope a program will be done as a follow-up so that these students who are now friends can continue to develop their relationships."
While the carnival was a fun and enriching experience for children, teachers and volunteers also benefited from the emphasis on peace building. "The vision of John XXIII was to live in harmony and accept one another, and the college has always been promoting this," said Mr. Mark Antulov, the deputy principal of John XXIII College, "but this event made it a reality -- did you see how that blond girl picked up that Muslim girl and gave her a hug when she fell? That's beautiful to see."
Robert Dale, a teacher with the Australian Islamic College, agreed. "As teachers, this event give us opportunity to see how our kids interact with other kids outside their own school. The success of this event is based on how the kids show compassion for each other."
For some young people, making friends and playing sports was just part of the experience. Fourteen-year-old Najat Kamsani from Australian Islamic College said, "Its more fun than last year….we have good team leaders from John XXIII College who made us feel at home immediately. I noticed that this year team leaders are better prepared, more able and have good leadership qualities."
"We don't care whether we win or loose," her friend Nisa Mohamed added, "it's the fun and friendship that matters."
Participating schools included Australian Islamic College, Presbyterian Ladies College, Seton College, Kent Ridge High School, and Carrinyup High School. In 2010 similar events will be organized by three schools in Perth.
Fazida Razak is the coordinator for Religious Youth Service in the Oceania and South Asia. For more information on building peace through sports visit Sports for Peace.