| | |
| --- | --- |
| | The Words of the Rajan Family |
Like-Minded Human Beings
Krishna V. Rajan
August 2009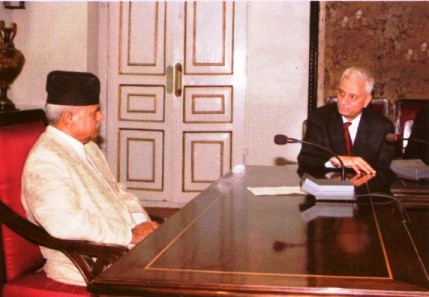 Ambassador Krishna V. Rajan briefing the Rt. Hon. Dr. Ram Baran Yadav, the President of Nepal, at the International Conference for Solidarity with Nepal on July 18 Nepal was the venue of the Asian National Leaders Meeting this past July. In his capacity as FFWPU National Leader of India, Krishna V Rajan, a former ambassador of India to various nations, participated. Remarkably, perhaps, the meeting included convening a series of high-level VIP conferences in collaboration with the Parliamentarians International Forum. The following are Ambassador Rajan's reflections as a professional diplomat and a leader in the Unification movement, on the value of our movement's work in healing a fractured ideological landscape.
The Conference of our Asian FFWPU and UPF Leaders in Nepal, July 15-19, 2009, was a unique and in my view, highly successful exercise in combining different facets of peace building -- political, familial, introspective and spiritual and applying them to the uniquely complex set of challenges facing Nepal.
Nepal may be a small country, but it has been holding the attention of the world for some years. It has been described by some as a failing state because of the combination of collapsing governance, chronic political instability, extreme poverty, deteriorating economy and since 1996, a spreading Maoist insurgency, which is witnessing a pause of sorts after the emphatic victory of the Maoists in the April 2008 elections to the Constituent Assembly. Nepal was once proud of its identity as the world's only Hindu kingdom; it has lost that identity and is in search of a new one. The institution of monarchy was disbanded when King Gyanendra bowed out in deference to the near-unanimous demand of the Constituent Assembly in favor of Nepal being a secular, federal democratic republic. Under Maoist pressure, the Constituent Assembly also has declared that the country would be "secular."
The opening of the Pandora's Box of regional and ethnic demands has further complicated the already explosive situation.
What Nepal desperately needs now is stability, consensus on major national and constitutional issues, an atmosphere of trust and reconciliation and a semblance of governance.
Agreements and political understandings are routinely violated for reasons of expediency, resulting in a sense of great pessimism and despair, and terrible suffering for many people.
Father Moon's clear and lofty message of the power of love, the ultimate reality that we are one human family under God, the need for a new paradigm of leadership based on service rather than self-interest, makes a powerful impact on everyone in Nepal, including leaders otherwise bitterly divided because of the political tensions and divisions, and even Communist parties with a declared non- belief in God.
This was evident again at the most recent Conference. In a brilliant new initiative, the concept of a human family without borders was asserted through the brotherhood-sisterhood ceremonies in which members of the Constituent Assembly of Nepal from all parties as well as Nepalese civil society leaders exchanged garlands and "adopted" brothers and sisters from around the world.
Nepal's appreciation and understanding for the message of international solidarity underlined by the Conference was apparent from the high level interactions delegates obtained -- inauguration by the president of Nepal in the Presidential Palace, participation by the vice-president in the brotherhood– sisterhood ceremonies, presentation of awards to international participants signed by the prime minister of Nepal himself, the closing ceremony presided over by Lokendra Bahadur Chand, a former prime minister, an all party meeting with members of the Constituent Assembly in the historic Shital Nivas chamber where the Constitution Drafting Committee meets and an all party blessing delivered by faith leaders at the main conference.
The basic message of UPF -- that Nepal's dream of writing a truly inclusive constitution, which would usher in lasting peace, was only possible if key leaders from the various parties saw themselves in a parental role, working in an atmosphere of trust, reconciliation and mutual forgiveness, going beyond interests of self and party where necessary -- was not lost on the representatives from across the political spectrum who attended the various meetings.
The continuing and deepening engagement of the movement with Nepal has undoubtedly contributed to progress toward a more peaceful nation in a way few would have dared to predict when the SAPI2 series of conferences was initiated a few years ago, in a thoroughly hostile and resistant environment.
The July gathering of FFWPU and UPF leaders from more than twenty nations was in a sense the climactic event of the SAPI, but also the beginning of a new thrust for building lasting peace, not only in Nepal but in the region and beyond.
It is said that faith can move mountains, and in the recent conference, we saw this to be true. The conference brought the mountain to us, without our attempting to climb it. It happened at various levels. We shared the thrill and excitement, the risks and ultimate satisfaction our team experienced when they climbed to the summit with a banner signed by Father and Mother Moon (and charged with their personal blessings) and by all major political and religious leaders in Nepal. Mount Everest is indeed tall, majestic, challenging, and awe-inspiring -- but humbling even when it is conquered! We realized that each attempt to scale the heights is an exercise in self-purification, and each successful attempt is a reminder that the real journey of life is yet to begin.
Thus, the success of the UPF Everest expedition is a call, first to the people and leaders of Nepal to work together to write the new constitution and create a peaceful, inclusive and happy nation, and second to the rest of us to pray for their success and support their efforts in every possible way.
It was a profoundly moving experience to hear the accounts of one national leader after another, their successes in spreading the message of love and peace, sometimes in extremely difficult circumstances, at great personal risk and suffering. An ancient Indian text describes life as "a short journey between two eternities, of birth and death," and prays, "May you undertake this journey in happiness, in the company of good and like-minded human beings, and may you all succeed in alleviating the suffering and distress of others who may not be as fortunate as you." The Nepal conference did bring together brothers and sisters from our human family who spread warmth, love and kindness, who inspired one another with their sense of self-less service and willingness to sacrifice for higher goals and who departed with a renewed commitment to work even harder for the achievement of a peaceful world.
Ambassador Rajan -- a brief bio: Aside from serving in senior diplomatic posts, including in the rank of Ambassador in a number of countries such as France, USA, UK, Zambia, Algeria and Nepal, Krishna V. Rajan has also held senior positions in the Government of India including Secretary and Advisor to the Minister, and Member of the National Security Advisory Board. He is presently Convener of a New Delhi based think tank, IILM India Forum, President of the Association of Indian Diplomats, and Advisor to the Asian Energy Institute.