| | |
| --- | --- |
| | The Words of the Quebral Family |
Bacoor conducts Youth Seminar on Drug-free and Pure Love
Cathy S. Quebral
April 11, 2008
Bacoor Center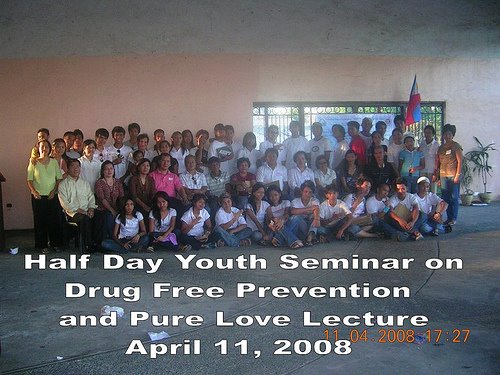 April 11, 2008, at 1:00 to 5:00p.m. was the date and time to remember. 74 participants from the youth sector (particularly from Tau Gamma Phi), Brgy. Councilors, SK and leaders from different Homeowners' Association in Brgy. Molino IV came to listen and learn from this half day youth seminar on Drug Prevention and Pure Love Lectures at the Clubhouse of Citihomes Subdivision, Molino IV, Bacoor, Cavite, with the overall theme, "Institutionalizing the Culture of Heart on Leadership towards Unity, Peace and Solidarity."
This youth seminar was initiated due to the concern of the President of Citihomes Homeowners Association, Inc. (CHAI), Mr. Rogelio Agawin, for the youth particularly of this subdivision. He has lots of plans for the betterment of this place and his hope is leaning more on the youth. However, just like in any other places, common problems such as drugs, alcohol, immoralities, etc are existing in this place. This was then an opportunity for us to present our alternative approach of informing and educating not only the youth but as well as the Brgy. officials and leaders of some organizations in our Barangay, of such important issues based on our guiding Principles.
In his acceptance of our proposal, he suggested us to bring this peace project to the Barangay Molino IV, particularly to the attention of Councilor Jeffrey P. Campana, the youngest Councilor of this Brgy. and thus responsible for their youth programs and activities. Driven by the same mission to build a better society and bright future for our youth, the three of us came together to discuss our hopes and ideals as we wish to help and give our moral support especially to the needy ones like some of the youth, if not all, who are in danger of being overcome by the danger of drugs, alcohol and immoralities causing so much disruption in our peaceful loving society. Together with the support of some of the key persons in our province, barangay and peace movement, this youth seminar materialized and ended up successfully. Allow me to present to you the names of our benevolent supporters and contributors:
DR. FEDERICO V. NIDUASA - SPEAKER on Drug Free Prevention with the theme, "Institutionalizing the Culture of Heart in a Drug Free Society". He is the President of International Research Center for Global Peace and Harmony, Inc.
DIR. JELLY TORRES-ALEGRE - SPEAKER on Pure Love Lecture with the theme, "Institutionalizing the Culture of Heart in Leadership". She is the Regional Director of UPF / YFWP CALABARZON area.
MRS. MAY SATO - Vice President for Operations, Youth Federation for World Peace. Presented the history, programs and activities of the YFWP to the participants, particularly the Youth Ambassadors.
GOV. AYONG MALIKSI - Cavite Provincial Governor, is one of our donors.
VICE GOV. DENCITO BOY CAMPANA - Cavite Provincial Vice Gov., Inspirational Speaker but his message was given by Counc. Jeffrey Campana in his behalf. He is also one of our donors.
HON. RIZALDY S. REMULLA - Brgy. Chairman of Molino IV. Welcomed the speakers, participants, organizers and staff.
HON. ANDOY REMULLA - Bacoor Municipal Councilor. Closing remarks but was given by his daughter, Ma. Kristina Remulla, SK Chairperson of Brgy. Molino IV. He provided snacks for the participants.
COUNC. JEFFREY P. CAMPANA - of Brgy. Molino IV. Co-organizer, donor and responsible for inviting most of the participants.
MR. ROGELIO NG·AGAWIN - President of Citihomes Homeowners Association, Inc. Co-organizer, donor and responsible for inviting participants.
MA. KRISTINA S. REMULLA - SK Chairperson, Brgy. Molino IV, invited the SK members.
BARANGAY MOLINO IV, BACOOR - Provided the sound system
CITIHOMES HOMEOWNER's ASSOCIATION - Provided the venue and other needs
MS. SIONY DALDE - UPF Thailand. Sponsored the Tarpaulin and other needs.
DASMA CENTER - Sponsored the handouts of Pure Love Lecture and gave moral support
TRECE CENTER - moral support and inspirations
BACOOR CENTER - Main -organizer, donor and provided the two lecturers.
VOLUNTEER STAFF:
DR. CHRISTY MERCADO-BACCANGEN - Board of Trustees AMMS. The MC;
INT'L. ELECTRONICS and TECHNICAL INSTITUTE, INC. (IETI) Las Pinas branch - headed by their School Director, Mr. Joseph Peter A. Gacho, Jr.
His student volunteers were:
Rodel P. Salvador
Jason Q. Maximo
Jerome F. Esma
Naveric Jhon Gasataya
Francis B. Macaambac
Erwin Raygan L. Matriano
MALAGUIHAY KARAKOL DANCE GROUP Panapaan IV, Bacoor - Mrs. Luzviminda Malubay (PMC) and Mrs. Salome Magdael (PMC). Registration
MRS. YOLANDA MAGANA - Bacoor member. Invocation and registration J
ULIUS ESCLETO - Bacoor member. Performed a TIMD Demonstration
MANNY BACCANGEN, MRS. MARITHEL MAGANA, SHEENA MAGANA, JINKY VILLAMOR, TATA MACAPAGONG AND PRINCESS ALEGRE - Usherette, registration, attendance to the leaders and cook.
And last but not the least,
ALL BACOOR MEMBERS from Imus-Bacoor-Las Pinas Cluster. Thank you for your untiring support and prayers for the success of God's Providence in our area of responsibilities.
ALL THESE FOR THE GLORY OF GOD AND TRUE PARENTS!!! To view more photos, please click the link below. Thanks. //www.flickr.com/photos/22358036@N08/?saved=1
Reported by:
Cathy S. Quebral
Bacoor Center