| | |
| --- | --- |
| | The Words of the Quebral Family |
Volunteer Community Cleaning, Medical-Dental Mission And Gift-Giving In Bacoor, Cavite Overwhelming
Cathy Quebral
March 2, 2008
Bacoor, Cavite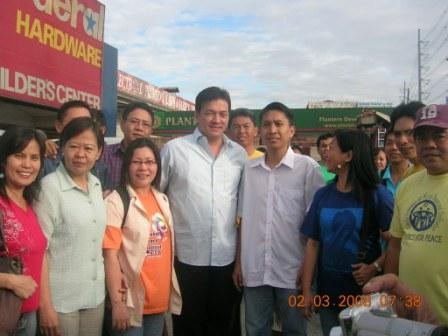 I. Community Cleaning
Mrs. Vicenta (Vicky) Lazaro, the Head of the Environmental Department of the Municipality of Bacoor organized a clean-up drive as part of the community outreach on the occasion of the birthday celebration of Mayor Strike Revilla of Bacoor, Cavite. She invited various civic groups and schools around Bacoor in order to help in this clean-up drive for two consecutive days, March 1, target area was San Nicolas to Zapote River and in March 2 the target area was Aguinaldo Hi-way and some other parts of Bacoor.
Among those who responded was Mr. Joseph Peter A. Gacho, Jr. a Professor and School Director of Imus International Electronics and Technical Institute, Inc. (IETI), Las Pinas Branch, who volunteered with his 2nd year students on the March 01 clean-up drive. Mrs. Lazaro was so grateful for the show of concern and support by these sixteen (16) students and recommended their services to be credited in their NSTP required by every schools.
On the 2nd day March 2, FFWPU-Cavite and the Universal Peace Federation or UPF Bacoor Chapter set their mark and offered their voluntary services for the project. Mr. Jun Paeste asked the support of all Cavite members to help us and the response was overwhelming. So together with most of the leaders and some members representing FFWPU-UPF Trece Martires Chapter, EPZA-Rosario Chapter and Dasmarinas Chapter, everyone was able to show that there is happiness, beauty and strength in unity. Our very own Regional Director, Mrs. Jelly Torres-Alegre also came to help and sweep-clean Bacoor making it more nice and clean. All in all we were 22 who represented our True Parents and our Peace Movement and showed love and concern to our fellowmen.
As we were waiting for the other groups to arrive, Mayor Strike dropped by to welcome us all. He was all smiles and eager to embrace everyone who was extending their arms for him. He talked and posed on each group for a picture taking. Our own group had this chance also. The group of AMMS who dropped by there had a chance to greet the Mayor and posed for a group picture. Mrs. Lazaro introduced us as her Global Peace partner. That sounds sweet.
Our area was the Talaba Road going to Coastal Road. Most of us helped in cleaning this one area with lots of dumped garbage. In spite of the unpleasant odor floating on the air, members were unmindfully sweeping and placing those unwanted garbage in their sacks. We were able to fill up 7 sacks. The rest of the members, headed by Dir. Jelly, were carried away by their emotions to literally clean up Bacoor because they went and clean as far as their energies could bring them.
For your info, Mrs. Vicky Lazaro and her husband attended our World Peace Tour last September 25, 2006 at PUP Manila where her son was one of the performers of PUP Banda Kawayan. Driven by that inspiration, she helped us find a venue for our 4th Phase World Peace Tour last November 22, 2006 by recommending the Cavite School of Life in Panapaan, Bacoor, where she has a daughter studying there.
Because of her support and belief in our Peace Philosophy, we were inspired to further boost her inspiration and knowledge about our founder as well as our Peace Movement by sponsoring her in the ILC during the Global Peace Festival 2007. She expressed her desire to attend more conferences in the future to deepen her understanding and support to us and incorporate it in her field of works.
II. Dental Mission
Barangay Captain Remedios V. Santero of Brgy. Mabolo III or better known as Kapitana Remy was a friend of Mr. Jun Paeste and called him up one day to solicit manpower, medicines or cash to support one of their three (3) venues holding the Medical and Dental Mission. Mr. Paeste obliged and referred our Universal Peace Federation or UPF Movement. I texted Kapitana Remy and bringing along Dr. Cristy Baccangen with me, VP of AMMS Phils., we had a meeting together with Dr. Nitch Camama and Dr. Olive Tortina. At the end, we realized that UPF Bacoor chapter had just agreed to sponsor this venue in Brgy. Maliksi III by donating dental medicines and supplies. And this event will be done in-cooperation with the AMMS Phils. as they will provide the volunteer Dentists and nurse.
Upon arrival, we realized that we were not the lone sponsor but sponsoring also were the GSIS Family Bank, Bacoor Municipal Health Office, Society of Concerned Women of Bacoor and Brgy. Council. These other groups sponsored the Medical Mission and other needs for the complete success of this event.
In the Dental area, we were supported by the Bacoor Municipal Health Office headed by Dr. Narel Narciso. He came with three (3) more Dentists who were all so cordial and supportive to our AMMS Dentist. For the AMMS side, there were Six (6) Dentists, One (1) Nurse and One (1) Staff who volunteered. According to AMMS records, they were able to render free services to Ninety Five (95) less fortunate people in that area.
Mayor Strike and Vice Mayor Fernando dropped by briefly to greet their constituent and to welcome and thank all the volunteer Doctors, Nurses and Staff who were so hard working that day.
The event started at 8am and ended by 12 noon. Snacks and Lunch were provided.
Thank you for the opportunity to serve our fellowmen and exercising True Love once more on a higher scale.