| | | | |
| --- | --- | --- | --- |
| | The Words of the Nirto Family | | |

Dr. Chang Shik Yang meeting with Fil-Am members in New Jersey
Nathaniel Nitro
January 13, 2007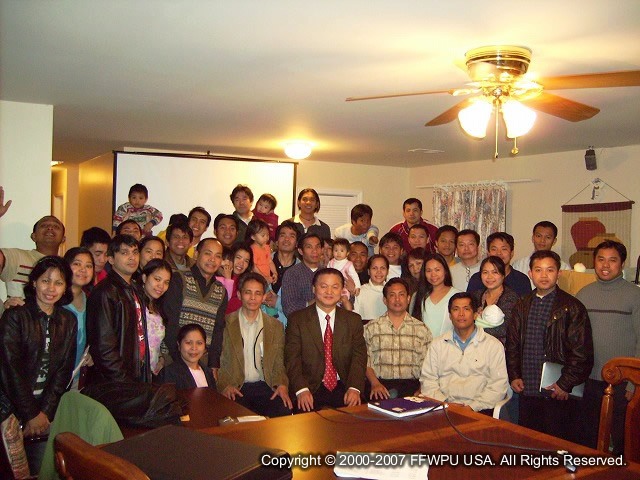 On January 13th, the 6th anniversary of the Coronation Ceremony for the Kingship of God, fifty (50) Filipinos from New York and New Jersey gathered at the residence of Rev. Greg Agulan in Elizabeth, New Jersey, to have a special meeting with our Continental Director Dr. Chang Shik Yang. It was another historical event for the Filipino community on this day. Dr. Yang mentioned how to develop a good relationship between the Philippines and America as the second sister nation and elder brother nation relationship centering on God's providence
Dr. Yang touched everyone's heart by his sharing about how Muslim people commit themselves during Ramadan to fast for forty days without drinking even water and keeping themselves holy for the period of Ramadan from dawn until evening. They even bow down and pray five times a day. He also shared about the Hasidic Jews that even in the middle of hot sunny days, they are still wearing their long black coats, their black hats, their long hair and beards. From these two examples he opened up a question - How about us knowing that the living Messiah is here and alive? How can we show our commitment?
Then Dr. Yang explained and reminded everyone about their motivation for coming to America . We all came with a mission. We don't have to forget the reason we came here, our commitment as missionaries. We should not become Americanized to the extent that we become self-centered families and individuals. Every day as we wake up, pray, wash ourselves, and so forth, we have to look into the mirror and keep reminding ourselves of our commitment. How can we become a true patriot? A saint? A Blessed central family?
In the Philippines, now is the best time for the Godís Providence. We should not miss this opportunity. Hyun Jin Nim is focused now in the Philippines.
Dr. Yang concluded that we have to show more our commitment like the Japanese Kodan. In this connection Dr. Yang mentioned that the now over 300 Filipino members living in America must be committed to support the Philippines providence aside from their commitment to their local church.


Download entire page and pages related to it in ZIP format


Table of Contents


Information


Tparents Home