| | | | |
| --- | --- | --- | --- |
| | The Words of the Moreau Family | | |

Peace Tour Samoa
Jacinta Moreau
December 1, 2006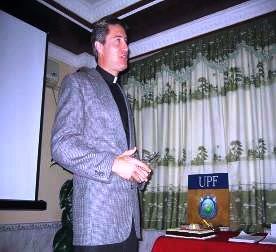 A historic and successful event took place in Samoa on Friday evening, December 1, as part of UPF's fourth World Peace Tour. There were 40 participants.
Prior to Rev. Robert Pyle's address, Vaasilifiti Moelagi Jackson and Associate Professor Unasa Va'a gave reports on the Asia-Pacific Island Nations Summit II in June in Taiwan and UPF's first Anniversary Assembly in September in Korea. These reports generated good discussion.
The Ambassadors for Peace were very inspired by the "Introduction to UPF" DVD which featured Dr. Chung-Sik Yong as well as the Samoa Deputy Head of State, Tuimalealiifano, and an interview with the wife of the Samoa Government Chaplain, Tifitifi Samuelu.
Rev. Pyle addressed the distinguished gathering with a spontaneous, divinely-inspired speech touching on most of the points in True Father's speech. Samoa Ambassadors for Peace were very moved by the conviction and ease with which he spoke of Rev. Moon and his life of blood, sweat and tears with so many great accomplishments, particularly the construction of the Peace Palace. Rev. Pyle also emphasized that UPF embraces peoples of all persuasions with a truly universal vision, in contrast to the United Nations, which completely disregards the spiritual aspect of humankind. The message of faith, hope and love was very well received, as could be seen in the very respectful thank you speech given by the daughter of the Head of State, followed by a Samoan national song sung by all Ambassador for Peace with everyone standing and holding hands.
One fruit of True Father's lifelong work is the development of the set of Discovering the Real Me character education textbooks for students aged 6-18, with accompanying teacher's manuals, which were released at UPF's 1st Anniversary Assembly. A set was handed to the Chairman of the National Council of Churches during the evening, re-emphasizing that religious leaders have a key role to play in human development. A celebratory cake was cut by Rev. Pyle and shared by all, and the Prime Minister's representative offered a Samoan gift to Rev. Pyle.
Rev. Pyle later testified that he could understand why God sent him, of all the Ambassadors for Peace on the tour, to Samoa. He was surprised to find such a strongly conservative Christian nation in the Pacific islands.
Rev. Pyle stayed for a total of five days in Samoa. He had significant meetings with traditional Christian leaders of Samoa as well as with younger charismatic Christian leaders.


Download entire page and pages related to it in ZIP format


Table of Contents


Information


Tparents Home