| | | | |
| --- | --- | --- | --- |
| | The Words of the Midorikawa Family | | |

Peace Tour Tonga
Chihiro Midorikawa
December 2, 2006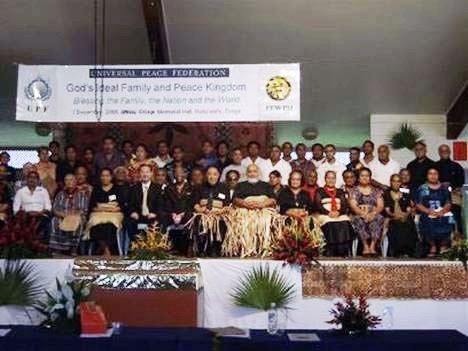 Two weeks after riots destroyed 80 percent of the business district of Tonga's capital city, Nuku'alofa, World Peace Tour IV came to the Pacific island nation. The keynote speaker, Rev. Jessie Abram Griffin, founder of True Vine Missionary Baptist Church in the USA, arrived safely early that morning. In spite of the many challenges faced during preparations, the December 2 event brought a revival of spirit and hope.
Soon after the riots, King George Tupou V issued a declaration of emergency effective for at least 30 days. Under these circumstances, official permission was needed from the Tonga Defense Service to hold the event.
Rev. Griffin's flight was delayed one day due to mechanical problems on the airplane. As a result, phone calls had to be made to all the invitees informing them about the change. On the day of the event, about 60 people turned up.
The program started with a invocation offered by Rev. Faleata Leha, national director of the Ambassador for Christ. Rev. Kwak's address was read by Hon. Baron Vaea, former Prime Minister of Tonga, with his comment, "This is the most blessed and great day for Tonga."
True Father's speech, "God's Ideal Family and the Peaceful, Ideal World," was presented by the keynote speaker, Rev. Griffin, followed by his personal testimony. All the audience listened attentively to his speech. "As you know," he said, "American families are in crisis(he cited statistics of divorce rates, single parent families, etc.). Who can solve these problems? I met Rev. Moon more than 20 years ago. There are so many denominations of Christianity in America, but there was no way for these denominations to unite and work together, especially to tackle these problems. Rev. Moon is the one who called us to work together beyond denominations and beyond religions. No one else did this. When America was attacked on September 11, 2001, Rev. Moon was the first person to call all religious leaders to come together to pray at ground zero for peace. I was one of them. When Hurricane Katrina attacked America, Rev. Moon was also among the first people to provide aid. Now I am here not long after the Tonga's riots. It's very significant that Rev. Moon sent me here to pray for peace for Tonga in these circumstances. Please know that there is always hope and way to overcome in time of difficulty. With our faith, we can even move a mountain."
The World Peace Blessing ceremony was conducted and concluded with the blessing benediction offered by Rev. Griffin.
As soon as the whole program finished, Rev. Griffin had to rush to the airport. Many participants stayed afterwards for a time of sharing and refreshments.
We could feel from Rev. Griffin that he missed his family so much, since he had left them almost three weeks ago when he began the tour. We are grateful to him for bringing blessing and hope to Tonga at this time.

Download entire page and pages related to it in ZIP format


Table of Contents


Information


Tparents Home