| | |
| --- | --- |
| | The Words of the Matbagan Family |
La Union-Tagudin conducts 2-day SHSP seminar
Heidi Matbagan and Felix and Augie Sanchez
April 13, 2008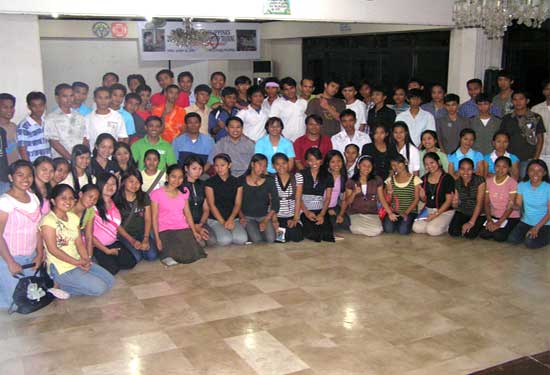 Manila- World CARP Philippines is conducting the regular summer leadership training as part of developing the leadership standard of the field by providing continuous leadership training under the Human Resource Development (HRD) starting April 16 to May 25, 2008. Last April 16 was the arrival of all delegates from different parts of the country.
They were welcomed by the staff of International Peace Leadership College, formerly UTS-Asia, headed by Dr. Ann Montejo-Arrevalo VP for Leadership and Development of W-CARP Philippines, where the venue of the said workshop is. Right after their registration, the participants were gathered and given the orientation by George Alexis Jarquio, a graduate of 40 days workshop batch 2007 and Ronnie Sodusta a student leader of IPLC. Through the orientation participants learned their daily schedule of the workshop, rules, policies and expectations. Participants who attended are coming from NCR, Isabela, Cavite, Bicol, and IPLC. A total of 54 participants attended the workshop. President Aldrin Nituma graced Opening Program
On the evening of the starting day, an opening program of the National 40 Days Leadership Workshop was graced by the National President of World CARP Phils. Engr. Aldrin Nituma. Pres. Nituma gave a powerful message, saying, "as an extended family of True Parents we are creating synergy as God and True Parents empowering us to establish one family under God and live for greater good. That trough this seminar we can deepen more our understanding on the heart of God and why we are here". Pres. Nituma emphasized that, "our motivation in building synergy is for God and True Parents. This is the reason why we are attending this seminar, for us to be strong, develop our skills and fully equipped in our life of Faith."
Meanwhile, Dr. Ann M. Arevallo welcomed the participants and later showed the video presentation of the previous batches of 40 days WS and gave challenges to the participants on what they can do more to create victories in this batch of 2008. Dr. Arevallo explained the theme of the workshop "Synergy and Empowerment".
Lastly, Dr. Edmon Pacson Vice President for Education and Outreach gave inspirations and encouragement to create a good atmosphere. He emphasized the importance and significance of the 40 days WS and never compromise the education of members in concluding the opening program of the on-going 40-day workshop.